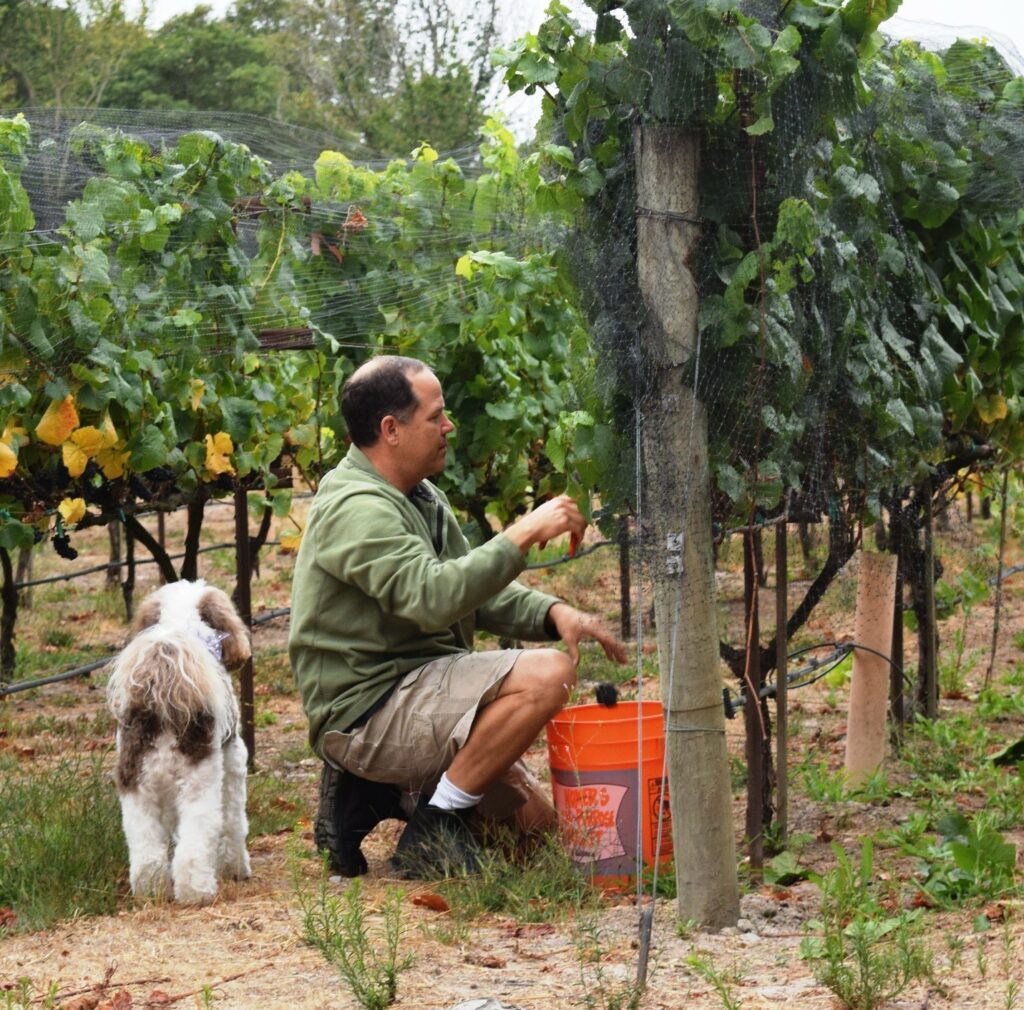 Garry started his career as a sailor in the Navy, stationed on the USS Fletcher, where he worked mostly on the bridge of the ship, 40 feet above the water, helping to keep it on course. There he learned that through willpower and tenacity, one can accomplish anything. Twenty-hour days were the norm. He learned that there are no shortcuts to great results–and that applies to both fixing an evaporator to ensure the ship has fresh water as well as to making great wine. After a successful stint at Accenture, where he met his wife, Joanne, he jumped into winemaking and learned his craft during his time at Ravenswood, Kosta Browne and Dutton Goldfield. In August he'll open Brooks Note Tasting Room in downtown Petaluma. Here's his story.
You graduated from Duke University with a BA in Political Science and then earned an MBA from UCSD. Which degree has been more useful in getting where you are today?
My Masters in International Business was from the University of San Diego. The process engineering classes are probably the most useful in winemaking. It means that I look at winemaking as a measurable, repeatable process guided by artistry. As our small business has grown, the classes in accounting, finance and marketing have been helpful as well. However, there is no substitute for rolling up your sleeves and figuring it all out as you go as well. Classes only get you so far.
You started your career by joining the Navy and left the service as a lieutenant. Did you enjoy being in the military? What is the most important lesson learned while working aboard the USS Fletcher? What was your mission while onboard the ship?
I enjoyed parts of being in the Navy. I learned pretty quickly that I wouldn't make it a career. While in the Navy, I had the opportunity to travel to France, Spain, Northern California and Australia. Whenever I had a chance, I would go wine tasting with some of the other sailors from the ships. It gave me a great opportunity to explore a growing interest in wine.
I really enjoyed serving on the Bridge of the ship. This is where we would steer the ship. Picture a spot about 40 ft above the water, with panoramic views, and a bridge wing where you could get outside. Being in the fresh air, in the middle of the ocean is probably what I miss most about the Navy. I miss liver and onions night the least. I have three big takeaways from the Navy. The biggest was that through willpower and tenacity, it is possible to accomplish anything. After spending weeks at sea, working 20 hour days, and dealing with challenging goals and personalities, the rest of life looks a lot easier. The second was that there are no shortcuts to great results. This applies in fixing an evaporator to make sure the ship has freshwater, or to making wine. Attention to detail is how you make great wine vs good wine.
Finally, expect what you inspect. If you have not seen that something has been accomplished correctly, or if you have not checked in to ensure that a task is being completed, or explained how you would like something to be accomplished, it's unlikely to turn out the way you want it to. This is important when it comes to making wine with a team of people.
You also worked with Accenture, the notoriously hard-driving management consulting company, known for its ingenuity. What kinds of projects did you work on? If you employed Accenture to consult on your business plan today, what would they say to you? Do you feel your experience with Accenture has given you a competitive advantage?
I worked on projects at Sun Microsystems, Cisco, Oracle, Air Liquide, and Sprint PCS. Mostly these were project management and process analysis and design roles. Some were also in software and process testing. The work I did defining business and manufacturing processes has probably been the most useful in winemaking. Figuring out how to define a business process to eliminate the uncertainty and risks to quality is a great skill in winemaking. Project management was also a useful skill. Defining the tasks that need to be done to reach a goal applies easily to harvest and bottling.
I think my former teammates would be excited about the direction I've taken since leaving consulting. They would appreciate how we've followed our dreams to build Brooks Note. They would probably also like to see a more detailed marketing plan (something we are working on). I met my wife and partner Joanne Note Brooks at Accenture. The winery name, Brooks Note comes from her maiden name and my last name. She's recently returned to Accenture after several years on her own. Life is circular! Joanne's perseverance has given us the stability in our personal life for me to follow my winemaking passion.
Once you made the decision to jump into winemaking, you began working for Acacia and Ravenswood. What grape varieties did you work with at these wineries?
Of course, Ravenswood was mostly Zin, with a little bit of Merlot, Cab, Petite Syrah, and Carignan. I think the Carignan was my favorite of the wines we were making there. There was also a delicious GSM and some of the single-vineyard Zins were fun too. While working at Ravenswood and going back to school, I organized tastings with my friends. The more I tasted, the more I fell in love with Pinot Noir. Going to work at Acacia as I finished at UC Davis, I really got a chance to work with Pinot for the first time. Paul Hobbs was consulting there, and I had the opportunity to taste what was then a very new way of making wine. My work there lead to the Enologist role at Kosta Browne and the assistant winemaker role at Dutton Goldfield. I made my first Pinot Blanc, the ultimate summer wine, at Dutton Goldfield.
You also spent time working with Shane Finley while he was at Kosta Browne. We understand that it was at KB that you learned to make small lot Pinot Noir. Tell us about that experience. Which Pinot are you most proud of?
Working at KB really set the foundation for the rest of my career. Shane Finely (now the winemaker for Alden Ally, 37 Wines, and Shane) is a force of nature. He demands that everything in the winery be done perfectly. Ryan Odonnell, who is now at Marcassin, believed very strongly in a repeatable, defined process in winemaking. Michael Brown has an incredible palate, an uncanny ability to produce the perfect blend, and a talent for building relationships with growers. I believe Shane and Ryan helped Michael define his winemaking process and make it scalable so that KB could grow. It's very difficult to scale the kind of artistry that Michael brings to winemaking and Shane and Ryan made it happen. I am the most proud of the single-vineyard Pinots that I helped make at KB. It was where I learned to think about mouthfeel and timing in wine. I had a chance to see how individual clones or blocks in a vineyard contributed to the finished blend. I had a chance to see how cooper and barrel-age factored into the final blend. I also learned the importance of analysis in ensuring wine quality. Overall, I learned how to make wines so that the soil, climate, clonal selection – the terroir – could be tasted in the finished wines. So much of the work we did at KB was in T bins. The process I learned there is largely the process that I use today, just on a little smaller scale.
Your exposure to Marin County as a growing region happened when you worked with Dutton-Goldfield. Which vineyards did you source from and are you still working with any of these growers under your own label?
While at Dutton Goldfield, I worked with Pinot from Azaya Ranch, Chileno Valley Vineyard, and Devils Gulch. We also worked with Wheeler Vineyard, which is up above Nicasio. Up until this year, we've worked with Azaya Ranch and Chileno Valley Vineyard. Both are on the southwest portion of the Gap. Both vineyards have faced challenges this year and we are still looking for additional growers in Marin County to work with.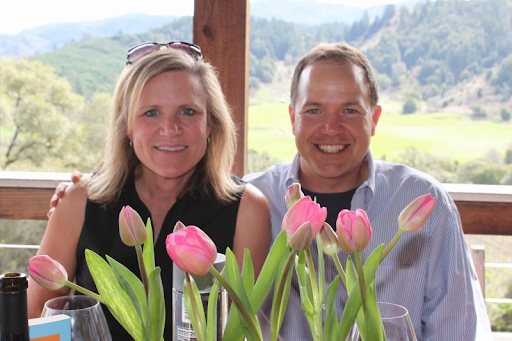 Ten years ago, you and your wife, Joanne, started Brooks Note Winery. How did you and Joanne meet? Do you have any children?
We met in a training class at Accenture. Joanne was working in Denver, and I was working in Kansas City. We began going out as friends whenever we were in town. We were both traveling a lot for work. On one trip, we met in Rome and traveled together to the Amalfi Coast. I think that was when we both knew we were in it for the long haul. We've been married for 21 years. We have two girls. Our oldest is 18 and headed to Cal Poly this fall to study biology, with a hope of one day working in Women's health as a nurse or a doctor. Our youngest is a Senior at Tam High School this year and is planning to become an engineer. They are both avid swimmers, play water polo, and love to surf.
What prompted you to start the business? Were there any unexpected twists and turns along the way? What has given you the most joy?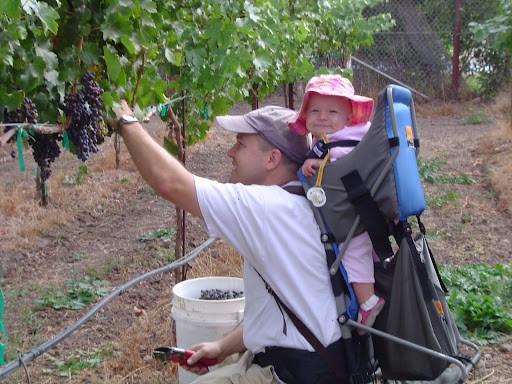 I fell in love with viticulture when we planted a vineyard in my sister-in-law's yard in Sonoma in 2002. I started making wine that year in our garage. I knew from the beginning that I'd like to have a small winery at some point. It's great to learn from others as you are making their wine. It's even more fun to be able to make wines that reflect your artistry and passion.
After working for Dutton Goldfield, our family was at a crossroads. We had two very young children. Joanne encouraged me to start Brooks Note. While it was a gamble, for a couple of years, it also allowed me to spend more time with our girls at a pivotal time in their lives.
There have been many twists and turns in our journey. Covid was certainly a big challenge. However, I think the biggest obstacles came before we started Brooks Note. The first time I applied to the Viticulture and Enology program at UC Davis, I did not get in. I'd given up a safe, well-paying job. We had two small children at home. At the time, it seemed like a door closing. With perseverance, support from the folks at Ravenswood, and the encouragement of my family, we made it through.
There are many things that give me joy about what I do. I enjoy talking to people about wine. Not just our wines, but wines in general. I really love what I do, and when I can share that with someone and they see it just a little bit through my eyes, I get really excited. I also really enjoy teaching. For people that are just beginning their journey into the world of winemaking, I love to share what I know and what I've learned along the way. Almost all the winemakers that I have worked with or around have been very generous in sharing their knowledge and advice. It's great to be able to pay it forward.
I also really enjoy any time I get to work with my girls and Joanne. A little topping here and there, some bottling, even a few days working with me on the new winery. Time with them is precious.
In 2021 you hired Reid Kinnett, another well-known winemaker with experience working in the Petaluma Gap. How did you and Reid get connected? How do you split your roles when it comes to winemaking?
I was consulting at another winery in the Petaluma Gap. They brought Reid in to work in the cellar and manage the vineyard. He had worked with friends of mine at Marcassin and Mauritson. I appreciate his winemaking skills, attention to detail, and willingness to jump in and get things done. He has a great winemaking style. He also has a lot of experience in sales, both with wholesale and retail customers. Like me, Reid has a passion for education, which meshes very well with my style. One of the things that I appreciate most about Reid is his willingness to tell me what he thinks. I don't always agree with him, but I always appreciate his perspective. Particularly when his opinion challenges me to grow as well.
It turns out that opening a small winery and tasting room takes a lot of energy, time, and focus. Reid will help me maintain our winemaking quality as we grow. He'll also help out in the tasting room and with sales. He'll take on a few winemaking projects of his own too. Some for Brooks Note, and some for his own brand. Most importantly, he'll help me lay the foundation for our new adventure in Petaluma.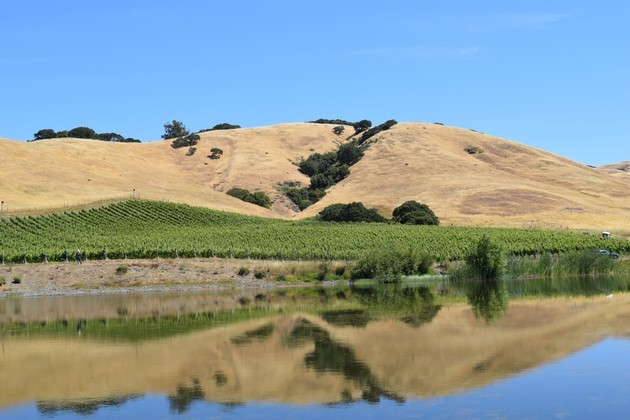 You make three different vineyard-designate Pinots – one from Azaya Ranch in the Gap, with just 30 cases produced in 2018. The two others are from Monroe Vineyard labeled as Sonoma Coast and Weir Vineyard from the Yorkville Highlands AVA. How would you characterize the differences in these wines?
Azaya Ranch – Darker color, grippy tannins, darker fruit profile with more blackberry and tart cherry, but with an underlying herbal character that offers a hint of sage. The color and intense flavors come from the soil and climate of the Petaluma Gap.
Weir Vineyard – Lighter color, more raspberry and tart cherry, silky tannins. Big, strong mid-palate and a beautiful, lingering spicey finish. The spice characters in this are more about fennel and cardamom.
Monroe Vineyard. Darker color, more dark fruit (think blueberries and blackberries), subtle tannins, more cola spice notes.
We're excited to see how a Panther Ridge Pinot fits into the mix as well. It will be our second single-vineyard wine from Petaluma Gap.
How do you choose the vineyards that you work with? What wines do you anticipate producing from this year's harvest?
Vineyard choice starts with an interesting location, the right grape or clonal selection, and great farming. After that, building long-term relationships with our growers is the focus. We hope that by making great wine, paying our bills on time, and taking a collaborative approach to working together, we can forge a lasting relationship. We've been working with Weir Vineyard, Azaya Ranch and Chileno Valley Vineyard since we began Brook Note nine years ago.
It takes at least 3 vintages just to understand how you would like to make wine from a specific vineyard. After that, it's all about working with the growers to fine-tune the farming so the process works for them and us. Whenever we can, we like to work with our growers to move away from conventional toward organic or biodynamic farming. We are excited to be working with Panther Ridge and Paradise Vineyard this year. Panther Ridge is up on Sonoma Mountain and Paradise Vineyard is on that cold, windy spot across from the raceway off Highway 37. We are also doing a little cab from Calistoga and from a small vineyard up on Howell Mountain.
Our wines this year:
● Pinot Noir from Terry Vineyard in Marin County
● Pinot Noir and Blaufrankisch from Paradise Vineyard in the Petaluma Gap
● Pinot Noir from Panther Ridge Vineyard in the Petaluma Gap
● Pinot and Chardonnay from the Monroe Vineyard on the Sonoma Coast, just south of Sebastopol
● Pinot Noir from Weir Vineyard in the Yorkville Highlands.
● Pinot Blanc from Rivino Vineyard just south of Ukiah
● Grenache and Mourvedre from Circle S Vineyard in San Benito County
● Syrah from Stolpman Vineyard in Solvang Ballard Canyon/Santa Ynez Valley in Santa Barbara County
● Cabernet and a little Cabernet Franc from a Vineyard in Calistoga
● Cabernet from Rufalo Vineyard on Howell Mountain
● Cabernet from Circle S vineyard in San Benito County
Once you put it all down on paper, it sure looks like a lot of miles on my truck!
You're about ready to open your new tasting room in downtown Petaluma. The space is a converted warehouse, now a working winery and tasting room. How did you find the facility and what renovations have you made in order to serve customers and also make wine at this location?
We've been looking for a place to grow into for several years. As our production grew to 1000 cases, it was clear that we needed our own space to be able to expand and to have a central spot to host our wine club and guests. Petaluma has been the center of our search. About 1/3 of our production has been in the Petaluma Gap. We also love the vibrant food and arts scene as well as the agricultural history of Petaluma. We were lucky to find a 7000 square ft industrial space for sale in 2019. It had been serving as an automotive space since its construction in 1921. I knew that it was the right choice the second I walked in. It has high ceilings, exposed wood trusses and its steps from downtown.
The building has gone through a dramatic transformation:
● Installed new plumbing from the ground up, including a process wastewater treatment system
● We poured new concrete floors
● Installed new sky lights and a 3 inch spray foam roof to keep the building cool and conserve energy
● Performed significant seismic upgrades
● Insulated and replaced the siding on the building with energy efficiency in mind
● Installed new efficient air conditioning and heating
● Improved the space to accommodate events up to 150 people
● Spruced up the interior of the warehouse to accommodate the production area and barrel room
● Created a warm, industrial tasting space filled with light from skylights and the front windows
● We are in the process of installing solar, again with the goal of reducing our carbon footprint
● Installed a small commercial kitchen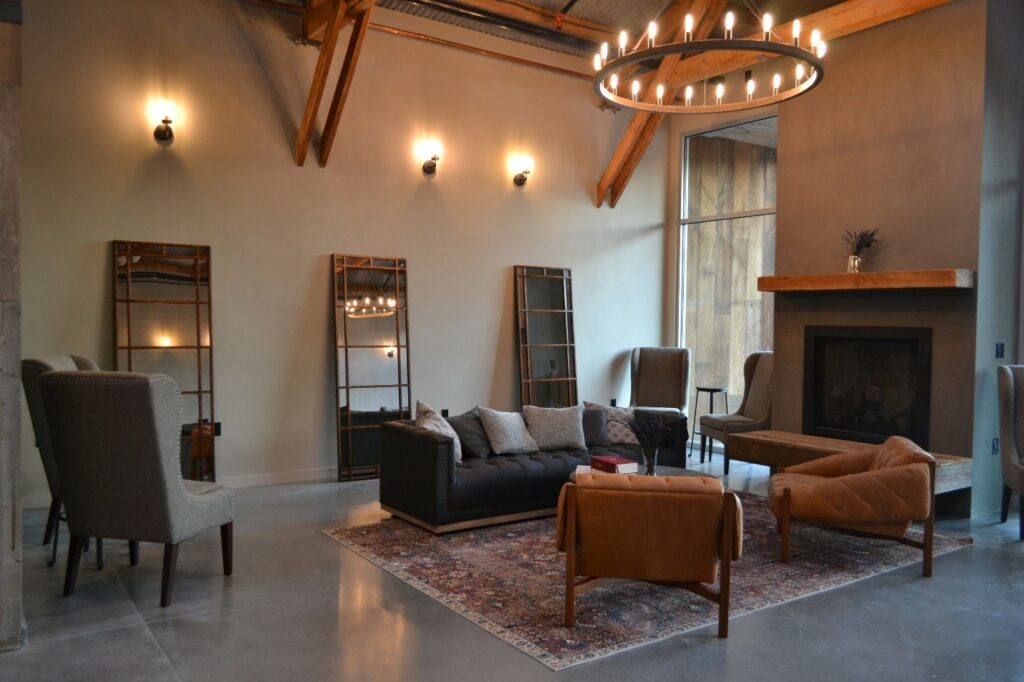 What type of tasting experience should visitors expect? Will it be open to the public/by appointment only? Seated or standing? Will visitors have the opportunity to meet you?
We think of the folks who come to visit as our family – in a good way. We'll provide a warm, relaxed and modern environment where our guests can enjoy our wines and learn about where they come from and how they are made. The tasting will be a seated, personal experience by appointment during the day. In the evenings, we'll open the doors to a less curated environment where folks can stop in for a glass of wine, taste through a flight, and listen to a little music.
We'd like our guests to be able to relax and enjoy the experience without feeling a lot of pressure or being surrounded by a crowd. Reid or I will be available most weekends and are looking forward to meeting our neighbors. Very often, we'll be the ones hosting the tastings. We are actively looking for people who would like to help us out.
We'll have several events during the year for guests and wine club members. When we are not making wine during harvest, the space will also be available for private events. We hope to encourage non-profit and community organizations to use the space.
We plan to open the tasting room for appointments on Friday, August 6th and hope to open for "after hours" tastings and music by September.
You can make reservations for tasting at www.BrooksNoteWinery.com.