Given your accent, we know you're not from California. Can you tell us where you were born and what motivated you to get into the wine industry?
I am from Christchurch, New Zealand and lived there until 2011, when I moved to Sonoma. The high school I attended was broad-minded; in our final two years we had to choose at least 5-6 "experiences" before graduating, as a way of learning about possible careers. These "experiences" ranged from scuba diving and rock climbing to wine tasting. What teenager doesn't want to drink at school (with parental permission of course)? Within a few weeks of completing the wine tasting course, I was accepted at Lincoln University and had planned my whole degree out. I've never looked back.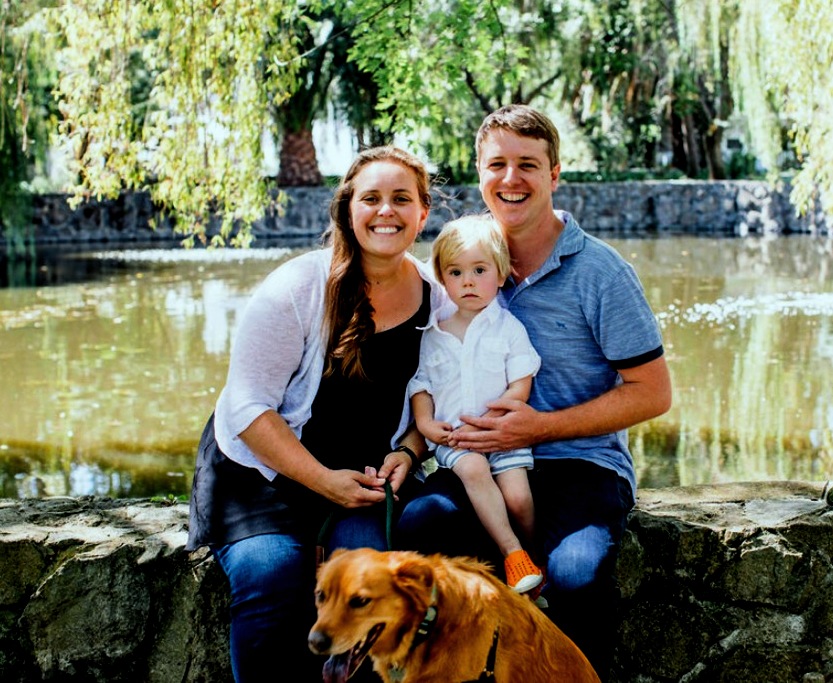 Who was your first mentor in the wine industry and why did you look up to them? Are you still in touch with them today?
My first mentor was Greg Miller, the Vineyard Manager at Pegasus Bay, one of the most successful wineries in New Zealand. I started working for Greg just as I turned 19 years old. Not only is his understanding and management of the vineyard, techniques, outcomes, and logistics phenomenal, but the way he oversaw numerous crews and easily managed the people and personalities really struck a chord with me. He gave me my first full-time job, as his Assistant Vineyard Manager, when I was 22. I helped him plan and plant a 50-acre organic vineyard while also helping to manage the 100-acre estate vineyard and the crews that worked with him. I am still in touch with him and most of the Pegasus Bay team. We stay in touch; Greg has visited me here in Sonoma and we usually drop in on him when we are back in New Zealand.
You've spent time in both the vineyard and the winery, and have been quoted as saying "the grapevines will tell you what they need in order to make the best possible wine." In other words, you're a "grapevine-whisperer!" How does that work?
Grape-whisperer is definitely going a bit far–even though I may have occasionally talked to my vines, they haven't actually talked back, at least not "yet!" Mainly it is about knowing what the vines are trying to tell you through growth, stress, soil, how the clusters look, etc. We have a lot of modern tools to measure all of this and give you a greater understanding of what the vineyard is doing. The more time you spend in the vineyard, the more these things become apparent, and second nature. For example, knowing where you have a stressed section, dense canopy, when to speed up or slow down the spreader or sprayer, these are all important.
After leaving New Zealand, you worked in Germany for Weingut Keller making Riesling and Pinot Noir. Now at Cline, you're making Pinot Noir here in the Petaluma Gap. Can you describe the differences in growing conditions and flavor profiles between the two areas?
The other day I was fortunate enough to have one of Weingut Keller's Pinots–a 2012 that was peaking and very Burgundian in style. It still had fresh acidity, some clean fruit and was dominated by earthy flavors. California Pinots are much more fruit-forward with a focus on the primary fruit. The secondary characters come in through techniques like stem-inclusion and barrel choices. Weingut Keller emulates Burgundian-style Pinots, whereas California focuses on what it does well—showing off its bright fruit. As far as growing conditions, Germany has a lot more rain pressure throughout the growing season and is similar to Oregon in weather patterns. Here in the Gap our disease pressure is from fog and humidity, but we have an abundance of sunshine.
You met your wife, Michele, in New Zealand in 2008. You both work in the wine industry. Does that bring you closer together or is "wine-talk" off limits when you're at home with the family?
We love talking about wine, as long as we don't argue too much. Just the other day we went wine tasting, which is treat for us. We definitely have different palates. It's fun for both of us to justify why we like different wines, neither being right nor wrong, just different. I think it has brought us closer together; we both have the same goals and dreams and working toward a shared future is fantastic.
Michele's family owns a vineyard in Sonoma Valley. The two of you manage the vineyard and make some wine under the Gordenker label. Gordenker produces less than 300 cases per year and you've called it a "labor of love." What are the challenges and how do you fit it into your busy schedules?
Michele and I took over management of the vineyard in 2012 and made our first 100 cases of wine back then. Previously it was managed by Phil Coturri, who planted it back in 1998. The challenges are the same as anything – balancing and time management. For me it means early mornings or late nights to get things done, and depending on the task, working weekends. I find it relaxing to spray the vineyard (when the sprayer works properly) and to do detailed tasks there. It's like gardening for me. I know the vineyard like the back of my hand and it is a place where I am very at ease. The winemaking is all done at a custom crush facility where Michele and I have both worked multiple harvests, so we trust their system and know how to make great wine there. Michele does the bookkeeping and we both do sales, although lately she is definitely doing more of that than I am.
In 2017 you and Michele lost your home to the fires in Sonoma County. Have you recovered fully and do you ever think about leaving the area?
I do not think you ever fully recover from something like that, but you definitely learn and become stronger. We had a 1-month old at the time and the support from friends, family and the community has been overwhelming. Some things definitely leave scars and you see it here and there in everyday life. We are actually about to move back to Glen Ellen; it's all very different, but the future is bright. We think about moving back to New Zealand all the time (my mother never lets me forget), but not in a very serious way–we are too embedded in the community and the lifestyle here. My biggest fear is that my children will have an American accent! My two-year old, Paxton, is just starting to talk now.
Cline Cellars has a large team for winemaking and production, including Charlie Tsegeletos, who has been with Cline for a very long time. How do you split responsibilities and what's it like to work with such a tight-knit team on large-scale production wines?
We actually have a surprisingly small team for the production. Charlie is Director of Winemaking and I'm the North Coast Winemaker. We also have a Lab Manager and Cellar Master. The way we have split things up has been that Charlie is in charge of our Appellation and Ancient Vine Series (our big programs), while I am in charge of the Sonoma Series. We collaborate on everything, and being a small team we all help each other out and have direct input to all of the wines.
The Cline Family has two wineries – Cline Family Cellars and Jacuzzi Family Vineyards. Jacuzzi makes wine from some very unusual grape varieties. What was the learning curve like for working with some of these lesser-known varieties?
I've been working for Cline and Jacuzzi for four harvests now and for the last one I've got the added responsibility of winemaker at Jacuzzi. It's been a great introduction period and there has been a lot to learn — including how to pronounce the varietal names! Working with and learning from Charlie has been fantastic– from getting an understanding of new growing regions, the idiosyncrasies of each variety, new fermentation techniques and how to cellar Italian wines. Italian varieties are generally high acid, high tannin wines–it has been both fun and challenging.
Cline is also known for its "Green String" growing method. Does this carry over into the vineyards?
Yes, this is a big part of the Cline philosophy and what makes me love working for them so much. We moved to the Green String philosophy back in 2001, which is a play on string theory where everything is connected, much in the same way that in nature, everything is connected. After moving away from all pesticides and herbicides, we now only dust sulfur on our vineyards, we use weed-whackers and our wooly-weeders (sheep and goats) to control weeds, along with mowing and some cultivation. Canopy-management is extremely important and allows us to avoid using heavy fungicides. We use organic compost teas, along with bacterial isolates, to help fight disease and seaweed extracts and oils to help strengthen our vines. We are certified sustainable and consider ourselves beyond organic, although we are not officially certified.
What is your philosophy toward "natural wine-making" and allowing for nature to take over, for example, using only native yeast for fermentation and cover crops for weed control?
I love the idea of natural wine-making and we use some of the practices of "natural" winemakers. We refrain from inoculating all of our reds (except for a couple of particularly frustrating Zinfandels) and about a third of our whites are also made with native yeast. We use no fining-agents (except for bentonite), we make vegan wines and minimize our use of SO2, (typically our SO2 at bottling is below 100ppm). We use cover crops, while leaning more towards volunteer cover crops, to help build organic matter back into the soil and colloidal structure in our heavy clays. This helps with cracking and drying out and breaks up the pans that are around. We also use compost and compost teas as fertilizers.
As far as my personal philosophy, the less you do to the wine the better. In California we have an excess of great sun that makes fantastically fruity wines, but they typically need a little touching up in the winery which I don't have a problem with. I would rather help the wine a little to be great, rather than flatly avoiding it on a philosophical basis and end up with bad wine.
You and Megan Cline have begun a special project making wines in terra cotta amphorae. How are wines made in amphorae different that those made in traditional oak barrels? What about concrete tanks?
The amphora project is fantastic and I have learned a lot. It started in 2015 with Syrah, before I arrived at Cline. Since then we have been making a red and a white; a lot of research has gone on behind the scenes. Amphorae are fantastic ageing vessels for high-tannin wines; we have fermented a lot of varieties in them and flirted with making an orange wine. I love the effect of the amphora on the wines–it gives them a richness, length and body that is fantastic, while keeping the fruit in our reds very fresh and giving far more complexity to our whites. One defining characteristic is the saline quality of these wines; it heightens the perception of acidity.
You've made wine from many different grape varieties – Riesling, Sauvignon Blanc, Chardonnay, Pinot Noir, Cabernet—what's your favorite grape variety to work with? What's the hardest to grow? What's your go-to wine for celebrations?
Each has its own challenge; the trick is to understand your site and what you are trying to achieve. There is a fine line between pushing the limits at your site for hang-time and flavor development, without sending ripeness through the roof. The harder you push, the better the wines, but there is a fine line.
My favorite varieties are Pinot Noir and Riesling. I also love working with Merlot and Cab, as well as Viognier–I need to start drinking it more. I used to love growing and working with Riesling, but the opportunities here in California have been limited. We are just releasing a new Riesling from Cline early next year, with 8.5% alcohol–very fresh and easy drinking. For celebrations, Michele loves Champagne so that's what we start with. My friends could all tell you the drill at our house—Champagne, followed by maybe a dry German Riesling, or a Chablis or Austrian Gruner Veltliener. Then we go into reds, usually Burgundy or Bordeaux, depending on the meal, and sometimes from the West Coast or northern Italy. We finish with a sweet German Riesling or Sauternes. That about sums up our celebrations–usually lots of wine poured! We keep a fairly diverse cellar to with wines to suit our tastes and to surprise our friends.
In April 2020 you'll be cruising the Danube with two other Petaluma Gap wineries. Do you have anything special planned for those who are on the cruise?
I was going through my wine collection and have lots of special things–the amphora wines will be joining us on the cruise along with a brand-new range of wines I've been working on with Megan and Hilary Cline. There will also be some fantastic, alternative varieties from the Petaluma Gap. Just for fun, I'll be pulling a couple of wines from my personal cellar, so there will be no shortage of great wines!
When your son, Paxton, grows up, do you want him to follow in your footsteps?
I would love him to, but that's completely up to him. After all, he's only two! My favorite memory from my time in Germany, was learning about Weingut Keller. It has been in their family since 1789. There are four generations living a on the property, the oldest being Herr Keller (in his 80's) and the youngest being Max, who was 7 or so. Even the children had their own little mini-ferments! I remember one day overlooking the winery and seeing Herr Keller with the biggest smile I had ever seen on his face. When I looked into the winery his son, has grandson and his great grandson were all working together to make wine and I could only imagine the satisfaction and happiness he felt. I would love that one day, too.