Kevin's grandfather owned a vineyard; as a child, he loved to spend time there and the annual rhythm from bud-break to bottle seemed natural. Kevin met Sarah while working at a winery. When the opportunity arose for them to take over a property in Petaluma, they started with chickens for eggs. To complete the dream they incorporated gardens and animals. Their first two wines were made at a custom crush facility in Sonoma. Then came Archie, aka "the intern." Here's their story.

The name, "Light of Day," usually refers to something that was hidden, and then became public, was born or suddenly revealed in some way. It's a curious name for a winery. Can you tell us why you chose that name?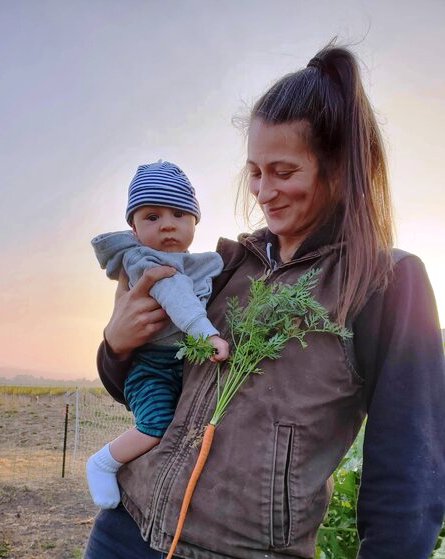 A couple of reasons, actually. When we started out, we were both still working winery day jobs so much of the work for our own wine happened at night, especially during harvest. Needless to say, we had very late evenings–some smooth, some stressful. And, some of those days seemed endless. But no matter what happened the day before or whatever seemed insurmountable in the wee hours of sorting fruit/cleaning the press, everything seemed to be a bit more calm and rational the next morning in the "Light of Day" (a few hours of sleep and steady supply of coffee helps too).
We also had plans to open up in the Spring of 2020 (don't need to tell anyone what happened there). It seemed like an eternity before we were able to share these bottles with our friends, family, community and so grateful that these wines were out of the cellar and able to see the "Light of Day."
Your website has a simple introductory statement: It started with chickens for eggs. Please tell us your story of how Light of Day evolved from a start-up farm to full wine production.
We started with two wines in 2018 at a custom crush facility in Sonoma. When the opportunity arose to take over this property in Petaluma, we knew that we wanted to not only turn it back into a wine production facility but also incorporate animals and substantial gardens. While paperwork was being processed for the winery licenses, we had time to bring in animals as we felt they were necessary. Our goal was to keep the animals "working" – so we rotate them around the property to graze and fertilize. The next step is to bring our small flock of Southdown Babydoll Sheep to other nearby vineyards to weed and mow.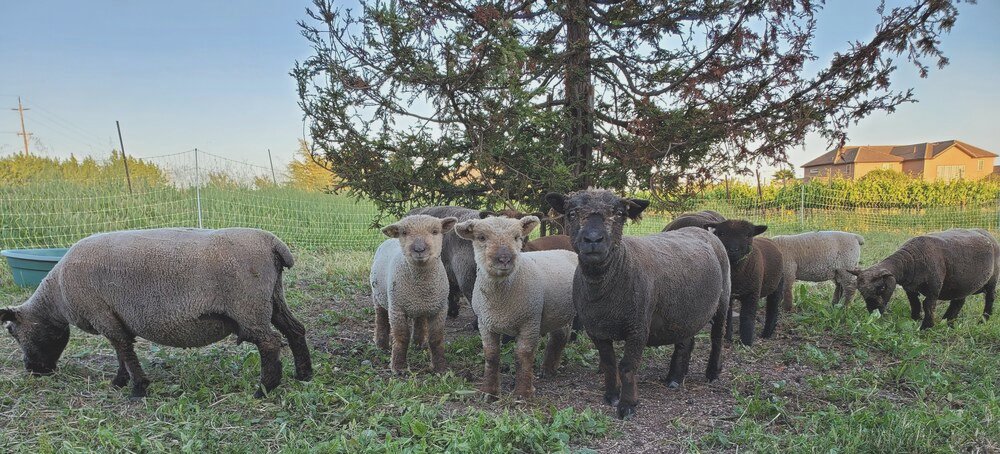 Do you have any helpers or is it just the two of you running the business? Tell us how your day starts and ends.
Every day is very different. Mostly, it is just the two of us. We are usually able to recruit some wine industry friends to help with bottling and at harvest. We also enlist the help of a few other workers when we are prepping garden beds or for general landscaping projects. Our day starts with a lot of coffee and checking in on animals with Archer, our toddler, in tow. It usually ends with tucking the animals in for the night and then getting Archer to sleep. In between, it's a very dynamic mix of tasks depending on the season – vineyard work, winery work, paperwork…
Kevin, you've worked with a few different wineries in Sonoma County. How did you get started making wine and where, or from whom, did you learn the most about how to make wine for your own brand?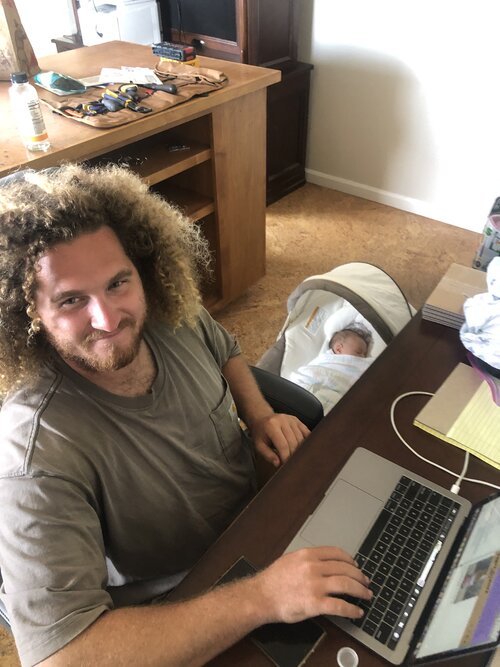 My grandfather owned a vineyard in Suisun Valley planted to Cabernet Sauvignon. He sold the grapes and made wine for our family/friends. I always loved being at the vineyard and seeing his work throughout the year from field to finished bottle. The time spent on his ranch really cemented my interest in vineyards and winemaking. After I graduated from the Wine Business Program at Sonoma State, I worked a harvest in Sonoma and was hired on full-time when it ended. I knew that I wanted to make some wine of my own and when I met Sarah in 2017, we made plans to find grapes and start something together.
We understand you're buying grapes from Crichfield + Black, one of PGWA's grower members. What varieties are you buying and do you plan to make a blend or bottle as individual varieties? Are you buying grapes from any other growers in the Petaluma Gap?
Yes! It was awesome to make the connection with Sherry and Tim a couple of years back. Love their vineyard. We made a blend of Chardonnay/Viognier from Crichfield + Black in 2021. After talking with Sherry and Tim, it seemed like an interesting idea to co-ferment those grapes together. In 2021, we farmed Gewurztraminer grapes for Susan Crawford (Crawford Vines ) and will bottle that wine soon. Our 2021 Rosé is from the Pinot Noir from the vineyard attached to our property. There is also Tempranillo planted on the property that we have made a red wine from in 2020 and 2021. Definitely very excited to get more of the Petaluma Gap wines into the bottle next month.
What are your thoughts about "natural wines" and native yeast?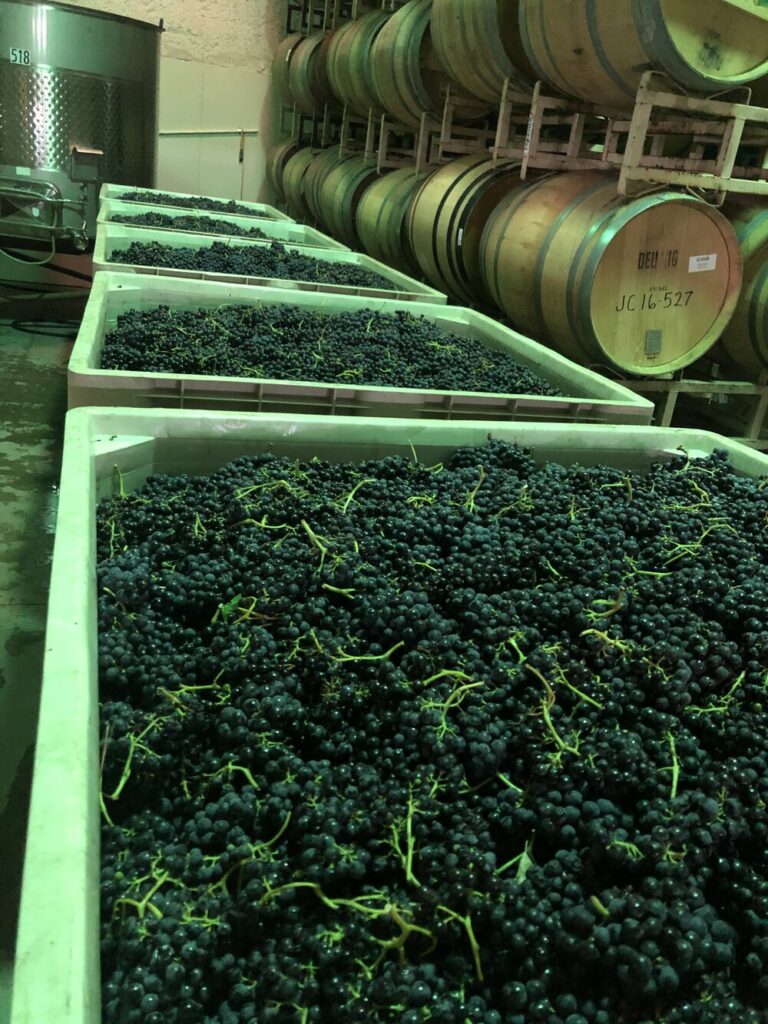 Sarah: The first wineries that I worked in were native fermentation and minimal intervention styles, so it was just how I learned to make wine. We usually find ourselves gravitating towards those wines because of how they can really express a vineyard, vintage, etc. In our experience, working with native yeast really keeps you connected to the fermentations and demands a lot of attention to make sure everything is going well. It was important for us to make wines that were delicious and have their own character. There are many ways to make wine, but a minimal intervention, maximum attention approach for us was important to the integrity of our process.
Kevin, you are involved with Vine Supply. What do they do?
Vine Supply is the vineyard management and trucking business. During harvest, I haul fruit for wineries and during the off-season, I move barrels, equipment, finished cased goods, etc for other clients.
Tell us about the monster trucks and Kubota's pictured on your social media!
We love our trucks and tractors! We don't use them to mow the property much since the animals are such awesome mowers. They are used for vineyard work depending on what the job calls for. Archer is a big fan of all of the machines- both big and small.
Sarah, we have learned that you're into yoga and you love beer. Have you ever experienced "brewery yoga?" What about "winery yoga?"
I haven't done either but it sounds like something that should be in my future! Unfortunately, I haven't had much time for yoga lately, but it's a very helpful practice to tap into a few minutes here and there to help me through the day.
You have two wines in your "Worker" series – Worker White and Worker Red. Why are they been named "worker" wines?
The name evolved from a couple of blends that we made in 2019. They ended up as Table Wine style blends and something that we found ourselves opening for a harvest lunch or at the end of the day for a team meal. Easy to drink, not serious, just meant to be enjoyed. It felt like we were making them for ourselves, our friends that would come to help out – something for the middle of the day and something for the end, made for the worker in all of us.
What is your favorite cooked-at-home meal and what beverage do you serve with it?
Grilled local meat and veggies from the garden. We'd probably open something red – Pinot Noir, Gamay, Cabernet Franc. If we were going fancy, Dungeness crab tostadas and Champagne.
If you had time off or could take a vacation someplace far away, where would you go and what would you do?
For somewhere close, Lake Tahoe for winter skiing or summer on the lake. For someplace far away, definitely back to Valle de Guadalupe, Mexico for wine and food then down to Ensenada for fishing.
How did the two of you meet? Are you both from California or did you come here for the sunshine or the wine (or both)?
We met working at a winery in Sonoma.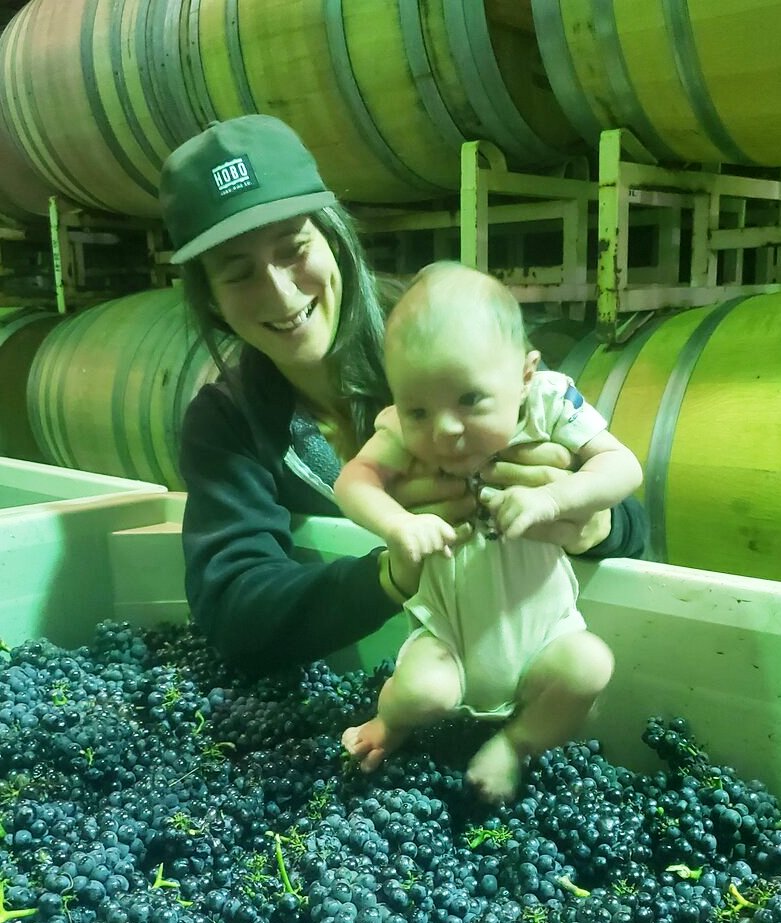 Kevin: I'm from San Diego. I came to Sonoma State for college and haven't left!
Sarah: I grew up in Colorado and went to high school in Carpinteria, California near Santa Barbara. I moved around a bit for college and moved to Sonoma County in 2016 from Portland, Maine. Ultimately had to move back to California, because the winters were too cold for me!
Your son, Archie (aka, "the intern,") at two years old, has already experienced harvest, driving tractors, and grape stomping. When he grows up, do you want him to follow in your footsteps?
He definitely doesn't shy away from getting in the mix around here. We are very grateful that he is able to experience this lifestyle at this point in his young life. Just want him to grow up happy, healthy and with a respect for whatever his surroundings may be. We'd be stoked to guide him in this industry and help him learn from our trials/triumphs. But it wouldn't hurt to have a veterinarian in the family, either!