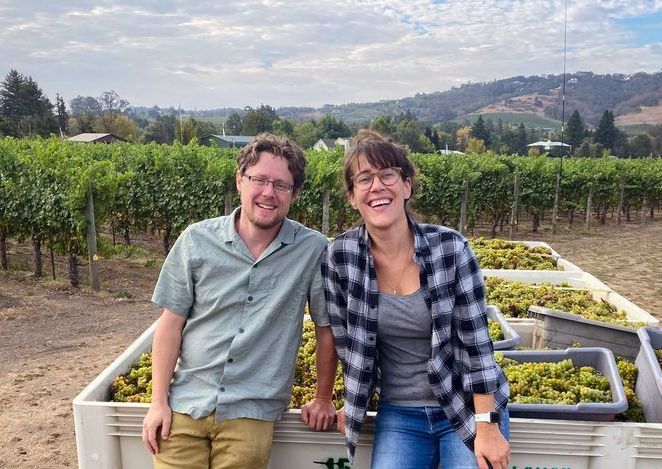 Robert Schermeister was born in Idaho Falls and got a degree in Biochemistry. Laura Erickson was born in California, but was brought up in North Carolina. She dreamt of returning to California one day and did after college, but hated LA and moved back to Charlotte to launch her graphic design career. He thought he would find his calling at the cattle ranch in Idaho where he was researching E.Coli; instead, after getting blasted in the face by cow feces and developing an E.Coli infection that nearly killed him, he decided to rethink his future. They were both drawn to wine, and met while Laura was finishing a harvest gig in Napa and about to return home. They started as client & designer, but soon after Laura created the new website for Schermeister Winery, their relationship changed. Here's their story.

Laura, you were born in California but then raised in North Carolina; tell us about that move and how it affected you. Did you enjoy living on the East Coast? Did you think as a teenager that you'd like to return to California? Was owning a winery ever a part of your dreamscape?
My parents, sister, and I moved from San Ramon, California to Concord, North Carolina when I was only eight years old. I honestly hated it for the first 14 years. The food was weird, the fashion was about ten years behind trend (a serious problem for a young girl), and it was unbearably humid.
My whole extended family was still on the west coast so we traveled back several times a year for holidays and vacations. I always knew what I was missing and vowed to make it back one day. It was all I talked about even into college.
At 20 years old, I tried to do commercial photography in L.A., but returned to North Carolina with my tail between my legs after four months. I hated Los Angeles and decided to move to Charlotte, where I began a successful career as a graphic designer. My life looked good on paper but I still felt like there was more out there, somewhere…
At 30, I quit my job, sold my house, and came out to Napa to learn winemaking. My Italian heritage on my mom's side brought wine to the dinner table while growing up, and I was allowed a thimble of wine on Thanksgiving and Christmas. I was curious about wine and had a pretty good palate. My new dream was to do a harvest in Napa and buy two acres around Asheville, NC, start my own winery, and design on the side. I got the winery, but it ain't in Asheville!
My venture out west was not without sacrifices, though. The hardest part was leaving behind my best friend and my family. I watched my nephews grow up in texts and Facebook photos, and I only get back to Charlotte once a year amid running the winery and traveling to new places. I miss them terribly, but I'm so happy to be here doing what I love with my husband. You can't have it all but where I am now feels pretty close.
Robert, you were born in Idaho Falls, and your first job was working at a local Arby's. What did you learn from that experience? Did you enjoy the customer interaction?
Overall, I think that I learned the same thing that everyone else learns from their first job: how to work. I started out as a dishwasher and then had to slowly make my way through the ranks until I got the more enjoyable job of working the drive-thru. Everyone wanted to work the drive-thru! I also worked the sandwich line and eventually got the chance to train new employees which I really loved.
Inevitably, I learned a lot that carries into what I do now: treat the customer well and they'll treat you well, always assume the best of your customers (that they are kind, understanding, and happy with your services), and the importance of time management for sure. I developed a general work ethic, learned to save money for my future, and met the nicest people on the job. It was a great environment for a 16-year-old and I'm glad I have that experience under my belt.
One of your gigs, Robert, was researching E.coli on a cattle ranch; we understand you developed an E.coli infection and almost died. Following that episode, you decided to go to Europe and explore the wine industry. Was that near-death experience a turning point for you?
There's nothing like a near-death experience to make you more selective about what you want to do in life! The thing I learned from that mostly is to be picky when you accept a position, and to make sure you want to do that job before fully committing. As a Biochemistry student, I had originally planned to explore this part of agriculture assuming I'd end up in the Idaho food science industry. The ranch job wasn't what I expected at all and found myself moving pipe and preg-checking cattle, which was not in the original description. Ever since that experience, every difficult job I've had has been easy in comparison to my time on the ranch. It shaped my perception of challenging work and absolutely contributed to my personal work ethic. Waking up at 4am to pick grapes while covered in spiders and earwigs? That's nothing compared to being blasted in the face by cow feces (which is how I contracted E.coli poisoning).
The doctors told me that had I waited one more day to come in to the emergency room, I would not have made it. I also don't even remember driving myself there. After six days in the hospital, I had a change of heart with my career direction. I had some money saved and traveled to Switzerland and France, focusing on Alsace which quickly became one of my favorite wine regions. I thought, "Oh my god, these wines are so good" and also realized that there were actual jobs in winemaking. That it was possible to be a winemaker. When I was 18 traveling in Italy, I was too young then to understand that there were people behind each bottle of wine. I just saw a bottle of wine on a shelf. At 21 in Alsace, I understood that the winemaker was a major part of my newfound passion.
Robert, you earned a degree in Biochemistry and eventually found your way to Walla Walla working for some great cult winemakers. Was landing that first wine job beginner's luck or did you have a specific skill set that Mark Aubert and Jayson Pahlmeyer were in need of? How did they find you?
It all started at a job fair in Moscow, Idaho, where I was in college at The University of Idaho. I walked around to the employer tables and Chateau St. Michelle was there. They said they were looking for someone with a Biochemistry degree which is what I was studying, so it was a match! They hired me as a Vineyard Manager, overseeing their top tier vineyards including Col Solare on Red Mountain and Spring Mountain in Walla Walla. It was part luck but it was also the lowest paying offer I had. I took it anyway because it felt right in my gut.
A year later, I sent my resumé directly to the best wineries down in Napa, one of them being Pahlmeyer. I now had experience at a large winery, and it was time to up my game and get experience at a highly regarded winery. Pahlmeyer responded and I interviewed with them several times. They liked my dominant science background, my hardcore ranch experience, and that I had already worked in some of the best vineyards in Washington. They picked up on my passion for wine right away, so they hired me to work under Erin Green as Associate Winemaker doing native fermented wines.
After Pahlmeyer, I was hired by Mark Aubert himself as his Assistant Winemaker, helping to make his native fermented Pinot Noir and Chardonnay. I also assisted him with winemaking for Bryant Family and Futo Estate, which solidified my experience in the world of fine winemaking. Mark personally liked that I already had experience with native fermentation and that I had worked with Erin Green, as both Mark and Erin had worked under Helen Turley. Everyone was connected by the same vision: to make the best wines in the world.
Laura, you quit your job in North Carolina to take time off and "get dirty" while working the harvest for a winery in Napa. After harvest ended, you planned to return to North Carolina but decided instead to take on a few wineries as graphic design clients before making the trek back. Tell us how you met Robert and what you were thinking during that first client meeting with him. When did the two of you know that all those meetings weren't really essential client meetings, but rather dates and there was more to your relationship than branding and design services?
I still can't believe I'm here answering these questions from my couch in Sonoma! I pinch myself all the time.
With the dream of working in wine, Napa was my first foray into this new lifestyle with a harvest job at Olivia Brion Winery in 2013. I called my mom just three days into harvest and told her that I loved it here and that I would just stay until I couldn't stay any longer. I took pet-sitting jobs for new acquaintances who were traveling and eventually moved in with another graphic designer.
My winery freelance gigs were small but I still had clients in Charlotte, which kept me somewhat employed while I was playing Dream Life in wine country. By March of 2014, I was kind of ready to head back home as I had no full-time job here and no real plan.
I started packing up and a few days later got the email that changed my life. This guy got my name from the Production Manager at Laird Estate in Napa, who also happened to be a wedding officiant (that came into play later…). The guy had just started his own winery in 2012 and was now licensed, bonded, and insured as Schermeister Cellars. His name was Robert Schermeister and he needed a website for his new winery. I figured, "I'm on my way out but I'll meet him and give him a quote, then I'll go back to North Carolina".
Our first meeting was the epitome of uneventful! Rob was wearing this light blue shirt that totally washed out his pale skin tone. It was too big for him. He had too much gel in his hair, which froze his curls into place. They could have withstood hurricane-force winds. He didn't smile once during our meeting, which lasted about 45 minutes at the Starbucks in downtown Napa. I remember thinking, "I'm glad I'm not attracted to this guy because I can just design a nice website for him, make some extra money, and head back east".
He was so serious. He was this young kid in an old boys' club. His austerity was his version of "Napa winemaker" which is hilarious to me now because he is so relaxed with our guests. Back then, he wanted to be taken seriously as he was not a typical winemaker in one of the world's most famous wine regions. I didn't know anything about it, so all I saw was this ultra-serious guy.
That all changed when we met the second time. It was late afternoon and he was coming from the winery. He walked up to the studio where I was freelancing and I can still recall the way he walked as if in slow motion. He was wearing dirty blue jeans and a coral-colored t-shirt that had holes in it where his belt weakened the threads. His hair was soft and free of gel with the most beautiful head of curls I'd ever seen! He was relaxed. He was there to drop off a deposit for the website design and to talk about the creative direction for his winery. I was attracted to him immediately and also surprised. He was so cute.
We ended up talking for six hours that day. Our lives growing up were very similar and we shared a love of wine and travel. Talking to him was effortless, and it still is. The third time we met, it was at the Rodgers Creek Vineyard in Petaluma Gap, home to his 2013 Pinot Noir. I was there to photograph him and the vineyard. There was a moment when he had one lock of curly hair hanging down and I asked if I could move it out of the way for his portrait. I swear I'm not making this up! I moved the hair from his face and melted a little, but stayed outwardly professional. He smiled a little. I liked him a lot.
That day, we sat in the vineyard and talked for hours again. We spotted a golden eagle overhead and marveled at it together, then realized that Rob was getting sunburned. We walked back to our cars and stood there for another hour talking. His sunburn worsened.
Throughout the course of working together on his website, we remained completely professional. We both valued business ethics over personal feelings, which gave us time to foster a friendship. We both disliked one another's taste in music and books but found common ground in other things. When the website was done, I hit the "publish" button, the website went live, Rob came over with the final payment, and we had our first kiss. It was just right. Had Rob waited a week to send that first email, none of this would have ever happened.
The two of you specialize in making native-fermented wines. Robert, as a biochemist, can you tell us how and why you decided to pursue native yeast fermentation, rather than the more common inoculation method? Do you have any special tricks? Have you ever experienced stuck fermentations and if so, how did you remedy the situation?
When I was working for Pahlmeyer, we would blind taste randomly selected native fermented wines against yeast-inoculated wines and I always loved the native fermented wines more, every single time. They had so much more complexity all around in aroma, flavor, and texture. So that was a no-brainer for me when I started my own winery.
I do have some special tricks that I use in the cellar, but those are and always will be kept secret.
In my winery, I have experienced two stuck fermentations. The first one, the 2016 Viognier, I reactivated with its own yeast through a slow buildup process from barrel juice. The second, the 2017 Chardonnay, took eight months to finish fermenting. At seven months, I was about to call it and inoculate it with a lab yeast, but my wife Laura urged me to leave it alone because she wouldn't be able to say that all of our wines were native fermented. A week later, the wine warmed up and reactivated all on its own. I'm so glad I listened to her.
I am happy to say that I typically don't have to deal with stuck fermentations as I am consistently monitoring every lot. I do everything on my own, so I always know what's going on with each wine. That gives me more confidence and a sense of ownership of all of our wines.
Robert, you started with 125 cases of wine and now make almost 1,000 cases. About 5 years ago you decided to go all-in on your own brand. How difficult has it been to scale the business over the last several years? Tell us what motivated you to open your tasting room.
One night, in 2016, Laura was rubbing my shoulders after I had a long day at Laird. We were talking about wine and our future, then she just leaned down and whispered in my ear, "Let's quit our jobs and open a tasting room" with a little laugh. I will never forget that moment. But I really thought about it for a minute and told her I would run some numbers. I stayed up late that night and the next day I showed Laura the spreadsheet. I said, "I think we can do it".
Scaling the business has actually not been that difficult! For us, slow growth has been the key, and that's part of why we have been successful. We aren't typical winery owners – I built this winery with a dream and a small savings account which is rare for a winery owner/winemaker. We both have lived pretty frugally since meeting in 2014 and want to keep things small indefinitely. When challenges arise, like wildfires and global pandemics, we can make immediate changes to pivot our business because it's just myself and my wife. There is no one to approve requests and no employees (yet) to retrain. For now, it works great for us.
We did consider exploring distribution as opposed to selling directly through the tasting room, but Laura and I both agreed that we wanted to actually meet the people who were tasting our wines. That in itself was one of the best decisions we could have made, though I didn't foresee us doing it so soon. It all worked out.
You are buying grapes from a couple of growers in the Petaluma Gap as well as Napa and Sonoma Valleys. How do you choose the vineyards and why did you choose to buy your pinot noir grapes from growers in the Petaluma Gap?
Each year, I visit multiple vineyards to assess grape quality, vine health, soil structure, slope, and overall climate. I only want to work with the best grapes and will also turn down a lesser quality vineyard in a low-yield year, which means that we have had to sacrifice some production growth. Fruit price is a secondary concern for me as quality has to be perfect, above all else.
I fell in love with Petaluma Gap in 2013 because it was cooler than the Carneros region and had the most divine winds blowing through it, keeping the Pinot Noir grapes in pristine condition. It's the perfect environment for some of the best Pinot Noir in the world.
Have you considered working with other grape varieties beyond Viognier, Pinot Noir, Cabernet and Syrah? If so, we can't wait to hear what's on the horizon.
Laura has to talk me down from adding more varietals to our portfolio all the time! If I could, I would make every single wine varietal on the planet. In 2017, I made my first Schermeister Chardonnay and also made a Grenache last year. Grenache is one of Laura's favorite varietals, and our recent trip to the Priorat region in Spain was a major inspiration for me to make something we both would love. Pinot Noir is still my first love, and I am excited to keep making Petaluma Gap Pinot for the foreseeable future. Nothing else compares, in my personal opinion.
Your wines sell out every year. How do you acquire new customers and are most of your customers members of your wine club? Do you really have a waitlist for the club?
The two of you are partners in every aspect of the business. How do you manage to do-it-all and stay together? Do you ever think about scaling the business to be bigger or will you intentionally keep the business at a size that you can avoid hiring additional employees? Do you ever wish you could do your own thing?
We should first state that neither of us expected to be where we are now – selling out of our wines just three years into having a tasting room. The beginning was really hard and the first six months left us wondering if we had risked our solid jobs and matching 401k's for nothing (Laura designed bicycles full-time from 2015 to 2018).
After 15 months of construction delays, we finally opened in the winter of 2018 and it was unbearably slow. No one knew who we were. We couldn't ask for online reviews but we needed reviews to get more people in the door. Thankfully, many winery tour guides were curious to learn about us and their clients were among the majority of our first guests.
As of now, we are about 60% allocated to members with 40% of our wines left for new visitors to the tasting room. Everything is mostly word of mouth though we have been featured many times in print and online as a native fermentation and vegan-friendly winery.
And yes, we really do have a waitlist! It's very transparent – we sell out of our wines and activate the waitlist while we're closed. Those who join are guaranteed wines via membership in the Magnus Vinum Society as soon as we reopen with new releases. There's no mystery to it and waitlisters can always join later, too, if they change their minds. If non-members want to make sure they can get our wines, membership makes it easier.
As for our business and personal partnership, we have challenges like everyone else but have worked on fine-tuning resolutions. In misunderstandings, apologies are swift and heartfelt. In business, we find balance in our individual skill sets as they are polar opposites. Rob is the artisan, scientist, accountant, and host. Laura is the designer, writer, photographer, and IT specialist. "Beb, the credit card swiper is broken again!" Seconds later… "Coming, beb!"
Combined, we are both wine-obsessed storytellers, trusting one another's palates while being able to pick up on completely different flavors and aromas. We also love planning and list-making together, which is good when you're running a multi-faceted business! When things are working behind the scenes, hospitality in the tasting room feels effortless because we can just show up and be ourselves with our guests and members. It's a nice way to be in the world.
Considering growth, we have been increasing production consistently at about 100 cases per year. It is less risky financially and helps us gauge how much we can put out into the hands of wine lovers. Once we get to 1300 cases per year, we plan to hire a Wine Educator who is excited to talk to people about how and why we make wines the way we do. Smoke damage due to wildfires has kept production low recently, which has also contributed somewhat to our rapid sell-outs. The demand for our wines has been amazing to experience, but we'd like to stay open for at least 6 months every year to educate and expose as many people as possible to native fermentation winemaking.
That being said, operating as a seasonal winery has allowed us to pursue other goals and passions. Our first sold-out closure in 2020 was hard. We were so used to hustling every day for years, and all of a sudden, we had nowhere to be almost every day. While Rob loved just making wine during harvest instead of juggling the cellar and tasting room reservations, Laura felt disconnected from society. It didn't feel right to not work all the time because society taught us to work all the time. One friend told us "to just be". We could not grasp that concept.
But this time around, we looked forward to May 2022 as we sold out of everything in just three months after reopening in March. We spent a month in Canada hiking, biking, canoeing, and backpacking. Laura built a tiny cabin, which is just about finished. You can see her progress on Instagram at @lauraschermeister. We spent time with family. Rob got to read more books. Laura sewed a baby quilt. Wine is a major part of who were are, but it isn't all that we are. And we are so grateful that people love what we're doing so much, that they believe in us so much that we can continue to do what we love: winemaking and so much more.
Laura, you are the graphic design talent behind all of Schermeister's marketing and promotion. Your wine labels, website, and tasting room are all beautiful. What has influenced you the most with your designs?
As a designer and visual person in general, I'm always looking for ways to beautify the world around me. I also love how design can create a sense of warmth and calmness, which is what I have brought to our winery. My heritage is part Swedish, and I've always been drawn to Scandinavian interiors. I love warm wood tones, natural rustic textiles with minimal patterns, and soft lighting. I knew that, when we found our tasting room at Jack London Village, I could create a space for our guests that looked fabulous but still felt a little like home. There can be a bit of austerity in the wine world, and my goal was to avoid that completely.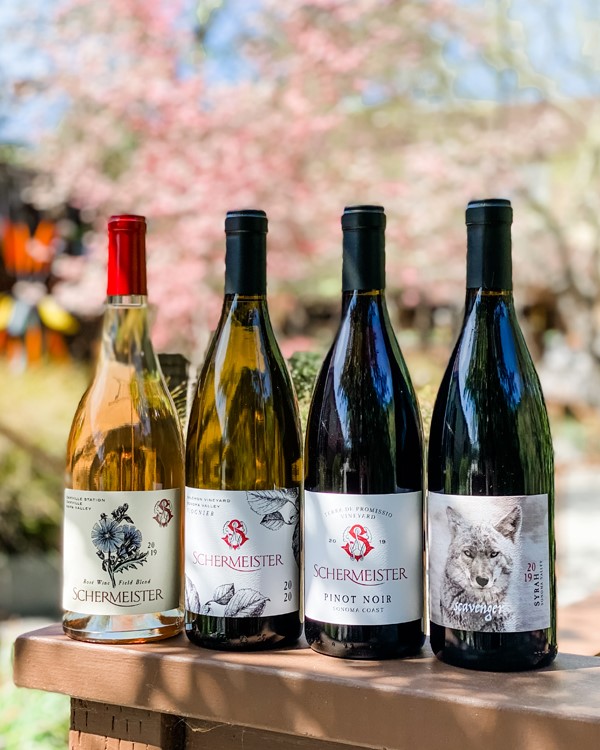 When Rob and I first met, his wine labels were just that – austere. After finishing his website design, he gave me free rein to rework the labels, so I kept the original logo lettering but redesigned the "S" icon and fonts, making them softer and more feminine. I still liked a minimalist approach but wanted to add my own botanical illustrations of the plants that grew in each wine's vineyard.
When we go to the vineyards together, I'm so drawn to everything else growing there besides the grapes. Even the weeds are beautiful! Everything that is alive tells the story of the terroir, and it's also another opportunity to educate wine lovers about the complexity and nuances of farming. I love that I get to be a part of it using my own personal perspective.
For our Pinot Noir and Rosé labels, I was inspired by the "carte postale" designs from France, as our Pinot is often compared to the revered Gevrey Chambertin wines of Burgundy. Elements from this design approach can be seen in my typeface choices and use of stamps to sometimes designate vintage, appellation, and varietal.
Scavenger was born on a whim when Rob got some overage Syrah fruit from a friend. Because he wanted to primarily focus on Pinot with the Schermeister name, I created a new design for the Syrah, which made him a little nervous. "Beb, no one knows my Schermeister wines yet and you already want to create another brand?" I told him, "Don't worry, it will be fine". The Scavenger Syrah, which features different scavenger animals with a portion of profits donated, is now one of our fastest-selling wines. People love it and get excited about the label reveal every year! And each animal has a personal story for us, which makes the wine especially meaningful.
Your tasting room experience focuses on educating your customers. Tell us about the experience and what customers find most interesting when they are tasting with you. Do you each take a customer or do you both talk to all your customers?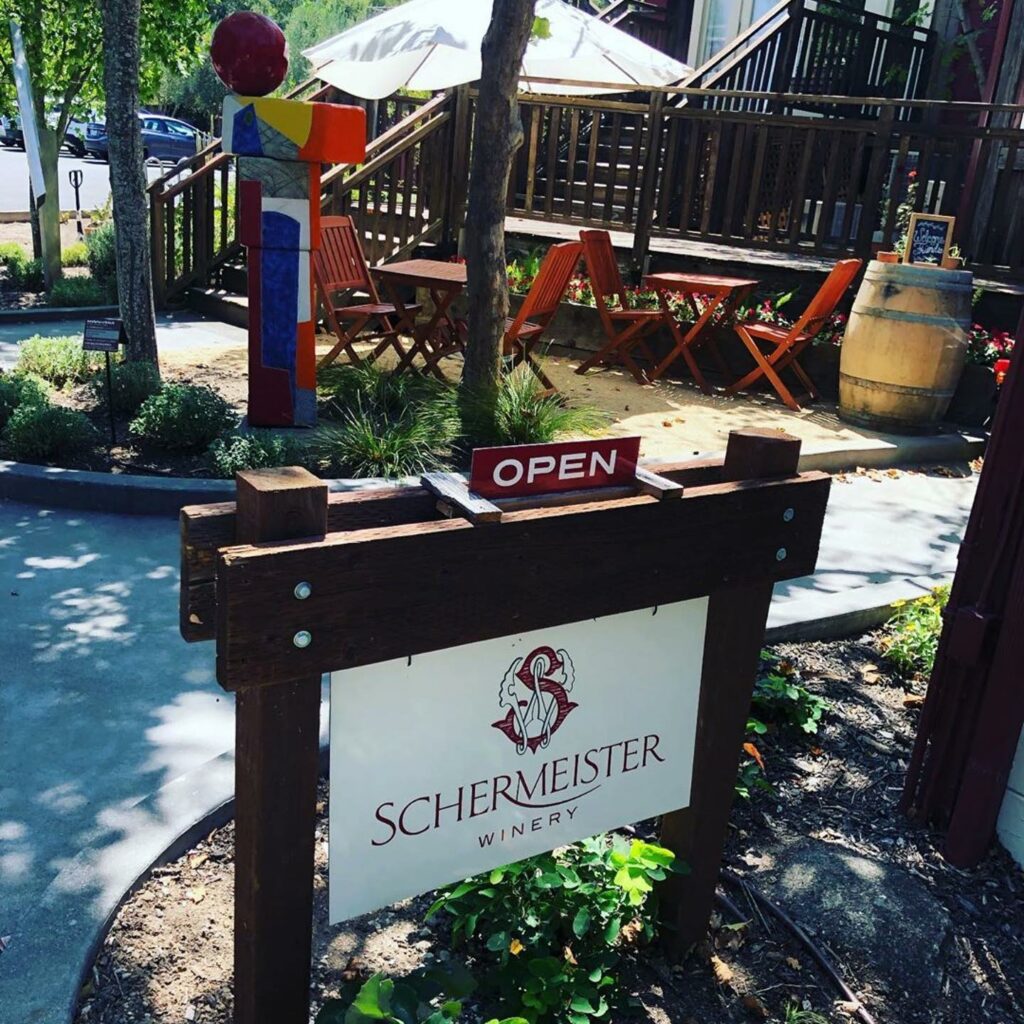 When we first opened, we were so focused on what other wineries were doing because we wanted to be successful, obviously. But over time, it became clear that our personalities were not typical of tasting room hosts. We at first tried to be more formal to match the high-end nature of our wines, but that felt so unnatural. We just opened up and let our individual qualities shine. We poke fun at one another in public because it's what we do in private, and perhaps people can relate to that.
Our primary goal, though, is to educate our guests so they can easily differentiate outstanding wines from the rest. While wine tasting is subjective, we know in our hearts that we're making wines that smell and taste amazing because the aromas and flavors are undeniable. We trust our tasters' palates, and they in turn trust ours. Rob is obsessed with fruit quality, which affects wine quality, which affects guest happiness. When people smell the Viognier and light up because they've never had such an intensely fruity dry wine, we know we've given them something special.
Because we only have four tables seated at a time, Rob hosts all guests in the tasting room. We want people to have direct access to the winemaker and his vibe has always been unpretentious and approachable. It's amazing to see because Rob used to be so shy and pouring for our guests has completely brought him out of his shell. Laura will come out to help if it's a busier day with walk-ins but mostly hangs in the back writing our newsletters, photographing wine bottles, connecting with members, and designing wine labels.
There's a wine for every person and every occasion, and we just feel honored to make it into the cellars (or pantries) of people who really loved the personal experience they had with us. It's even better when they email us to say, "We just opened a bottle of your wine and it tasted even better than we remember". That means we're doing a great job.