Mike grew up in California and Lorraine is from Toronto; as a young adult, she didn't even like wine. When Mike told Lorraine he wanted to make some wine, her first thought was "it would be from a kit," but that's not what he had in mind. To his surprise, she agreed. They hauled a ton of Sangiovese up to their second-floor walkup in San Francisco, stomped grapes in the kitchen, fermented them in their walk-in closet, and rehydrated a barrel in their bathtub. That was in 2006 and by 2009 they'd moved to Petaluma and launched Barber Cellars.
Where were you born? Was wine a part of your families' lives during your youth?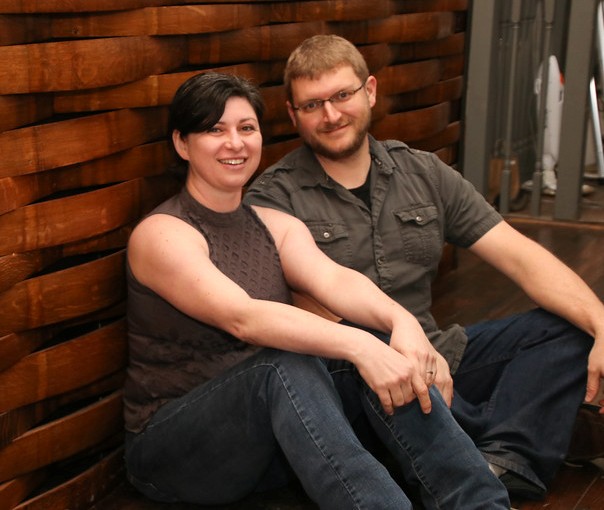 Mike: San Jose, California. Wine was always a part of family dinner and celebrations. The first place my parents took baby Mike out after I was born at the hospital, was to Mirassou Winery for a wine and brandy pick up.
Lorraine: Toronto, Canada. Alcohol wasn't generally part of my family growing up, with the exception of vodka at celebrations.
How and why did you get into the wine industry?
Mike: wine was always a passion. Out of college in San Francisco I got a job for a big wine retailer in the city (K&L). Started in the warehouse, went into sales/ buying, and through that job I was travelling the world meeting winegrowers and winemakers who would eventually teach me the craft. One night I came home, looked at Lorraine, and said "I think we should make wine." To my surprise she agreed. We scraped together very little money, made wine from Dry Creek Valley Vineyards at a Suisun City co-op, and sold the wine to restaurants during lunch breaks at our day jobs. Now we have the downtown tasting room, our own winery, and farm 9 acres around Petaluma ourselves.
Lorraine: I absolutely did not like wine in my early twenties. I realized that most of the varietals and styles of wine that I had been exposed to back then were not for my palate. One day we went to a friend's house party and someone had a chance to taste Mick Unti's Barbera, which became my epiphany wine. I started to explore more Italian varietals and fell in love with that style of winemaking in general. When Mike said that he wanted to make wine one day, I honestly thought that he meant from a kit, but he meant to actually become a vintner. We reached out to Unti and purchased a ton of Sangiovese that we processed in our second-floor walkup in San Francisco, fermented in our walk-in closet, sanitized our kitchen and stomped grapes and pressed in there, and rehydrated a barrel in our bathtub, all just to see if it was a road we wanted to go down. We really fell in love with the process and decided to pursue it. That was 2006, and 2007 was our first commercial harvest.
Lorraine, your career began in the construction industry. Can you describe how you got into that field, one usually dominated by men, and what it was like as a woman on the job? Do you still work on any construction projects?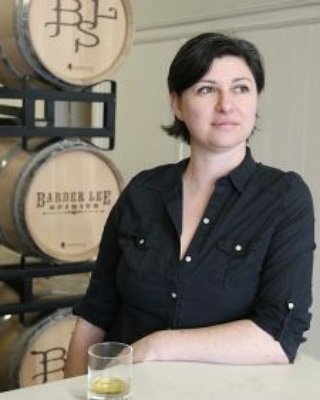 Originally, my career began in advertising as a copywriter and graphic designer. I learned a lot of skills in that job that I still use today. Construction, however, was my first love. I've always been inspired by utility and structure. I started entering the industry by doing insulation, and then house painting. Gradually I picked up knowledge of various trades and became a project manager for a builder. My personal experience in the industry has always been positive, and the people that I worked with were supportive. Generally, because of the nature of the business, what mattered is that whoever you were, you did your job or the job didn't get done. My knowledge and skill were integral to every aspect of our business. The saying goes that "in wine you need to start with a large fortune to make a small fortune;" we started with no fortune and so had to do a lot of everything ourselves, which included a build-out and smaller on-going projects.

We understand your family came from the South and there's more barrel-aged bourbon than Pinot and Chardonnay there. Mike, what do your friends and family think about you going into the wine business?
Mike: My family is from the Florida/Georgia border area, and there's a fair amount of wine consumed there, but whiskey is still king. My grandpa guzzled down plenty of my wine, but I think he was especially happy when we started our distillery.
Mike, you got your start in the world of wine on the retail side of the business. Are you selling most of your wine through distribution and retail partners or is it mostly DTC?
Mostly DTC through our tasting room, with a very loyal local base of wholesale clients. The conglomeration of the wine business has changed wine wholesale over the years–it takes so much time and effort to get through to buyers who want to buy from smaller wineries (often for way too little money to justify huge markups). My time is better spent in the winery or in front of interested consumers at the tasting room.
Lorraine, tell us how and why you started Petaluma Drinks!, the annual festival that locals have grown to love, celebrating wine, spirits, beer and cider. Will it be rekindled now that the pandemic is winding down and people are starting to gather again?
When we opened our tasting room in the Hotel Petaluma, we were getting a lot of visitors who had never been to the area before and were asking us where they should go and taste next. I put together a simple list of wineries, breweries and distilleries that they could visit with phone number, address, website and tasting hours with a map that had google way points on the back. I distributed the pdf to all the makers and had everyone print it out so that we could give it to our visitors and keep them in town vs. sending them to Napa, Healdsburg, Dry Creek etc. A couple of years later I was thinking about creating a unifying event that would celebrate all of the amazing craft beverage that was being made in Petaluma and so Petaluma Drinks! was born. Absolutely, Petaluma Drinks! will be back as soon as it is safe to do so again, so hopefully next year.
Your website states that you are dedicated to making wine from small, organically farmed vineyards. Why did you choose to go this route? Which growers are you buying from and how do you choose them? Do you plan to grow your own grapes?
We lease our land, and grow most ourselves or work directly with vineyard managers who came with the lease. Organic viticulture is very important to us for the maintenance of soil nutrient, quality of the fruit (not quantity), and just honesty for the consumer. Not many people know you don't wash fruit before making wine. For better or worse, anything used in the vineyard is going to get in the wine. Also, even in bad vintages, organically grown grapes tend to fare better.
Much, but not all of the fruit you work with, comes from the Petaluma Gap AVA. What varieties do you source from the Gap and why did you choose our AVA? What varieties are you buying from outside the Gap?
Mike: We started making wine with Zinfandel–uniquely Californian (like me!) and I love it. Like Lorraine, Italian varietals were my first love, too, with Sangiovese being my favorite. We moved to Petaluma in 2009 and were attracted to the cooler weather effect on the grapes here. All of our wines have always been low alcohol, harvested for acidity and food-friendly ripeness, which is easy to accomplish here. So, our Zinfandel and Sangiovese are grown nearby on Sonoma Mountain and Carneros, while from the Gap, we get what the Gap does best–Pinot Noir and Pinot Gris.
With the pandemic impacting so many aspects of our lives over the last year, how has it changed the way you do business? What has worked well to keep your business alive while tasting rooms were closed?
Lorraine: The word of the moment is pivot! There isn't a single aspect of our personal life or business structure that hasn't been reshaped by the pandemic. We spent a few days in the beginning feeling pretty low and worried about our future, and then committed to surviving the year, no matter we had to do. We changed the way we engaged with our supporters, starting with in-person delivery and began making hand sanitizer at the distillery. When we tried out an idea and saw that it wasn't working, we immediately shifted into another idea. Before the pandemic we would have waited to make changes. Our wine club members also saved us. We reached out to each of them with a letter at the beginning of this to check in with them about how they were weathering the storm and if they needed to pause their membership. At least 95% rode with us, which was incredibly humbling. We tried table service in the courtyard of the Hotel Petaluma, but the first day that we were able to do so, the ash from the Lightning Complex Fires was sprinkling down into our guests' glasses. The list of what has kept us open honestly feels almost endless because it seems we have been reinventing our businesses daily for at least a year now. We're just grateful to still be here. Ultimately, it's because of the support of our community that we are still standing.
You also own Barber Lee Spirits, and are credited with making some of the finest rye whiskey in California. Which came first, wine or whiskey, and which is harder to master? How compatible are these two businesses?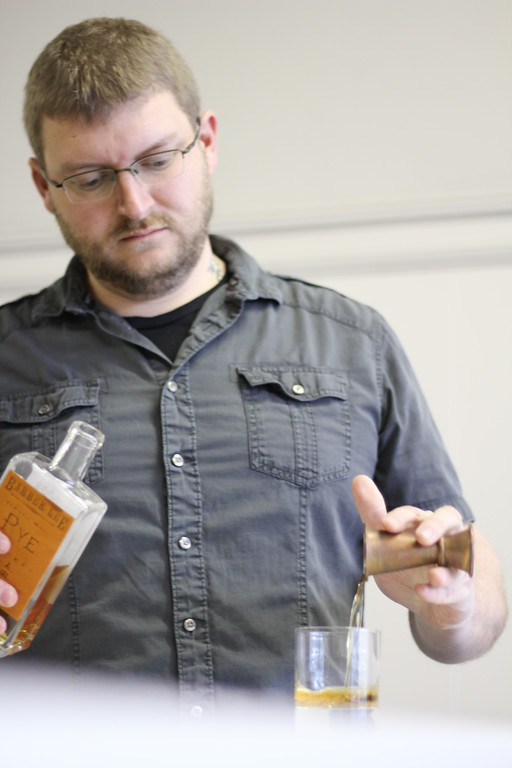 Mike: we've always had a passion for both, but wine came first. Both industries have their own difficulties. In wine, you worry all year long about every change in the weather because you only have one time in the year to get it right for your whole production. Harvest is the great equalizer, we always say. It waits for no one: no matter weather, money in the bank, wildfires, or health. If you don't get it done, you're completely screwed. It's two months of backbreaking, non-stop, sleepless, dirty, sweaty extreme toil, and then it's done. There are long stretches of time where nothing happens except the occasional intense day in the vineyards.
Fermenting and distilling you can do all year long, and you are MUCH less worried about microbial infection (because everything you make is a sanitizer), but the economy of scale is enormous. 1200 gallons of mash (tons of grain fermented in water) hopefully becomes 90 gallons of finished product through the still. Handling the economics of that reduction is the problem distilleries always have to deal with. We are also way more heavily restricted on pouring/sales volume in the distillery tasting room and we cannot sell directly to wholesale clients. Wineries have no such restrictions.
How did you end up renting space for Barber Cellars at Hotel Petaluma?
Lorraine: We originally looked at some other spaces in Petaluma, but nothing was really working out. We happened upon the space we are currently in when we were out for a walk. It had Christmas paper covering the windows but there was a little tear that we could see the space through. We met with the new owners and quickly realized that we both wanted to restore the building to its former grandeur and because we felt like we shared the same vision for the space, began a partnership that endures.
When you're at home, relaxing, what is your go-to wine and what do you pair it with?
Mike: The cellar is filled with aging Napa Cabs and Brunello di Montalcino for those special nights out. We'll typically pop a bottle of Sonoma County Zinfandel or Pinot Noir with dinner (depending on what we're eating). If it's fish: Sauvignon Blanc or a sharp/crisp white. Poolside: rosé all day. And the combination of a good pasta with a good Chianti Classico or Montalcino makes life worth living and basically is the best thing of all time.