When Bea's dad started talking about succession planning for his dairy ranch, she and her husband, Mike, thought they might finally make their dream of owning a vineyard come true. But it wasn't until a chance meeting at a PGWA BBQ that Bea's dad was convinced by Mr. Flocchini that grapes were a good alternative to cows. Despite the advice of three separate vineyard specialists that grapes wouldn't ripen out on D Street Extension, they forged ahead with a one-acre Pinot Noir test plot to be used for home winemaking and personal consumption. Today they organically farm ten acres of Pinot Noir and are now selling their fruit to Flowers Vineyards & Winery. Here's their story.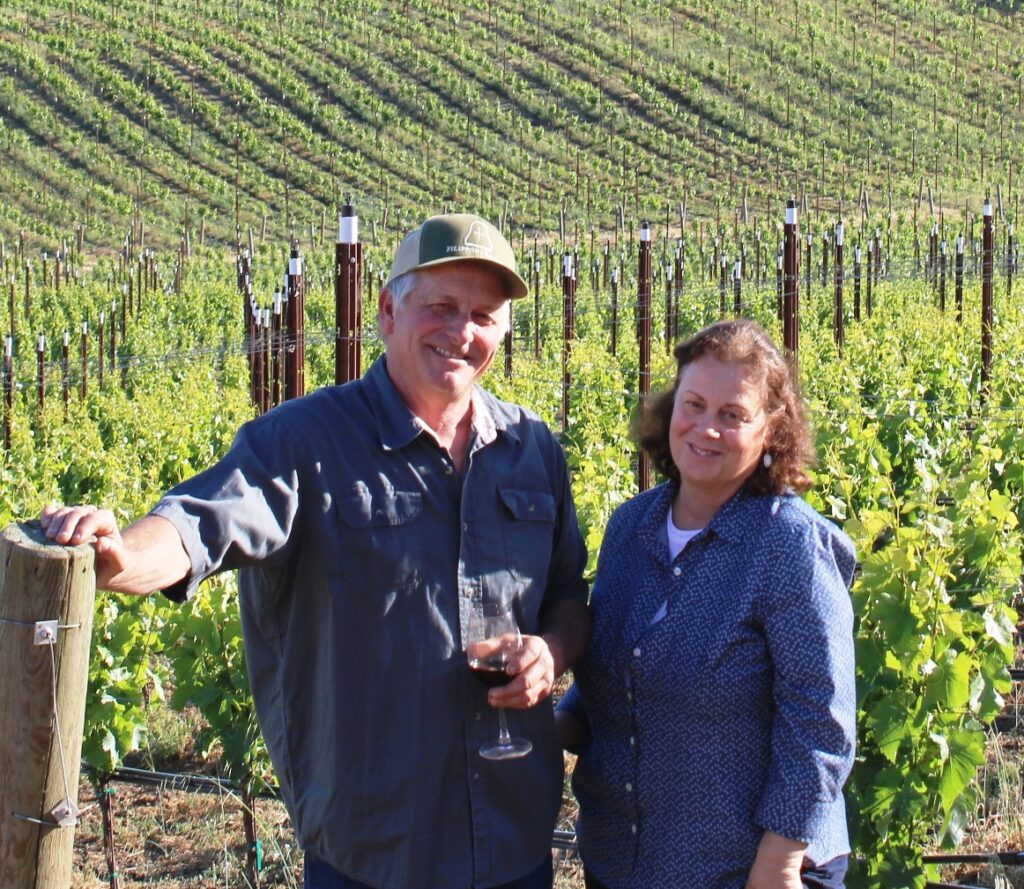 Mike & Bea, you both grew up in Sonoma County. Can you tell us about your family histories?
Mike grew up in the town of Sonoma. His mother's family has been in Sonoma County since the 1800's, and were involved in groceries and agriculture; his dad grew up in Glen Ellen, moving there in 1945 (from New Hampshire) and worked in construction. Mike's grandfather, Don Shone, owned the local grocery store on Broadway and his great-uncle, Robert Shone, was instrumental in acquiring the Shone Farm for the SRJC in Santa Rosa.
I grew up on a dairy in West Petaluma, on the Sonoma-Marin County line. My grandfather, Dazio Lavio, immigrated from the Lake Como area in Italy in 1906 and milked cows for the Corda Family in Novato. He later started his own dairy and in 1938 purchased the ranch where I grew up. My mother, Josephine, was one of 12 children; she came from the same area in the Italian Alps, where her family raised cattle and made cheese. She met my dad, Leo Lavio, in San Francisco in 1958 and they married two months later. In 1968, when Dad lost his brother and partner to an accident on the ranch, he contacted my mom's brother in Italy, Giacomo, to come milk cows for them. Giaco was not only a great ranch hand but also a great babysitter.
Bea, we understand you are one of five girls growing up on a dairy farm. Did you have to milk the cows? Did your family drink wine with dinner or family celebrations?
Yes, there were five of us girls, and we always worked outside helping to raise calves, feeding hay and sometimes milking when needed. I often drove the tractor and during the 1977 drought, I also drove our water truck, while hauling water for the cows. I loved working on the ranch and showing dairy cattle in 4-H at the local fairs and loved being outdoors.
As far back as I can remember, we always had wine at the table. My Nono (grandfather), had a small cellar under his house where he stored his barrels of wine and made sausages and cheese. In fact, we grew or raised most of our own food on the ranch, only going to town to buy pasta, rice, and bread from Volpi's Grocery Store. On Sundays, we always had a big family gathering at my grandparent's house, where my cousins from town would come for lunch. We were allowed to drink wine if we wanted, only with our meals of course, but back then I did not like it too much. Also, on these days we mostly spoke Italian, as my grandparents spoke little English. It was always fun!
Mike, what did you study during college? How did you get into the wine industry?
I attended Fresno State University where I studied Enology and Viticulture. While at school I worked a lot in the vineyards and also at other agricultural jobs in Fresno. During the summers I would come home to work at wineries in Sonoma County.
After graduation, I returned to Sonoma County to work my first harvest at Sonoma-Cutrer Winery in Santa Rosa, where I was also a member of their tasting panel. I then spent six months in Alaska as a commercial fisherman, before accepting a cellar position with the Benziger Family at Glen Ellen Winery. I enjoyed working with the Benziger's, as they are quite a unique family.
After working at Glen Ellen for several years, I joined my father in the family roofing business; I continued to make wine for family consumption, by caring for several small vineyards in the Sonoma Valley in exchange for the fruit. Each year I processed the fruit in an old milk tank at Bea's family ranch, and to the delight of Bea's uncle, Giaco. Giaco started making wine as a boy in Italy and has worked with me for 30+ years blending his old-world techniques with my newer technology and practices, to produce some much-enjoyed table wines. I have also taken soil and viticulture classes at SRJC to build on my knowledge of more current practices in the industry.
How and where did the two of you meet? Do you have children?
Mike and I met in Sonoma at the Trap Club thru mutual friends in 1987 and were married in 1989. We have raised three children, all of whom work in Sonoma County agriculture-related fields. Lucas has his own welding business, Daniel is a vineyard manager for Chalk Hill Winery, and Amanda works for Stemple Creek Organic Ranch.
Bea, you attended SRJC; what did you study and where do you work?
Yes, I attended SRJC studying Ag Business and Accounting while working for Bar Ale Feeds in Petaluma. I have done bookkeeping for most of my life, starting with my dad's dairy and working for CPA firms during tax season. I even had my own bookkeeping company for a while. Currently I am a controller for Coda Technology Group in Petaluma. I also work with Mike at the vineyard on the weekends, which I enjoy because it requires less thinking and lets me get back outdoors at the family ranch.
Starting a vineyard takes a lot of guts. Did you already own the land or did you purchase it with the intent of planting grapes? Did anyone influence you on the decision to plant grapes? When were the first vines planted? What were your expectations?
Starting our own vineyard was always a dream for us. We looked at buying land, but never found the right spot and one that we could afford. When my father started talking about succession planning for his ranch, we began thinking about it more seriously as something that would provide extra income and make our ranch more sustainable.
In 2007, upon the constant urging of Zio (Uncle) Giaco, and despite the advice of three separate vineyard specialists who believed that grapes would not grow in our area of Sonoma County, Mike and I decided to plant one acre of Pinot Noir as a test plot. When it became evident that the fruit produced good homemade wine, we started selling a few tons to commercial winemakers. Within a few years, the test plot of fruit became a vineyard designate for one winery. By this time, we had gotten the fever to plant more grapes, but still had trouble convincing my dad to believe in grapes on D Street Extension. So, I began to search for ways to convince him and that is when I learned about the Petaluma Gap Winegrowers.
How and when did you get involved with the Petaluma Gap Winegrowers Alliance?
I learned about the Petaluma Gap Winegrowers in 2006, from a friend and co-worker, Gayle Crane, who had a vineyard on Chileno Valley Road and was a founding member of the PGWA. She invited me to a few wine tastings and encouraged me to join.
It was about this time, when I brought Dad to a Petaluma Gap BBQ at Rockin' H Ranch on Lakeville Highway. Here he talked with another former dairyman, Mr. Flocchini, about the values of planting grapes on dairy land. Mr. Flocchini told him "it was one of the best things I have ever done." To my surprise, later that evening, Dad asked me if I wanted to plant more grapes. WOW, the wheels of the future began to spin for the next generation of the Lavio Ranch. Thanks, Mr. Flocchini!
What grape varieties do you grow? How many acres have you planted so far? Are you taking care of the grapevines yourselves or do you have a vineyard manager to help?
In 2017, we planted nine additional acres of hillside Pinot Noir, on the Sonoma County side of the ranch, with the help of vineyard manager, Eric Neil of Atlas Vineyard Management. Eric not only knows about growing grapes in our area, but also believes in the quality of the fruit grown here. We are thankful for Eric's crews who provide all the skilled hand labor and for his extensive knowledge of Pinot Noir.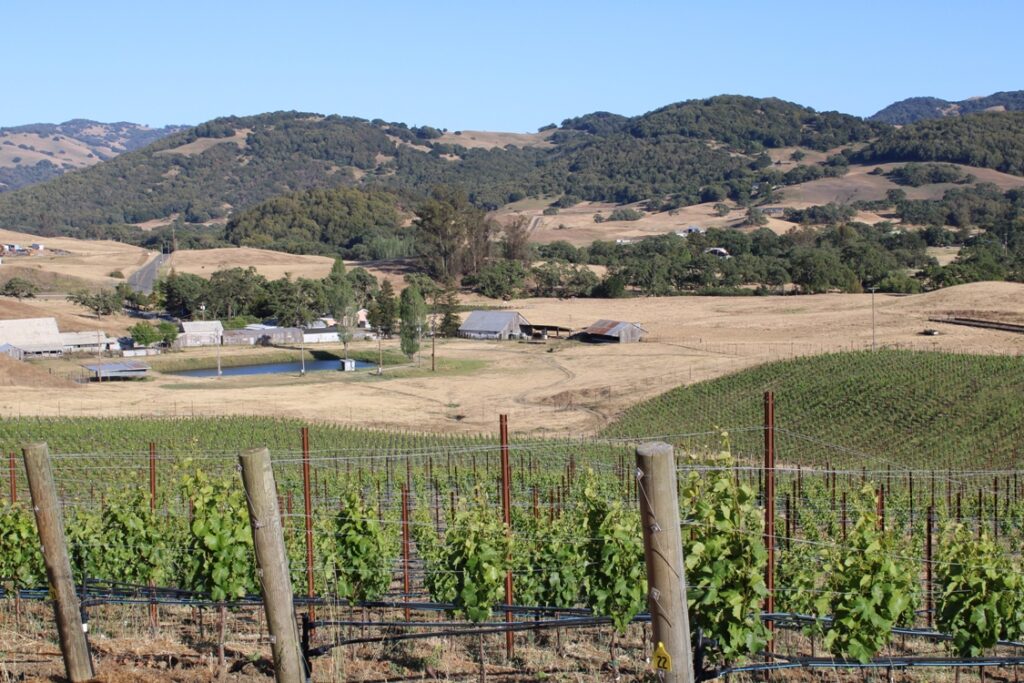 Mike handles all the irrigation, spraying and fertilizing, and I help with whatever task is at hand for the week. We are also thankful for Zio Giaco, who likes to compete with our resident owls for catching gophers, and is currently at 299 gophers for 2021! We are also grateful for my mother, Josephine, who rounds out the ranch crew, providing delicious meals at all times.
What farming practices do you follow? Has your vineyard been certified sustainable, organic or biodynamic?
In 2020, we began farming organically. One of the first things we tried was to let a few heifers graze the vineyard. They were fine last year, but this year we decided that they were a bit too destructive to our frost protection system, so instead, we think we will be trying sheep next year. We have plans to become sustainable and to continue with organic practices while learning more about which techniques work best in our vineyard. We are not currently certified but hope to get certified in the future.
Do you grow anything else besides grapes? Any animals at your ranch?
Yes. Along with our Pinot Noir, we have organic diary replacement heifers, angus beef, chickens, a few dogs and a solar field that generates power for Sonoma Clean Power. We have always had a huge garden to share with family and friends, but this year, due to water constraints, we will not plant a garden.
Who is making wine from Lavio's grapes? Are all your grapes sold for the 2021 vintage?
This year we have signed a trial contract with Flowers Vineyards & Winery for the fruit from our new vineyard, which has us very excited. They will be working with us to fine-tune our farming practices and we look forward to a successful harvest. We are hoping for minimal interruptions from the pandemic, smoke-filled skies, and low water supplies.
How has the pandemic changed life for the two of you? Were you impacted by the wildfires last year?
In 2020 we were working with Hanzell Vineyards to plan for our first harvest. But with the impact of the pandemic and after learning that our grapes tested positive for smoke impact from the wildfires, we engaged the help of family and friends to drop our damaged fruit and lessen the stress on our young vines. Those were very sad days in our vineyard.
Have you continued the tradition of large family gatherings? Do you serve wine and, if so, what do you pair it with?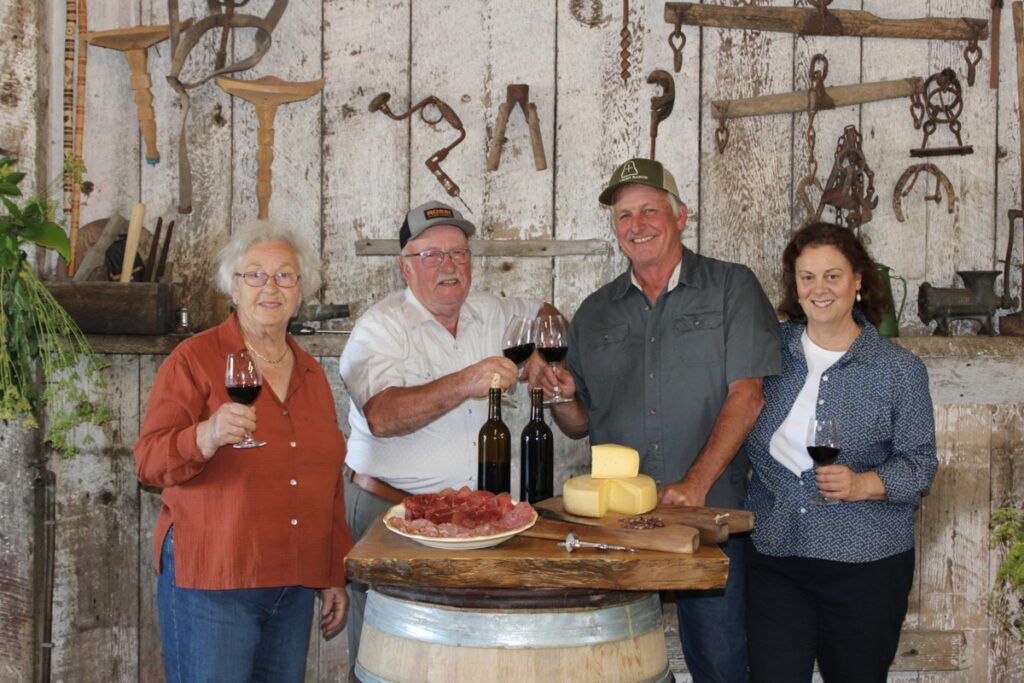 Yes, our family still gathers often with my four sisters and 13 nieces and nephews. We have missed gathering in large groups this past year, but as our family continues to grow–with four babies arriving this year–we will definitely be needing more room and more wine at the table! We always serve wine; not only at family gatherings, but we also enjoy it daily at the lunch table. According to Zio Giaco, red wine pairs best with his homemade salamis and cheese, but is also excellent with any meal that his sister prepares.
When you're at home, relaxing, what is your go-to wine?
Honestly, anything red. Mike & Zio Giaco prefer the Cabs, Malbec & Zins that they produce and I like the Pinot. My mom, well she cooks with everything!