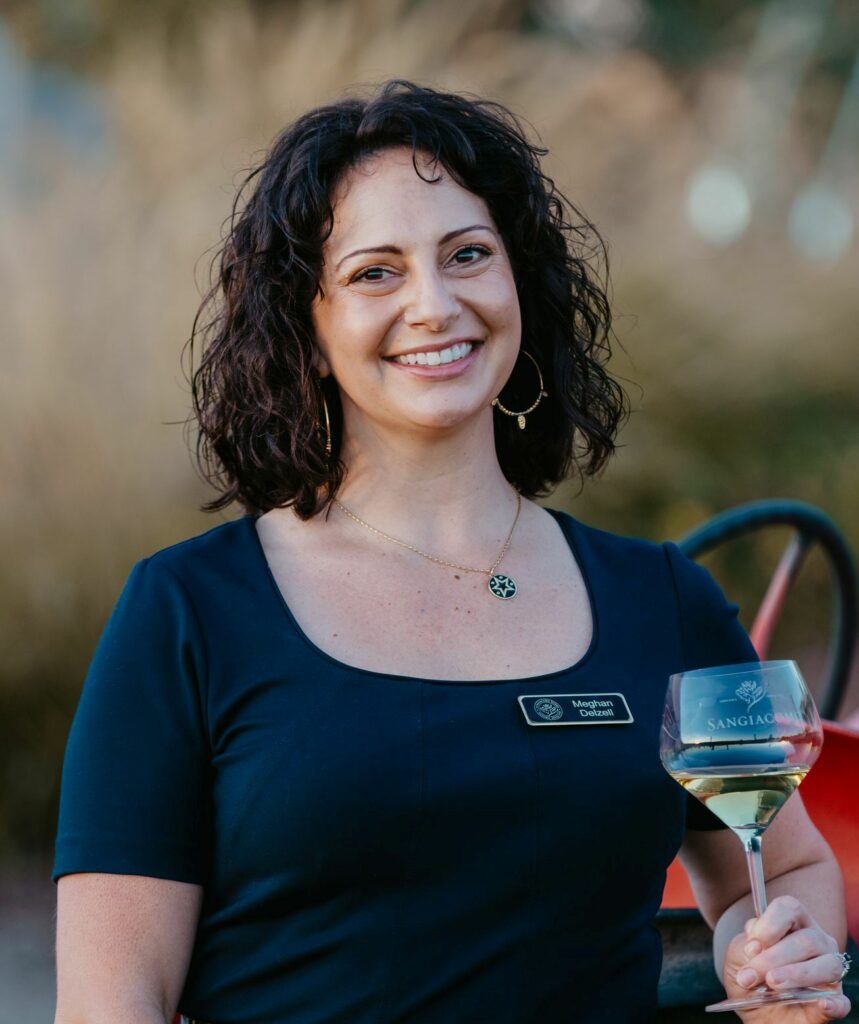 Meghan Delzell grew up on the east coast in Londonderry, NH. She was the drum major in her high school band and had the opportunity to march in the Rose Bowl Parade. She went on to major in Biochemistry at UNH and after college headed west. After three weeks of exploring and camping while traversing the country, she arrived in Sonoma County. It felt like home so she stayed and settled in. She's managed restaurants, sold wine to collectors over the phone, collaborated with chefs on the perfect pairing, worked with tech engineers on product design, and now is managing the sales and hospitality teams for Sangiacomo Family Wines. Meghan is full of energy, creativity and at her core is a huge heart and a natural gift of giving. Here's her story.
You were born and raised in New Hampshire. How did you make your way west?
I feel very lucky to have grown up in New England. With the encouragement of my parents, I was inspired to 'dream big' and follow my passions, without any regret. In my early 20s, once I entered the workforce and began my career in biopharma research, I was unsatisfied with the culture of the research lab. I found myself craving more human interaction and more connection beyond the lab bench. Although I have a deep love for science, I wanted more and felt I had more to offer. I aspired to give more and do more and wanted to feel passionate about my job and tap into all of my senses and range of personality and skills. I wanted to feel like I was contributing something back, leaving a positive mark in some small way. This is probably why I loved working in restaurants while in college. I loved making people happy! I was young, hard-working, and ambitious; and yet at the time, I didn't quite understand how to connect all of my passions into a career. I couldn't quite see my path; I just had big dreams and was ready for adventure! And so, after a few months of dreaming and planning, I took the road trip of a lifetime and moved to California with my best friend. For more than three weeks we drove across the USA, camping our way across some of the great National Parks until we made our way to Sonoma County. And then, it felt like home. 19 years later, sometimes I still feel like that 20-something girl chasing big dreams!
You love music and were a drum major in a marching band. When you marched at the Tournament of Roses, how did you feel while marching with the band?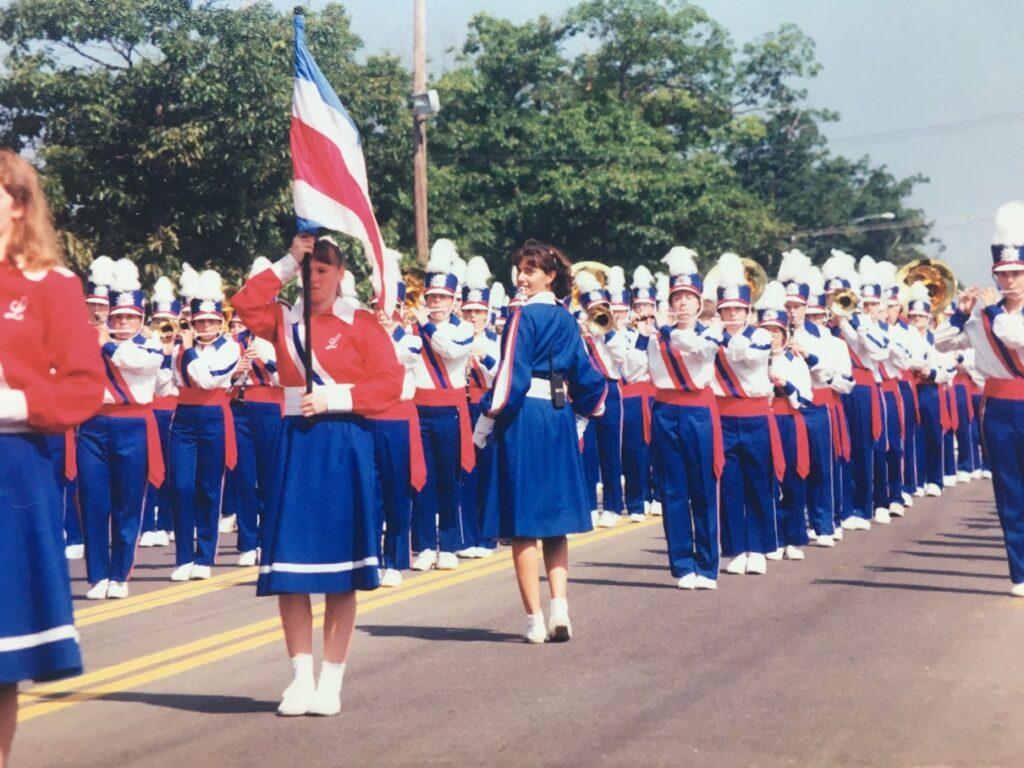 Being the Drum Major is really about commanding the movement of an entire marching band–in unison with the heartbeat of the drumline. When I started learning music, I played the saxophone for six years and also learned the cello, because I loved the sound of the orchestra. The Londonderry High School is famous for its marching band! I was so lucky to develop leadership skills as the Drum Major and to travel around the country performing in some of the best parades! The Rose Parade is definitely amongst the most iconic and a memory I will never forget. But, the best part about being in a great marching band was performing in our own hometown at football games; the sense of community and team spirit inspired me for life! Music is still something I love very much; I sang acapella in college, and someday (in my free time) I will eventually learn how to play the guitar.
What provoked you to pursue a degree in Biochemistry and Environmental Studies at UNH? Have you used that knowledge throughout the various positions you've held?
I love science! I also loved physics and nature. So, I put it all together and biochemistry seemed to have many possibilities: medicine, research, saving the world. I didn't know what I wanted to be, I followed what interested me and at the time, this seemed like the right fit.
Most importantly, I love the process of science: the step-by-step, combing through all of the details to establish a theory, collect data, then formulate a conclusion. This perspective is still deeply ingrained in me today. Having a background in biochemistry has made it very easy to communicate with winemakers and to understand the minute details and science of winemaking. It's very inspiring to me, and it has helped me become a better wine educator for our consumers.
You've represented outstanding wineries throughout your career—Ledson, Cain, Lynmar, and now Sangiacomo Family—how did you get your first wine-related position?
My first job working in Sonoma was at a fine-dining restaurant in the Ledson Hotel. It was a chef-driven restaurant with exceptional cuisine that focused on pairing food with Ledson's wines. This was my first opportunity to bridge the gap beyond managing a restaurant and learning more about wine and the deeper connections to vineyards, farming, and winemaking. You could say this ignited the spark: wine became this big vast world that I wanted to dive into! Commuting up and down Sonoma Valley every day, watching the seasons change, seeing the harvest lights at night, and smelling the fermentation wafting through the valley; I wanted to understand it all. I quickly grew a deeper awareness and appreciation for agriculture and the people–and hard work–behind every bottle of wine. I started visiting more and more wineries, learning the stories of the brands, the people, and the varieties; you could say I was fully immersed! I started reading books, joining tasting groups, and taking classes. I became a fully-enamored wine geek. As much as I loved restaurant hospitality, I was ready for a deep dive into wine. After several years of working for the Ledson family, I moved on to become a Wine Consultant working for a telemarking company that sourced and sold highly-coveted wines to collectors and consumers across the country.
Although selling wine on the telephone doesn't sound very glamorous, it taught me invaluable conversation skills on how to talk about wine and describe it to someone on the other end of the phone. We also had the opportunity to taste (directly with the producer most of the time) nearly all of the wines we sold… so over 12 months, I was lucky enough to taste over 2,000 wines. After building this arsenal of experience, I felt ready to 'make a difference' and bridge my passion for hospitality with my newly found love of wine, and I was lucky enough to join the small team at Cain Vineyards, atop Spring Mountain. I can't say enough about the knowledge I learned from mentors there; Ashley Anderson-Bennett and Chris Howell remain some of the most influential people in my career.
Tell us what you do for Sangiacomo Family Wines as Director of Sales and Hospitality. How do you manage to focus on creating a quality experience at the tasting room while also directing other sales channels?
Hospitality truly runs through my core; I believe it's one of the greatest gifts we can share with others. Extending an open hand, a welcoming hello, offering thoughtful conversation to a stranger, teaching something new; hospitality goes beyond hotels and restaurants and wineries. It's a mindset, an ethos of giving and generosity. At Sangiacomo, I am the first person to represent their estate wines, the first to open a bottle of their namesake brand, pour a glass of wine, and be the storyteller of their family history. It's a legacy of farming, and a multi-generational commitment to the land and to agriculture. Meeting the Sangiacomo family and being their first ambassador to spearhead the national launch of their wines and welcome the first guests to the Home Ranch in Sonoma; that's the gift of a lifetime. It's the opportunity to share all of my skills and shine a passionate light on their hard work and vision for the future. Since 2018, they've shared this journey with me; growing a brand, bottle by bottle, one by one educating visitors not only of the Sangiacomo family's farming reputation but now also introducing wines that represent all of their estate vineyards. As our team grows, my role is to teach the core values in the tasting room, guide others to project the same warm, generous hospitality as the family, and uphold service standards that will continue to set our hospitality above: to be amongst the best and most memorable vineyards to visit in Wine Country. Our goal is for every guest to leave feeling like family, embraced and guided on a discovery of history, vineyards, and wine. And hopefully–if the Sangiacomo story is meaningful to them and the wines bring them delight–they will leave wanting more, bringing our wines home to continue the experience. We have an amazing team of estate hosts. Come visit!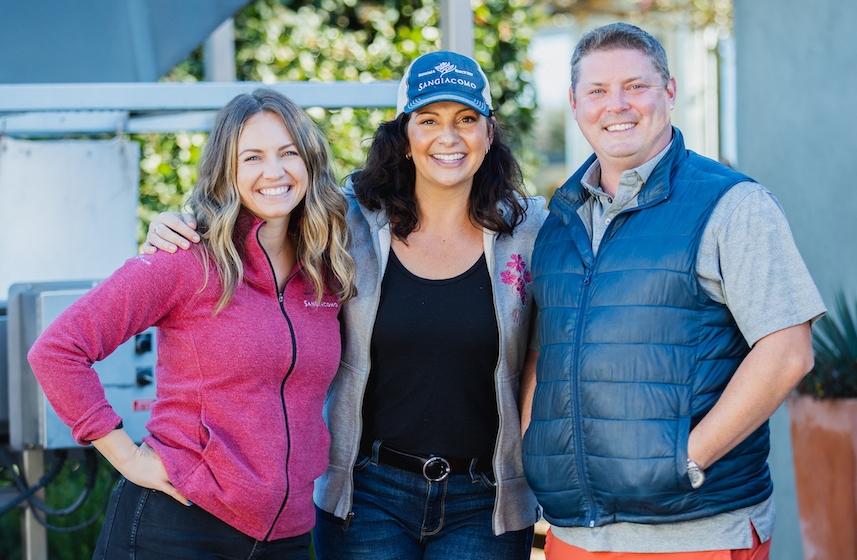 Beyond hospitality, I wear many hats! At this stage in developing the brand, my focus is on fine-tuning the channels that are growing–sharpening the focus on each detail and still seeing the forest from the trees. The big picture is brand awareness, elevating the recognition of Sangiacomo Family Vineyards, and now Sangiacomo Family Wines. When I travel to other parts of the country I bring the same focus with me on the road–sales through hospitality. The vector is always heartfelt generosity and gratitude. Don't get me wrong, I'm quietly very competitive, but in my gut, I know authenticity wins every time. Sharing the story of the Sangiacomo family is a great honor, one that I hope to do for many more years to come!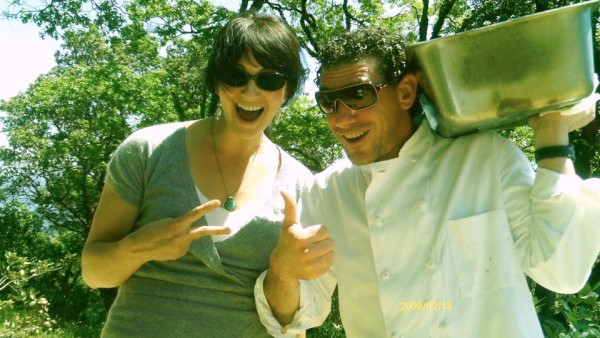 About ten years ago you were the GM at Mosaic Restaurant. Where was it located and what was that job like?
Mosaic was an amazing restaurant in Forestville, owned by Chef Tai Olesky. Like all restaurants, this was a very fast-paced atmosphere and thrived on the passion of the staff and the customers–and well, the delicious food! The menu was ever-changing, and Tai and I were constantly tasting wines from local producers to feature on the menu. Being in the heart of Russian River Valley, I was so lucky to meet incredible (and iconic) winemakers who would spend afternoons in the backyard of the restaurant tasting and sharing wines. It was here that I also had the great honor of meeting Jacque Pepin, one of my life-long culinary idols! Growing up I watched Jacques and Julia, a beloved cooking show that I have fond memories of watching with my mother. Meeting him and discussing omelets and poached eggs was truly full circle, connecting the joys of my childhood to my passions of today.
Did you host any famous people while you were managing the Ledson Hotel property?
We did! And a great host never gossips!
For a while you worked on the tech side, at Missing Link Networks, consulting with wineries about managing their inventories, POS system and wine clubs. Did you enjoy working with engineers as much as those who serve customers in hospitality and sales?
I did! This job was an amazing opportunity to step back and help from behind the scenes. I met so many passionate and talented people in the wine industry. Providing support and coaching and teaching on the technology side brought me back to my science days! Tech-lingo and product development, bridging the gap between winery users in offices and tasting rooms, and conveying their needs and goals to the developers… not an easy task but one that brought me so much fulfillment!
How did you meet your husband, Dodds? Does he love wine as much as you do?
I met Dodds early in my wine career, we worked together. He is a master salesman (with great authenticity and charm) and extremely knowledgeable about wine, with deep connections to many of the iconic producers of our era. He's incredibly humble about his experience in the wine industry, but I'm so lucky that he has shared his knowledge with me! He was an early mentor, and along the way, we discovered so many shared passions–for life, and for each other.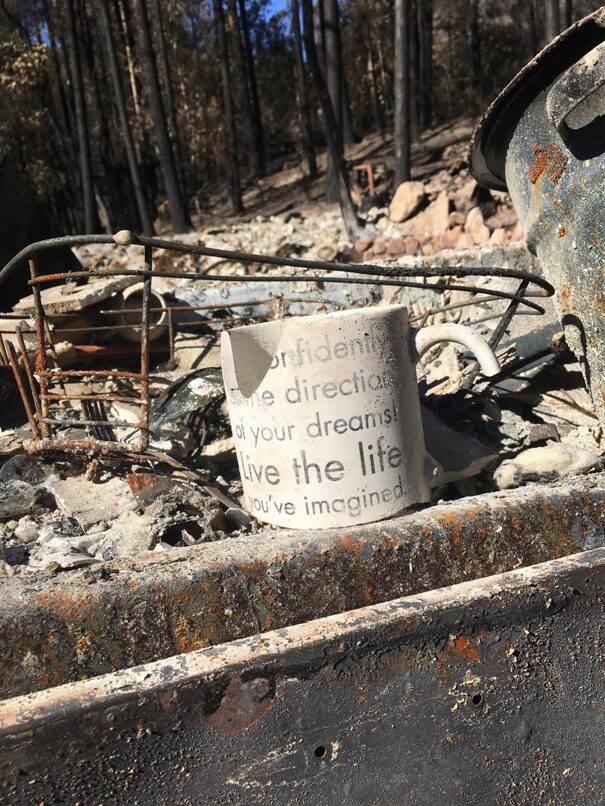 In October 2017 you and your family lost your home in the wildfires that swept through Sonoma County. How did you overcome that devastation? Do you look at your new home in the same way as you did before?
Overcoming loss is a journey. I feel it's most related to the quote by Emerson, "Life's a journey, not a destination." For me, my healing process has not always been graceful or easy; it's taken time, patience, and faith. I believe we are given challenges and lessons to learn from throughout life; and as we grow and become more aware, we can heal and find peace in times of sadness and difficulty. I've learned to lean more on others when you need a helping hand, and I've learned that nothing is permanent. After leaving Kenwood, we now live in Sonoma which has been a welcoming and fun community that I feel lucky to be a part of and now call home.
Your cat, Lola, vanished in the fire in 2017. Tango recently came into your life; who is Tango and how did she get there?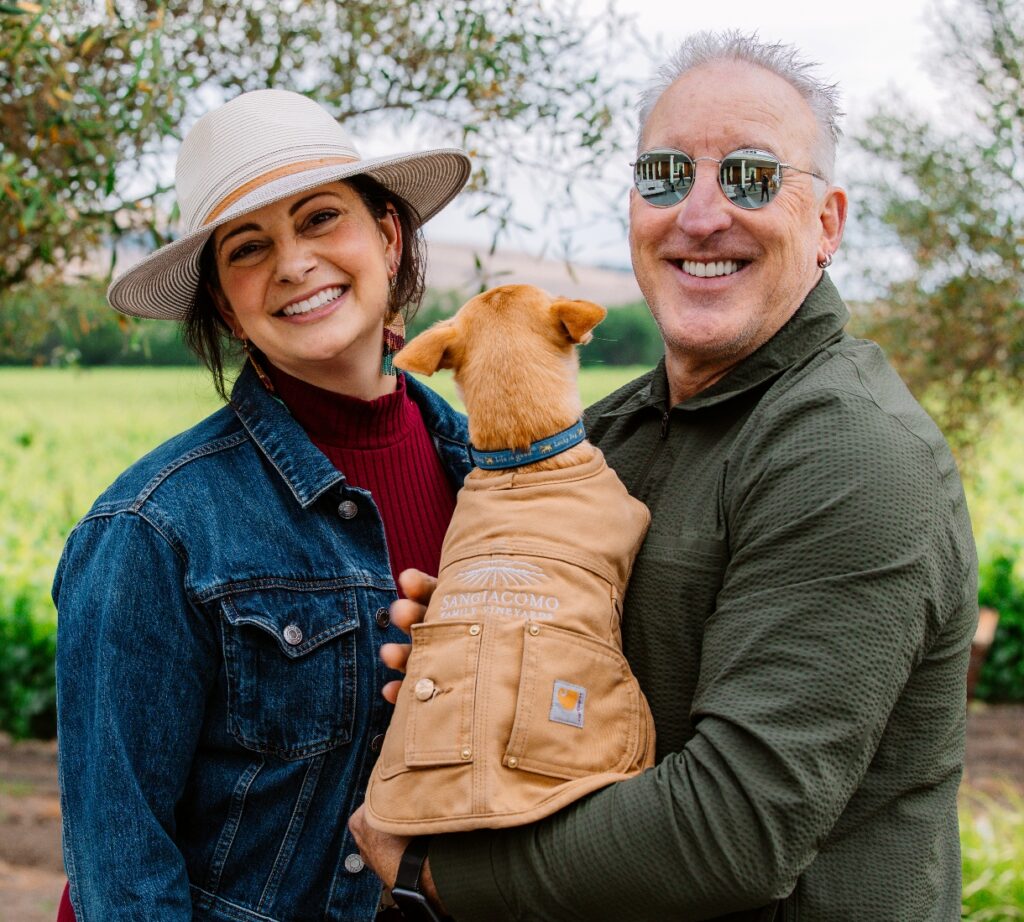 Lola was part of my California journey from my first year in Sonoma County! She was a very special cat and our only pet. Losing her was heartbreaking and it took time before I felt willing to let another animal into my heart again. Then Tango came along and nearly just fell into our lap! She is our adopted rescue dog (thank you Dogma!) and she came to us with timid and loving energy, healing from surgery after a broken hip. Now over a year later, she's spunky and active and comes hiking, backpacking, and camping with us!
We often see you promoting Chardonnay and have heard that it might be your go-to wine. Do you have a favorite? What do you think is the ideal food to pair it with?

Ah yes. The rumors are true; I am a chardonnay girl all the way! To me, it's a very satisfying wine. With refreshing coolness (just slightly chilled) and mouth-coating texture, I really enjoy the complexity and flavors of chardonnay, especially from cooler-climate sites. This is also why I adore working with the Sangiacomo wines. I am constantly inspired by the range of chardonnays we produce; this year we're now making seven different chardonnays! Did you know that chardonnay could express itself so differently? Sometimes fruity and ripe, and sometimes savory and lean; from lime and grapefruit to pineapple, honeysuckle, mango, apples, and pears, there are so many delicious flavors packed into a well-made chardonnay. And, that's really the key; the exceptional farming is where it begins, and the artistry of a winemaker who can coax out all of the nuances and layers! Our winemaker, James MacPhail, is a master at this, and also the person from whom I learned my all-time favorite chardonnay pairing recipe. James passed it along to me from a trip to Italy. I do experiment with chardonnay pairings all the time, but if I had to choose one favorite, a chardonnay I still swoon over, it's the inaugural vintage 2016 Sangiacomo Home Ranch Chardonnay. Pair it with a simple recipe of fresh hand-made pasta swirled into a pan-sauce of chicken stock, light garlic, butter, and parmesan, then topped with a shaved white truffle and a pinch of fresh herbs.
It's obvious you have a huge heart and are a giver to those who cross your path. How do you find the energy to give so much love?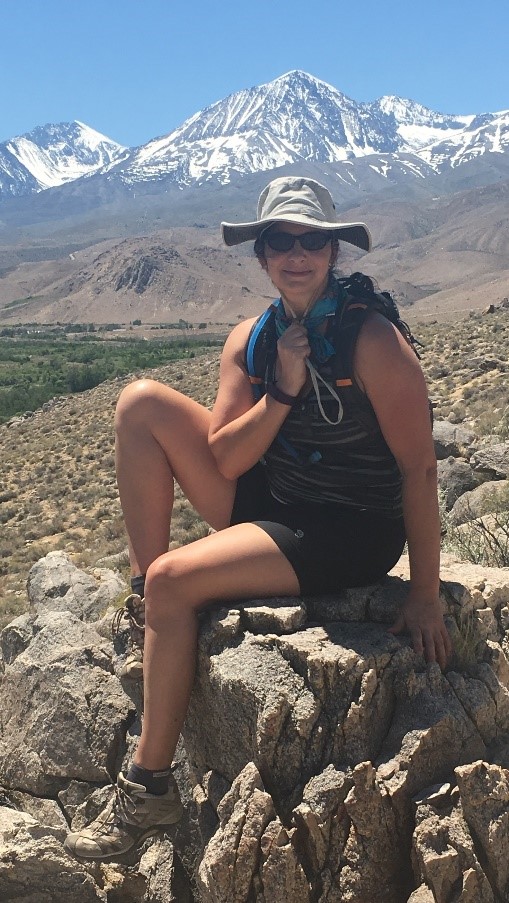 I learned early in life that hard work and generosity provide a foundation for joy and purpose. I have always followed my heart. I do my best to lead by example and be true to my authentic self and give my very best to everyone. I am a naturally high-energy person and will give as much as I possibly can, sometimes until I have to s-l-o-w down and practice being mindful about filling my energy back up. I am restored by travelling and discovering new places, as well as by spending quiet time in nature; hiking, camping, and long days at the ocean invigorate and refresh my energy.