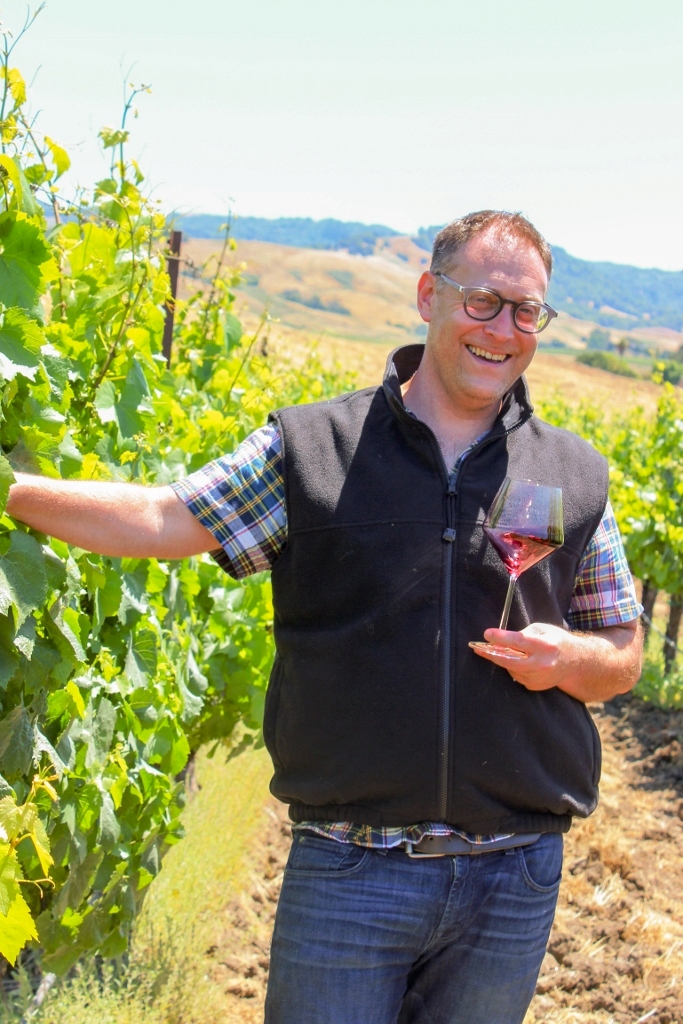 Kevin Bersofsky's dad was a "rocket scientist," who designed control systems for ballistic missiles and spy satellites. As a kid, Kevin was challenged to "think deeper" and not just settle for an easy answer. Taking that cue, he went on to graduate from Cornell with a BS in Mechanical Engineering. One of his first jobs was to design make-up mixing tanks for Estee Lauder, but he didn't find satisfaction in this as a career. After being introduced to a garagiste winemaker, he decided to pursue winemaking and began making Syrah. Life as a winemaker almost came to an end when he was paid a visit by the ATF, ABC, and the Napa DA after a neighbor complained about his garage-shop operation. Now he owns Montagne Russe Wines, so named because of the roller coaster ride he's taken by choosing to be a winemaker. Here's his story.

We've heard you call your dad a "rocket scientist," who worked on "spy stuff" for the US government.  What was that like as a kid? Did you inherit your understanding of how things work from your dad?  Tell us about your mom and how she influenced you while growing up.

Wow, no lay-up questions!  My dad did design control systems for intercontinental ballistic missiles and spy satellites.  I remember my dad talking about spy tech from when I was a kid – reading newspapers from space and other such stuff which I thought was crazy back in the day.    Let's just say I have come to find out that it was all true and he was not mentioning any of the stuff that was truly top secret.   He would always challenge me to think deeper about things and not just settle for the easy answer.  I am pretty sure Wikipedia would have driven him crazy.
My mother instilled in me the artistic side. She sent me off to art lessons, clarinet and saxophone practice, and drama. If it weren't for her, I think I would be all right-brained. Because of her, I am the crazy mix of both.
You graduated from Cornell with a BS in Mechanical Engineering. Why didn't you pursue that as a career? What inspired you to become a winemaker?
Well, I did do an engineering co-op at Estee Lauder designing makeup mixing tanks. After ruining my third dress shirt with either molten lipstick and/or mascara I felt I might be on the wrong path. I think engineering was a great training ground on how to solve any problem. I just didn't see life in fixing toilet paper rolling machines or making Ford brake pads less squeaky. The wine-making was a complete accident. I went out on a date with a friend and she took me to some garage/warehouse-winemaking operation in San Rafael. A year later, with the help of the winemaker at Trinchero, I started my own garage wine project.
Tell us about your senior project at Cornell and how you got the idea to design a roller coaster.
A good friend of mine came up to me at the end of our Junior year at Cornell. His single mission in life was to design roller coasters. He got one of the professors to sponsor him in a senior project designing a roller coaster. He asked me if I wanted to join the project which seemed like a better option than designing artificial hips in 1997.
Why did you name your winery Montagne Russe? What do mountains in Russia have to do with wine?
Montagne Russe was not the original name of the garage winery. It was "Three Balls In" which was a bocce ball reference. No one got it. Montagne Russe (Russian Mountain) is the name the French gave to roller coasters. The Russians brought fancy ice sleds to Paris, the Parisian were very literal, and hence from there on, in Latin-speaking countries a roller coaster is called a Russian Mountain. If you visit our tasting room in Healdsburg, we have the poster from the 1977 movie "Roller Coaster" from 9 different countries.
In short, Roller Coaster seemed like the perfect metaphor to describe the winemaking process and the journey of starting your own winery!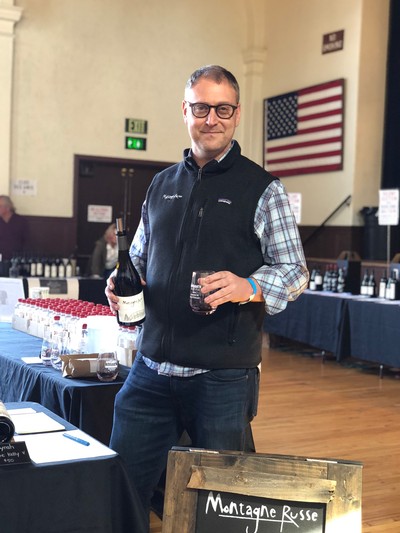 Although you lived in Ithaca NY, you don't ski or ride toboggans and you call yourself "risk-averse." Have you ever ridden a roller coaster? Aren't there physical risks involved with winemaking, like stacking barrels and climbing up the racks? How do you deal with those?
I am risk-averse; however, I have ridden many roller coasters. I am a bigger fan of the rickety old wooden ones over the steel monstrosities of today. My father was a skier, I just started way too late. The first and last time I tried to snowboard (2006) I fell 47 times on the way down and just walked away from the snowboard into the après ski bar.
I did all the winemaking in the early days in my garage which included lugging bins, lifting barrels, and shoveling pomace. After tearing two discs in my back, I have turned the manual labor over to custom crush folks that can carry out my vision.
In addition to starting your winery, your day job is as CFO for Merryvale; prior to that position, you were CFO for Trinchero Family Estates. Do you enjoy the business side of our industry as much as winemaking? What inspired you to launch your own brand?
I worked in production and then finance for Trinchero. I ended up as the Director of Financial Planning and Analysis for them but I was not the CFO. There is nothing better than the actual wine-making side of things. Spending a Sunday morning in the caves tasting barrels is the most peace I will achieve in my week. However, spending so much time learning from the Trincheros helped me steer my business quickly in the direction I wanted. All of my positions in the wine industry have helped me avoid the pitfalls that many people new to the industry experience.
As far as starting Montagne Russe–it was really my friends that pushed me to launch it. They believed and invested in me. Otherwise, I would likely still be making killer Syrah in my garage.
We understand you attended culinary school and worked for a while as a chef. Does that experience have an impact on how you produce your wines? Perhaps on lot selection, choice of oak, types of yeast, or other production decisions?
Being a chef 100% influences me. I have a phenomenal taste memory. And creating dishes is not dissimilar to constructing a wine. Vineyard choices, clonal decisions, oak selection all fall into this realm. All add to the distinctiveness of our wines.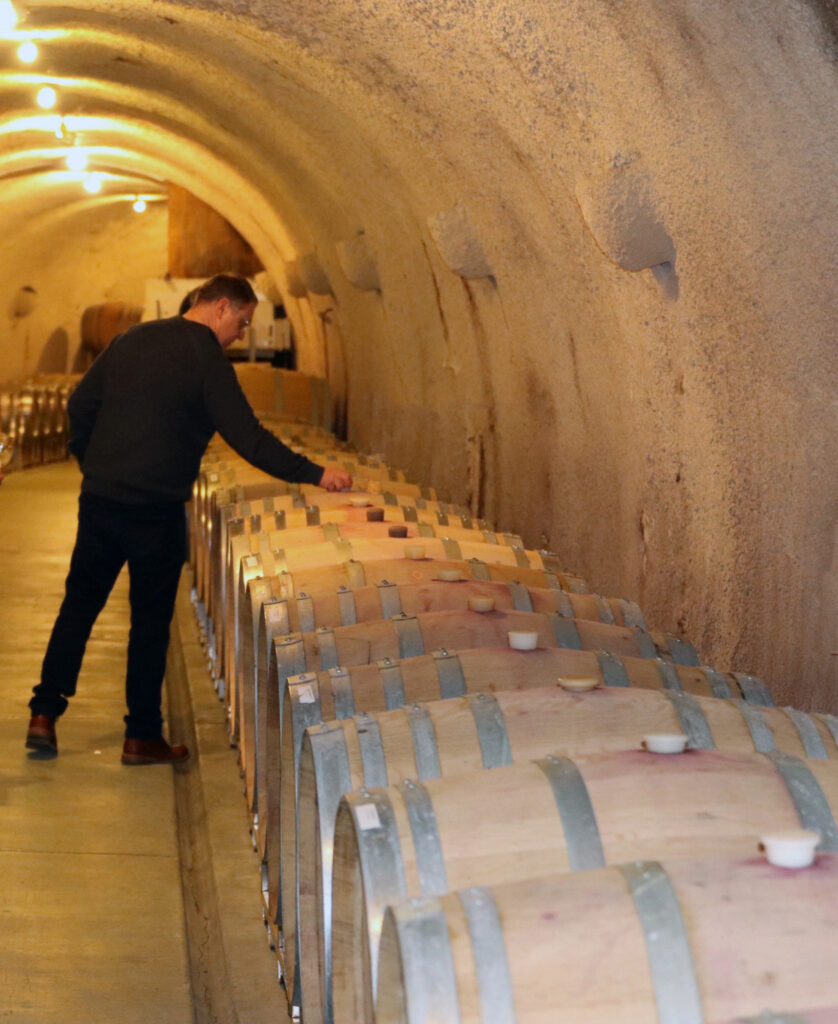 What was the first wine you made as a home winemaker? Have you opened the magnum of Syrah you made with your biz school classmates yet?
The first wine I made was from phylloxera-infested cabernet in 2006 in St. Helena. Let's just say it taught me that any grapes that are free are too good to be true. As far as that magnum…my buddy Brandon still has it in his cellar (2009 vintage). I think we may have a special occasion coming up for which I may suggest a cork-popping ceremony.
Tell us about your run-in with ATF and ABC and what happened to the barrels of wine that caused the ruckus in your garage?
Oof. Long story short…I told my next-door neighbor to go…well I told him to go "do" something with himself as an argument arose about getting water on his driveway. He didn't appreciate my east coast "directness" and called the ATF. The ATF, ABC, and the Napa district attorney showed up at my house. After four months of negotiation, I agreed to pour four barrels of wine down the drain. A TTB agent had to watch me do it. What a waste of time!
Which Montagne Russe wine are you most proud of?
While I love all my "children" I really think my Spring Hill Ranch Pinot Noir stands above the rest. It's one of those wines where you scratch your head and wonder how grapes produce tobacco, forest floor, and leather. A really special wine.
How do you choose the growers that you work with?
We pretty much only work with people that live on and or farm the land. We really want people with great stories that share the same passion we do. We typically won't work with the growers that fly in a couple of times a year to check on an "investment." When we select a new vineyard to add to the portfolio, we want a Pinot that is distinctive from the others.
You told us earlier that you are "a huge advocate and believer in the Petaluma Gap as the future of Sonoma Pinot Noir." Can you explain what you mean by that? As a winemaker, how do you see the Petaluma Gap in comparison with other cool-climate regions, for example, Santa Lucia Highlands or Mendocino's Anderson Valley?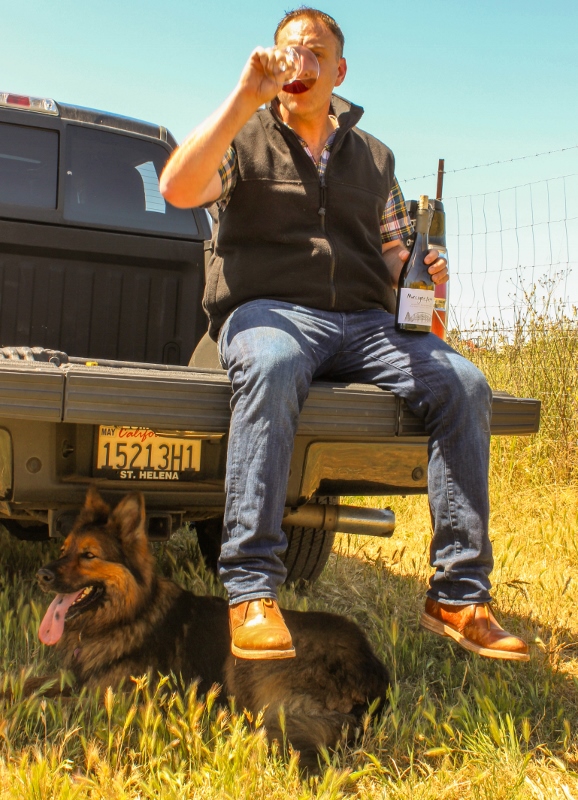 I was making wine from the "Gap" before I knew there was a gap. I really feel that the Petaluma Gap is what would happen if California and Burgundy had a child. All the great things about terroir-driven wines with the extra kiss of sunshine we get here in the bay area. The Petaluma Gap is producing nuanced wines that still have generous fruit and length. The cool maritime influence really prevents these wines from getting super ripe, but no other region has the complexity and depth of flavor all rolled into one.
You applied to be on the PGWA Board of Directors and are currently being added to the election ballot for 2022. What do you hope to accomplish if elected?
I really want people to look at the Petaluma Gap in a few years the way people revere AVAs like Russian River. These are special wines and they deserve to be up on the same pedestal. As a board member, I will make it my mission to spread the word about this amazing region.