Welcome to the Petaluma Gap Winegrowers!  You are our newest grower member.  In 2017 you purchased 80 acres of unused grasslands on Adobe Road.  How did you choose the site?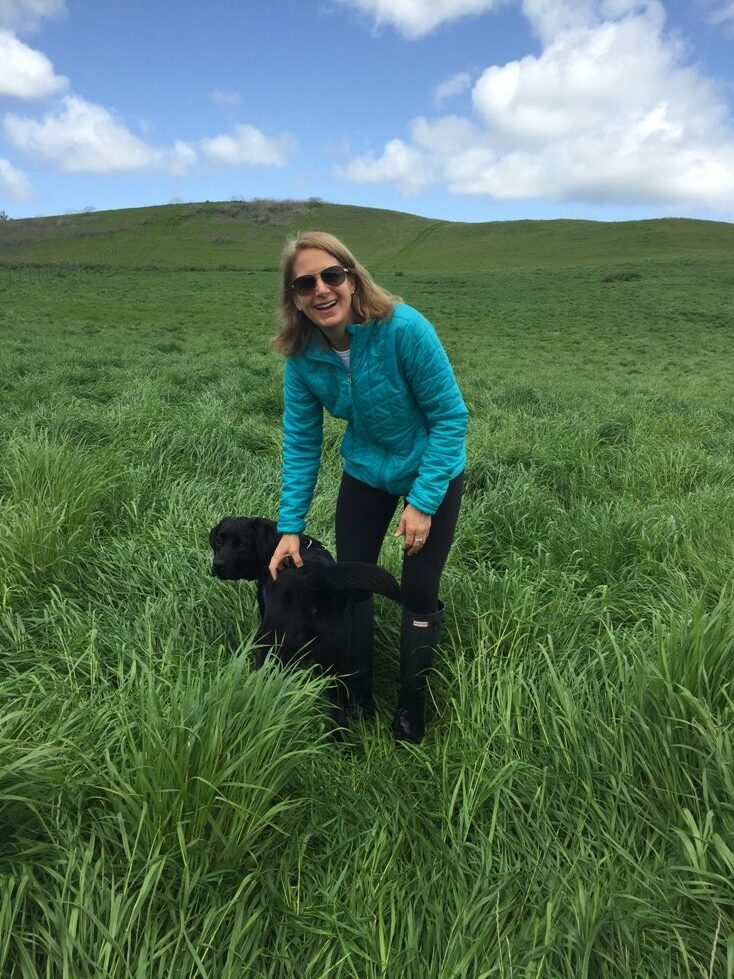 I had been looking at potential vineyard sites for about 3 years. The property was not yet on the market and Bob Gregg and David Carciere of First Leaf Land brought it to my attention. We hiked to the top and watched the fog slowly pull away, felt the classic Gap breezes, all while getting a 360 degree view of the mountains, the town of Petaluma and San Pablo Bay and I fell in love! I knew I had to jump on it.
So, you have 80 acres of undeveloped land. How did you start the process of what to do next?
Like with any large project, I started by bringing together a great team of experts. Probably the best move I made was to hire Tyler Klick of Redwood Empire Vineyard Management. He and his incredible team helped me put a plan in place and pull it all together. I have so many people to thank — including Paul Anamosa who dug the soil pits and provided soil analysis, Cort Munselle who provided the engineering for the road and vineyard layout, Matt Petersen of Les Petersen Drilling and Pump who helped plan out the irrigation — and many, many more.
What did you end up planting?
We just finished in April! I ended up planting almost 11 acres of Chardonnay Clone 4 on 1616c rootstock, 2 acres of hillside Wente Chardonnay on 3309 rootstock. For the Wente we actually just planted the rootstock and will graft on the Wente budwood next year. The rest is 40 hillside acres of Pinot Noir that include clones 115, 777, Mt. Eden, Martini, 828, 943, 667, Calera, Swan and Pommard. All of it is on 3309 rootstock with the exception of one block of Calera and the 667 are on 420A rootstock.
What got you interested in growing grapes?
In 1999, I took over management of an 18-acre old-vine, dry-farmed, head-trained and un-grafted Zinfandel vineyard in Paso Robles. When I started, the vines were not in good shape, the wine being made from the grapes was not good and I even had some winemakers and vineyard managers tell me that the vines were too old — no good — and I should replant the site. Thankfully I didn't listen!
Turley Wine Cellars buys your grapes for their award-winning Ueberroth Vineyard designate bottling. How did you make that connection?
I was at dinner with a friend and lamented that no one seemed to be able to make a good Zinfandel from our old vine vineyard. He asked if I had tried a Turley. I had not so he asked the restaurant manager to bring us a bottle. The very next day I reached out to Ehren Jordan, who was Turley's winemaker at the time, and told him about the vineyard. That was the beginning of a beautiful relationship with Turley that I cherish to this day. Tegan Passalacqua has since taken over the winemaking and everyone from Rich Richardson, Karl Wicka, Brennan Stover, Malani Anderson, and many more, and of course Larry and Christina, are some of the best people you could ever hope to work with. Ehren and I are still friends 20 years later.
Are you farming organically? What is your philosophy about sustainability, organics and biodynamics?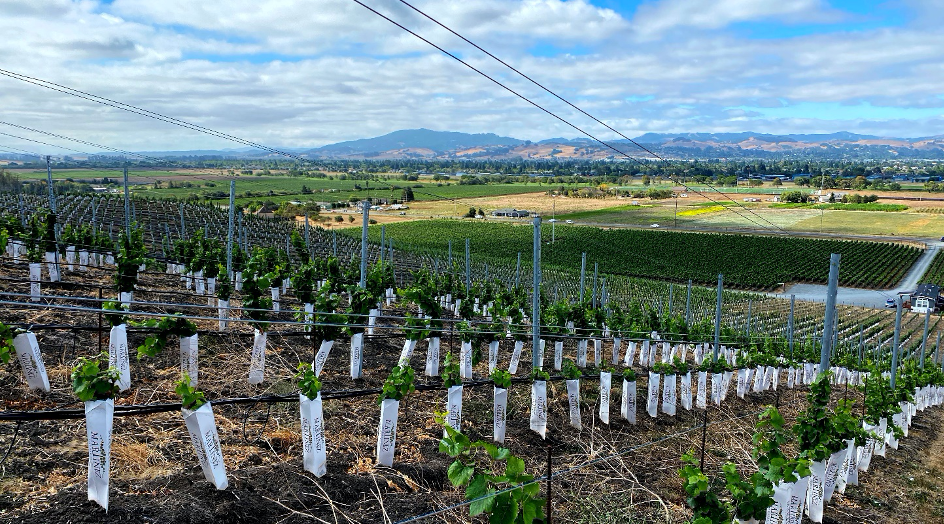 My philosophy is we must do our very best to take care of this planet. The Paso vineyard is farmed organically. I will farm this vineyard sustainably and hope to one day be organic. The entire vineyard is already powered by solar and I am working to start the Fish Friendly Farming process.
With the current grape glut and the economic impacts of the Covid-19 pandemic, it would be easy to get worried and sidetracked. But you remain upbeat with a laser-like focus on bringing your vineyard to life and finding buyers for your grapes. How do you manage to stay so positive and focused?
I stay positive by being focused. If I start to think about everything it gets overwhelming. When I stay focused on growing the best fruit then I'm ok. A glass of wine with friends and family, socially distanced in the backyard of course, at the end of the day, helps too.
Do you have plans to one day make your own wine?
No.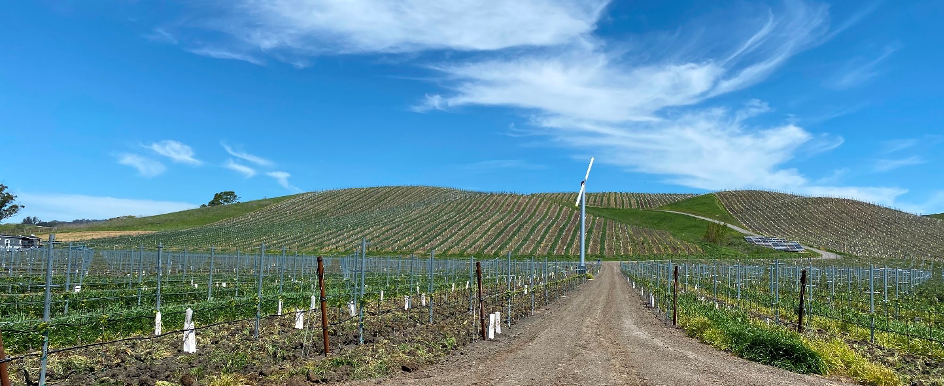 What's been your experience living in Sonoma?
I moved here in 2017. Every day I have the most beautiful and peaceful 15-minute commute from Sonoma to the Petaluma Gap. I have lived in a lot of places and can honestly say Sonoma/Petaluma is one of my favorite places in the world. Like anywhere, it's the people that make a place special.
After your vineyard starts to produce, what's next for you?
I can't imagine doing anything else. Next for me will be hopefully enjoying and celebrating the wines made from the grapes!