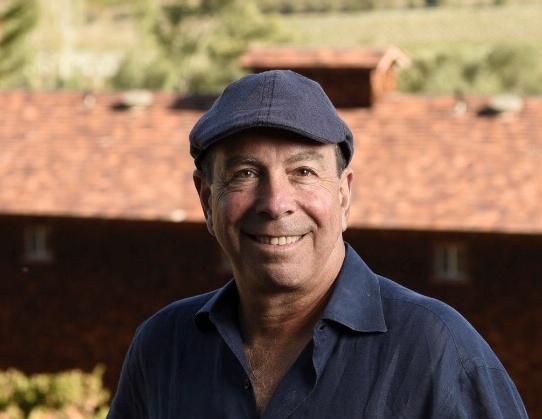 Kenny Kahn grew up in Schlater, Mississippi on a thousand-acre cotton and soybean farm. His family ate BBQ and drank Bourbon, and on special holidays they served Mogan David wine. After a family friend introduced him to the world of fine wine with the gift of a bottle of 1978 BV George de Latour, Kenny was hooked. Then he met Cheryl, and they moved to California, with the idea of growing grapes or making wine. Today they own Gapstone Vineyard and Blue Rock Winery. Here's his story.
Can you tell us about the derivation and meaning of your last name? According to Wikipedia, the surname, Kahn, is one of the most common and is shared by 23 million people worldwide. Where did your ancestors come from? Was wine a part of your family culture?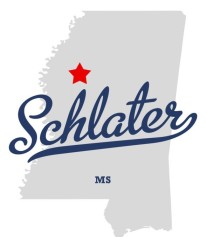 My family is Jewish, from Eastern Europe. My father and mother immigrated to the US from Lithuania just before WW2. We had a great-uncle who had found his way from Lithuania to Schlater, Mississippi (current population 281) in the Delta. Somehow, he overcame poverty, lack of education, and language skills, to establish the first bank in Greenwood. He also purchased a 1,000-acre cotton farm, Maryland Plantation, which later became my introduction to farming. We ate BBQ and drank bourbon. Wine, other than a holiday glass of Mogen David, was not a part of our culture.
My awakening and interest in wine came to me in my 20s. I was fortunate to have an older friend, Milton Pickard, a wealthy lawyer in his 70s who adopted me, so to speak, as his son. Milton (Pic) was a wine collector and he introduced me to the great wines of Europe. He changed my life with a gift of 1978 BV George De Latour.
You grew up on a farm in Tennessee, a state that is known for wheat, cotton and tobacco. What was grown on your family's farm and does that model influence you as a winegrower?
Our farm was right out of the 18th century. I'm not proud of the culture, which was racist and monarchial. Historically, we employed hundreds of black workers, men, women, and children, to hand-hoe the cotton and soybeans. Later we discovered mechanization and Roundup-ready soybeans!! As an adult and with responsibility for my own farm at Blue Rock, I have created a very different culture. We are culturally diverse and promote an atmosphere that encourages and helps our employees to achieve their best.
Every time we've seen you, you're wearing a beret, which is charming! Wearing a beret is often associated with the French, their culture, lifestyle, and history, and worn by artists, soldiers, and revolutionaries – in other words, non-conformists! Do you identify with any of these roles or do you wear it just for fun or is it purely to protect you from the elements?
I wear a beret often but also other hats. I had long beautiful hair until I was 30 and then it was forever gone. Having said this, I love Europe — the wine, lifestyle, the beauty — and I try to bring some of that sensibility to Blue Rock. We operate on a small scale, much like a family winery in Europe.
We understand you met your wife, Cheryl, on a blind date, and that it was an instant connection that the two of you experienced. Did that experience also extend to a shared vision for starting a vineyard? When did that notion occur to you?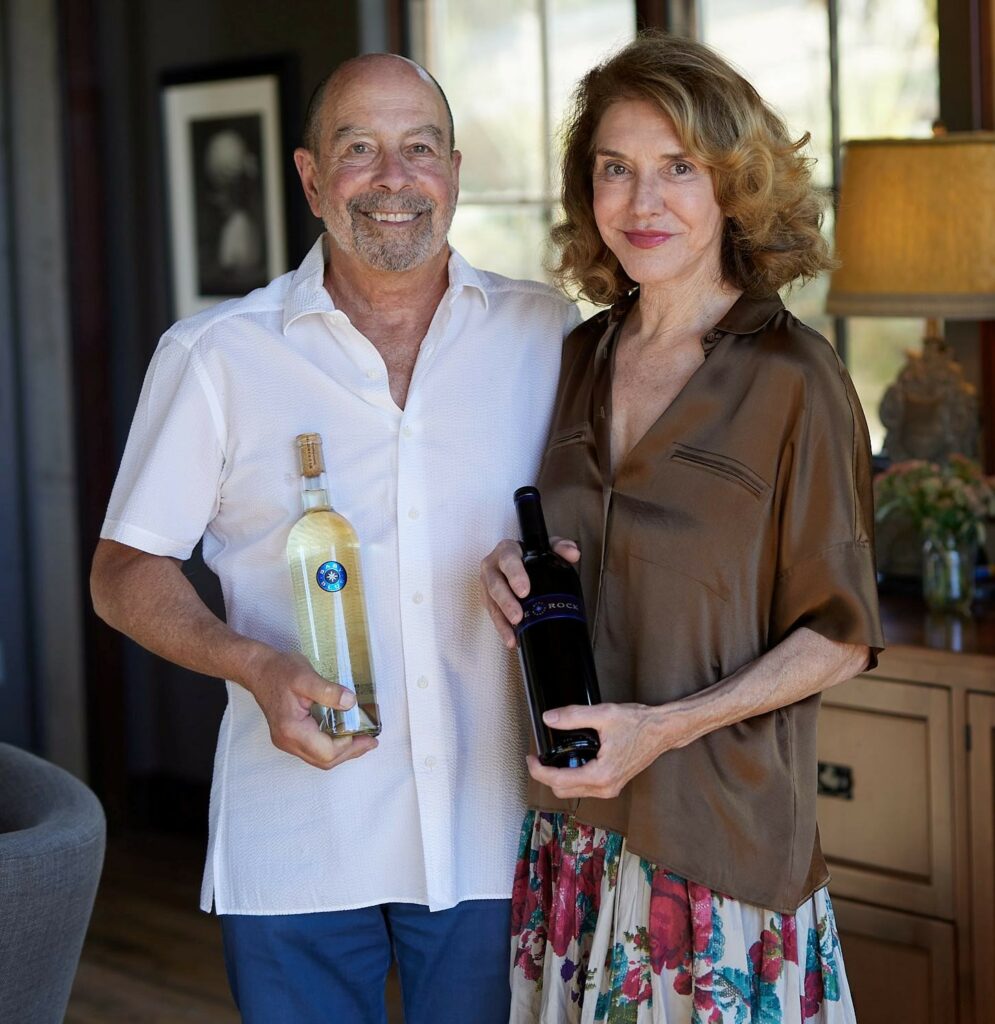 Cheryl and I moved to California in 1985. We were in our 20s and just starting our professional careers. It was my dream to somehow be involved with wine and food. Coming from Memphis I didn't know what this would involve. Once settled in San Francisco we started to look for a restaurant, a vineyard, a winery. Cheryl convinced me, with the threat of divorce, not to enter the restaurant business. She is the smart one in the family.
Blue Rock Winery, where you also make wine, is located in the stone house that was once occupied by Villa Maria Winery, up north in Cloverdale. It closed during Prohibition. What was the building used for after Villa Maria closed and up until you and Cheryl purchased it in 1987?
While we had big eyes and big dreams, we did not have much money. We looked in Napa for two years and were flustered by the high prices, even in 1985. After two years of hunting, we found a derelict, historic 100-acre vineyard and winery in the yet-to-be-discovered Alexander Valley. It was in foreclosure, it was beautiful, and we could afford it. The winery, bonded as Villa Maria, dates to 1880. The stone winery and farmhouse were uninhabitable but with good bones.
We renamed the vineyard Blue Rock for the serpentine rocks that are around the property. It took the first ten years to reestablish the vineyard, with the five Bordeaux varietals and a pinch of Syrah. We sold grapes to Benziger who used them to produce a vineyard-designated wine every year. In 1999, I was introduced to a fabulous local winemaker, Nick Goldschmidt, who made our first 500 cases of Blue Rock estate wine.
Your estate vineyard in Cloverdale is too warm for Pinot Noir, so you purchased land in Penngrove and launched Gapstone Vineyard, where you have 25 acres of Pinot. Where is the vineyard located and what made you choose this specific site?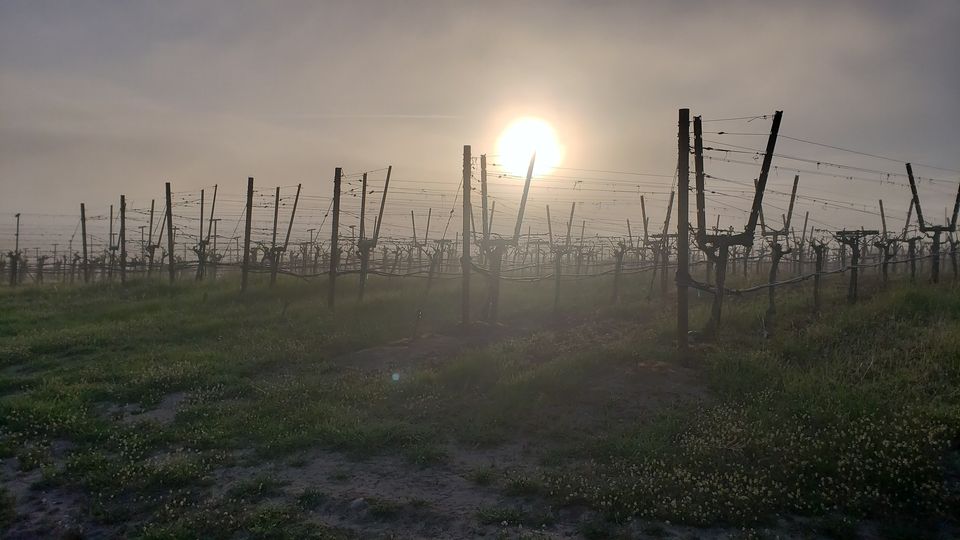 As a consumer, I love Burgundy for its site-specific complexity and I have always wanted to grow and make Pinot Noir. I discovered the Penngrove Vineyard, now named Gapstone, much by accident. It was a virgin 30-acre site next door to the Gap's Crown and Sangiacomo Roberts Road vineyards. The soils are the most gorgeous that I have seen with 50% rock and sensational drainage–very different from the heavier clay that is common in the area. Alf Cass, our vineyard-soils scientist, had done the soils investigations for a previous owner and loved the site. My current viticulture advisor, Garrett Buckland of Premier Viticulture, and I decided to take the plunge after doing our own investigations. We knew we had to overcome a problem with high potassium levels due to an old composting site next door but were confident we could do so. I selected the clones and planted a "winemaker's vineyard" using low-yielding, but superlative, heritage-clones of Pinot, Chardonnay, Viognier, Semillon, and Sauvignon Blanc.
In 2020 you registered the trademark for Gapstone Vineyard and Winery. Do you plan to launch Gapstone as another label for Burgundian varieties?
No, we do not.
Are you using all the grapes from Gapstone or will you offer some for sale?
We use all of the white grapes for our DTC program at Blue Rock. We also make a small amount of Pinot Noir, all of which is spoken for.
You've said in blog posts and on videos that when you purchased the Cloverdale property you realized it would take a lifetime to make it the way you wanted it. Now that your renovations are complete, what's next for you?
We are very process-driven. That means that we seek improvements in everything that we do. So, what is next is more of the same, but with a constant eye towards making it a little bit better. I love what I do and I am grateful for the wonderful quality of life that we live in Sonoma. I plan to follow the lead set by Robert Mondavi and work at Blue Rock until I am 95+ and enjoy every day!
You hired a chef for your winery and we understand that food is an integral part of the tasting experience at Blue Rock. What is your favorite cooked-at-home meal, who makes it, and which wine do you pair with it?
We serve a lot of duck at our "Vintner's table". Duck is versatile and goes with any medium-body red wine, including, Pinot, Merlot, or our delicious "Best Barrels" Cabernet Franc.