Wine was "not so much" a part of his life growing up in a small farming town in Iowa, except as an altar boy. After college he worked as a skid-loader, movie projector operator and bartender. It wasn't until he travelled the country as an actor and started a two-year acting program in NYC that he met Lee Campbell, the well-known sommelier and natural wine advocate, that Joseph Ryan took an interest in wine. Now he's the winemaker for Ernest Vineyards.
Where did you grow up? Tell us about your childhood and your family.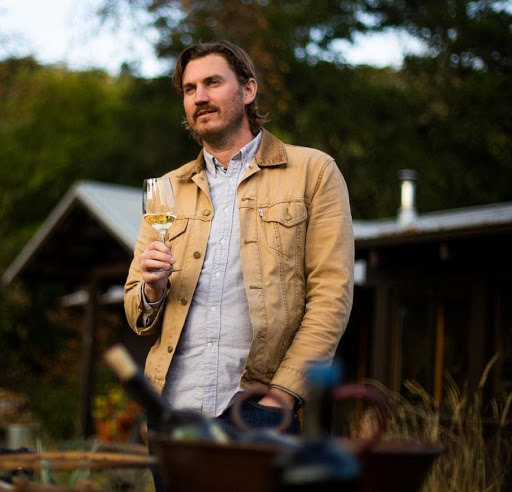 I was born in Omaha, Nebraska and spent time between the city and a small farming town called Underwood, in Iowa. I am the oldest of three with two younger sisters. My mom is an accountant and my dad was a pilot, which lead to me getting to see a lot of the country tagging along with him on trips
Was wine a part of family life while you were growing up?
Wine was not so much a part of life — other than my duties as an altar boy! But, now that area of western Iowa has become an official AVA, the Loess Hills District AVA.
What was your path like from high school to where you are today? What other wineries have you worked with?
In and around college (UNO and Creighton University) I worked as a skid-loader operator, movie-projector operator and bartender, among many other odd jobs. I travelled the country as an actor with a children's theater company which lead to a two-year conservatory in NYC. That is where my life with wine really began. I worked for sommelier Lee Campbell, who was incredibly formative with my philosophy behind wine making. This led me to bothering Alex Davis at Porter Creek Vineyards until he gave me a job that brought me, full-time, to Sonoma County . I've also worked for Flowers and Alysian.
How and when did you meet Erin and Todd (founders of Ernest and Grand Cru) and why was Ernest Vineyards the right opportunity for you as a winemaker?
I ran into Robert Morris, Todd and Erin's partner in Grand Cru, at the butcher's counter at Big John's Market in Healdsburg. I mentioned I was looking for a new job. A few days later he called me and said I needed to talk to Todd and Erin. We quickly bonded over shared experiences growing up and what we thought of the future of wine growing and making wine in our area.
According to Erin, you have a strong focus on farming, believe in minimal intervention in winemaking, and strive to create wines of place. To that end, you partner with growers who align with your philosophy of sustainability and stewardship. The grapes used in "The Wrangler" come from Grant Vent Vineyard in the Gap. How did that relationship get started?
Erin and Todd met Drew Buechley in 2012, their first year making Ernest wines with Kent Humphrey. Both their love for vineyards sites on the fringe and Erin's past in west Texas made the working horse ranch an ideal fit. Drew and Lazaro farm the vineyard to impeccable standards — which is no small challenge in that rugged environment.
In your mind, what sets Petaluma Gap apart from the other AVAs that you work with? Will you be expanding your Petaluma Gap offerings in the future?
What I find special about the Gap is its juxtaposition between the Russian River Valley and Carneros and yet so different from both. The absence of trees and lower elevations create a climate unlike anything, ushering the wind and fog unimpeded from the coast. The shortened degree-days due to fog allow for slow development of flavors while the windy afternoons toughen the skins leading to deeper textures. We see huge potential for growth in the Petaluma Gap. As of now, nothing is set in stone, though we have our eyes on other varietals in a few vineyards.
You make Ernest's wines at Erin & Todd's facility, Grand Cru Custom Crush. What is it like to work in a shared facility with many other winemakers? Do you exchange ideas and help one another? What's involved with coordination of using shared equipment and space?
The Grand Cru crew of Luke, David, Hilario and Christian is one of the best I've ever worked with.It's been an amazing experience with so many other winemakers in one place. The saying "Ask 10 winemakers how to make wine and you'll get 20 different opinions" is true and also something I cherish about our industry. There is an inherent community that builds from such a setting and in a year as challenging as 2020, being able to share ideas, experiences and champagne has been so necessary.
What is your favorite grape variety to work with and are there any special methods you employ to bring out its best qualities?
Well, obviously I can't pick just one (Chardonnay) because they all have their place at the table. I like to pair different wines (Chardonnay) with my mood or to discover how they evolve and match with different meals. With all of our wines, we start in the vineyard. If the site is right, the winemaking is set up to succeed with minor tweaks here and there if needed. (Chardonnay)
Some winemakers are hailed as "rock stars" and treated like celebrities. You seem very humble, natural and genuine, and not driven by ego. How does that attitude affect your winemaking?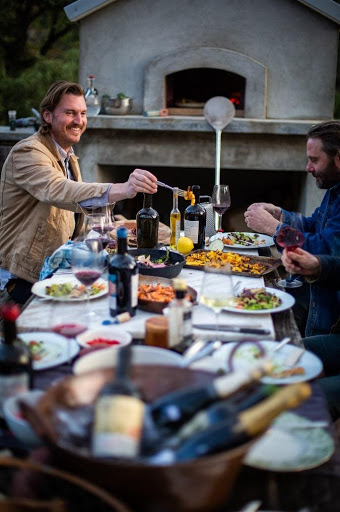 Feeling like a broken record, it's the same philosophy stated above. It all starts in the vineyard. I work with the grapes as opposed to trying to make them work for me. Nothing is more humbling than nature and that helps keep my ego in check. I prefer to make decisions with the confidence that comes from thoughtfulness, experience and having learned from past mistakes while being open to making others.
Of all the wines you've tasted over the years, which one would you drink again if it was to be your last glass? What would you pair it with?
I love this question and I think I answer it differently each time I'm asked. Today, I will say 1997 Porter Creek Timbervine Ranch Syrah. It is a stellar pairing with lamb chops with all of the garrigue aromatics: rosemary, sage, thyme, bay and lavender
The last few months have been very difficult for everyone in Sonoma County, starting with the pandemic and followed by two wildfires. We know you and your parenting-partner and co-worker, Naomi, lost your home in the Walbridge Fire and that Erin set up a fundraising site to help you both with recovery. Can you describe how you felt when you started to see donations coming in?
We were awestruck, humbled, grateful. It demonstrated that, though we lost our home, our community was still there. Our friends and family locally and abroad are made up of such amazing people. In a year where we've all had to isolate and distance it was like getting hugs from everyone.
We've seen pictures of your son, Eli, at the winery. Is he interested in what his winemaker dad is doing? Do you think that someday he'll follow in your footsteps?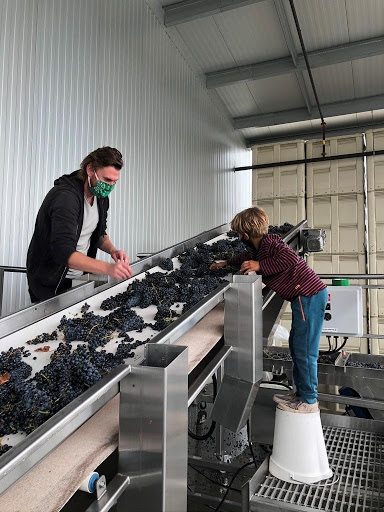 He tags along on many of my winegrowing adventures. His favorite jobs are eating pea shoots and flowers in the spring cover crop, pulling out leaves and spiders on the sorting table and trying all the fresh juice, though he loses interest when it begins fermentation. I would love to work with him in the vines and cellar when he is older, though it's important that he find his own adventure and discover what he wants to do.