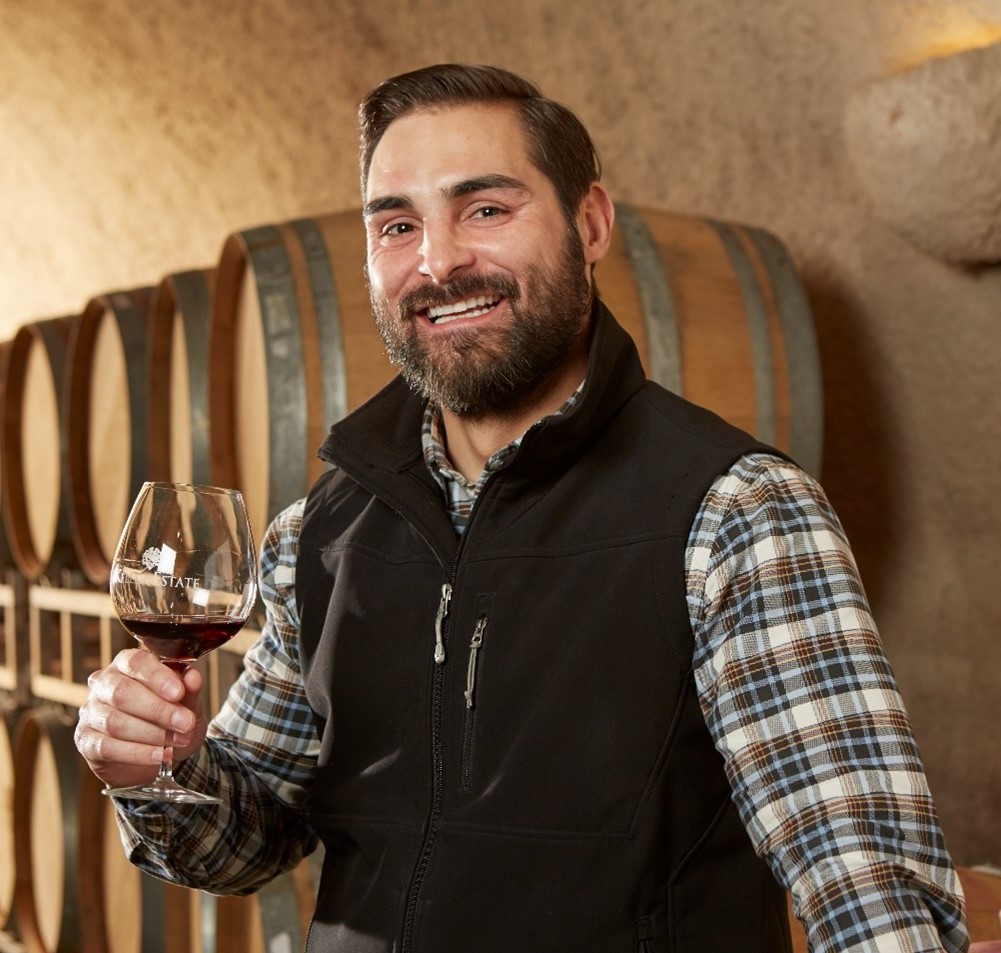 Jose Cruz grew up in Argentina on his family's sugar cane farm. Wine was present at most family gatherings, and as a child, he was allowed occasional sips while hearing about its health benefits. He inherited his grandfather's adventurous spirit and began his wine journey after completing his primary education. It has taken him to Australia, New Zealand, Brazil, Italy, France, Spain, and now the US. He's worked the harvest, is certified by the Court of Master Sommeliers, and was a Somm at Scarpetta in NYC. Today Jose Cruz is Director of Hospitality at Keller Estate Winery. Here's his story.
You grew up in Argentina, in the Tucuman province, known for sugar cane production. Was your family involved in that industry? Did they drink wine at family meals? Do you still have family members there?
I grew up on a 200-acre sugar cane farm in a small town in the Tucuman Province. My father is a second-generation sugar cane grower and passionate about the sweet world of sugar cane. His peers recognized that passion and made him Honorary President of the Tucuman's Independent Sugar Cane Association. My siblings are also inclined to that world.
I am the only one who inherited my grandfather's adventurous soul. He immigrated from Granada, Spain, to Argentina in 1940. The prospect of leaving Francisco Franco's regime and traveling to a new land of opportunities was far more appealing to him than staying and suffering the consequences of the Spanish civil war. After arriving in Argentina, he eventually made it to Tucuman, acquiring land and starting the family's sugar cane business.
My father enjoys a glass of wine with lunch most days, and it was always present at any gathering. My first interactions with wines took place when I was still a kid. My grandfather encouraged me to enjoy a casual sip while telling stories of how when he was young that wine was the remedy to many maladies in his native Spain. I guess that's why I have such a strong emotional connection to wine and allowed it to be a driving force later in my life.
Did you come to live and work in the US directly from Argentina, or were there other stops along the way?
My journey started when I was 17 years old. I took two years hiatus after high school to backpack across Australia and New Zealand while volunteering at organic farms in exchange for room and board, a sort of kibbutz experience. I thought it was an excellent way to travel with a limited budget and learn and practice English while meeting people worldwide. I knew then that traveling the world and learning about different cultures and languages would somehow have to be part of any career choice for me.
I returned to Argentina and rushed to get my degree in Tourism and Hospitality. In the process, I had the chance to do a semester abroad in Brazil. Then, after completing college, the opportunity to come to the US and work for Marriott Hotels came about. It was an exchange program that allowed young professionals to gain international experience in the hotel business. While doing my rotation at the hotel's restaurant, I began to see wine differently. Back in 2010, being a sommelier was still an esoteric career choice. Most people did not know what it entailed, even in the restaurant industry. I began to realize that completing a sommelier certification would project my career in the industry, and having been bitten by the wine bug, I decided to follow that path.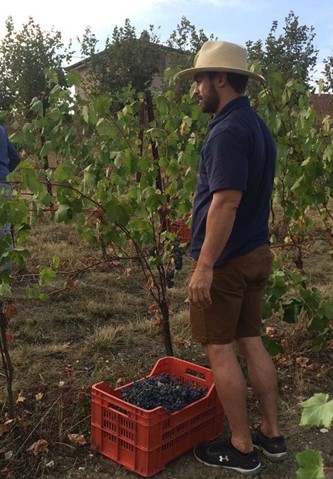 Was Keller Estate your first Winery experience?
No, I had worked before with small winegrowers during a harvest in Sicily, Trentino, and Piemonte in Italy, and with a small Champagne producer in Reims. In Argentina I also had the opportunity to work as a cellar worker for Bodega Saurus a renowned pinot noir producer further south in Patagonia, learning about the fundamentals of wine analysis.
Keller Estate is the first winery where I got involved in every aspect of the winemaking process before working in the tasting room, which is invaluable when answering those specific questions that wine-educated guests tend to pose.
How did you land at Keller Estate from New York City?
In 2020, during the strict restriction in place due to the pandemic, some friends in the business had planned to flee the City and work the wine harvest in California, which was an enticing idea considering the times.
I joined the group late and came to the "best" coast without solid plans or a job. I heard Keller Estate, a winery in the Petaluma Gap (AVA unbeknownst to me then), was looking for interns for the harvest. I remember showing up at my interview with my luggage in hand, to the concern of Julien, our winemaker, who thought it was indeed presumptuous since the job offered accommodation. In my defense, I was arriving in Petaluma from San Francisco via Uber for a morning interview before being able to check in at my hotel! After the harvest, Ana Keller extended the offer to join the tasting room team and the rest is history. I am still jokingly called the guest who never left.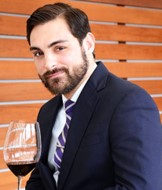 For a while, you worked as a sommelier at Scarpetta and for Batali & Bastianich. Did you enjoy living and working as a somm in New York? Do you go back often?
I certainly did. New York City offers plenty of exciting opportunities for anyone looking to further their professional career in the wine business. Since most restaurants have diverse, unique, and eclectic wine lists, being a sommelier in the City granted exposure to wines and producers from around the world. For any sommelier looking to increase their wine knowledge, regularly tasting several new wines from every corner of the world is essential to staying current on trends and expanding your tasting abilities. But it is also a cutthroat and competitive scene, requiring daily study and research to keep at the top of your game. I enjoyed my time in New York; it was great for my resume and career. NYC pushes you to move faster and be alert and resilient, and to keep your wits about you. For a small-town guy like me, it was precious experience; I will be forever thankful for that. I don't go back as often now, perhaps because I am incredibly pleased with the unexpected change of scenery that is Petaluma.
As Director of Hospitality at Keller Estate, what do you enjoy most about the position?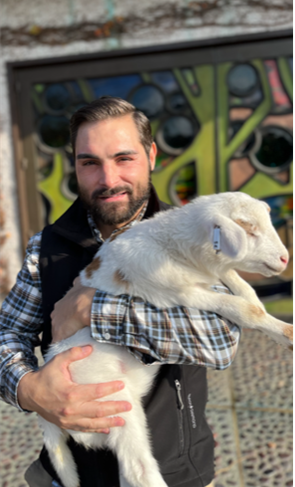 Everything! The steps taken in my life before Keller Estate, and my passion for wine and hospitality, have prepared me for this role. I especially enjoy being part of a community that welcomed me and that brought a sense of belonging I have not felt since I left that small town in Argentina. I am proud also to work in a place where respect for nature and its balance is paramount; the estate has implemented many sustainable practices and created an inviting environment for wildlife. Most days, I wake up to birds chirping and lambs bleating out my window.
Since joining Keller in 2020, have you introduced any new events or tasting experiences at the winery?
Keller Estate offers a great experience to new and seasoned wine tasters. We take our guests on a promenade to show every facet of the winemaking process, our sustainable practices, and the beautiful vineyard, winery, and wine cave. I try to make every tour memorable by relaying the Keller family's life philosophy, and their enjoyment of the arts, vintage cars, fine wine, and savoir-vivre. As Petaluma Gap ambassadors, we emphasize telling the Gap's story and the growing conditions that make the wines unique and special. Our club members are considered extended family. The entire team is constantly creating new experiences that keep them entertained, involved, and coming back.
The Petaluma Gap Accreditation Program (PGAP) was launched last year. You and Ana Keller proposed the program to PGWA in the summer of 2021. How did you come up with the idea? Has your staff been trained and certified?
The idea came to us while driving to a meeting that PGWA hosted in Windsor. We thought of creating a study guide for young professionals preparing to get a certification in wine and who, in time, would become sommeliers and wine buyers. Then we had to figure out how to test and implement it. Who was better for the task than our Alliance? The Petaluma Gap Accreditation Program is an excellent source of knowledge and resources. It is meant to rally an army of ambassadors to carry forward the message. We have made it a requirement for our entire tasting room team. Keller Estate was honored to host the first certification training class.
You studied at the prestigious International Culinary Center (ICC) in NYC. Did you study culinary arts, or was your education wine oriented? What is your favorite Keller Estate wine?
I relocated to NYC from Florida in 2011 to attend ICC. While studying at the ICC, I was mentored and trained by four Master Sommeliers in the science of deductive tasting, wine service, pairing, wine regions, etc. It was an intensive program that lasted a whole semester. For five days a week and six hours a day, we were drilled on everything that was wine. Although a challenging experience, it exponentially fast-tracked the learning process; by the end of the course, I felt empowered with basic wine knowledge and equipped with the skills to succeed in my endeavor. Later, getting my certification with the Court of Master Sommeliers and various master levels with Wine Scholar Guild brought the validation needed to open doors and jobs!
I tend to gravitate around Pinot Noir. Keller Estate La Cruz Pinot Noir has a restrained elegance, allowing to taste the different layers and complexity the wine expresses. In addition, seeing my last name mentioned in this vineyard-designate gives me another reason to make it a favorite.
From your Facebook page, it looks as if you are a frequent traveler. If you could go anywhere in the world and bring someone with you, where would you go and who would you bring along?
I would go to Sicily. I spent a harvest season in Catania and would love to return one day to enjoy the beautiful Ionian Sea again. This time, I would bring my tribe of friends and my sister Nerina. She is the most fun and remarkable person I know. The name "Nerina" is Sicilian, and she honors her name by loving wine, food, life, and friends as much as I do. When one has spent as much time away from family and friends as I have, getting to spend time with them means the world.