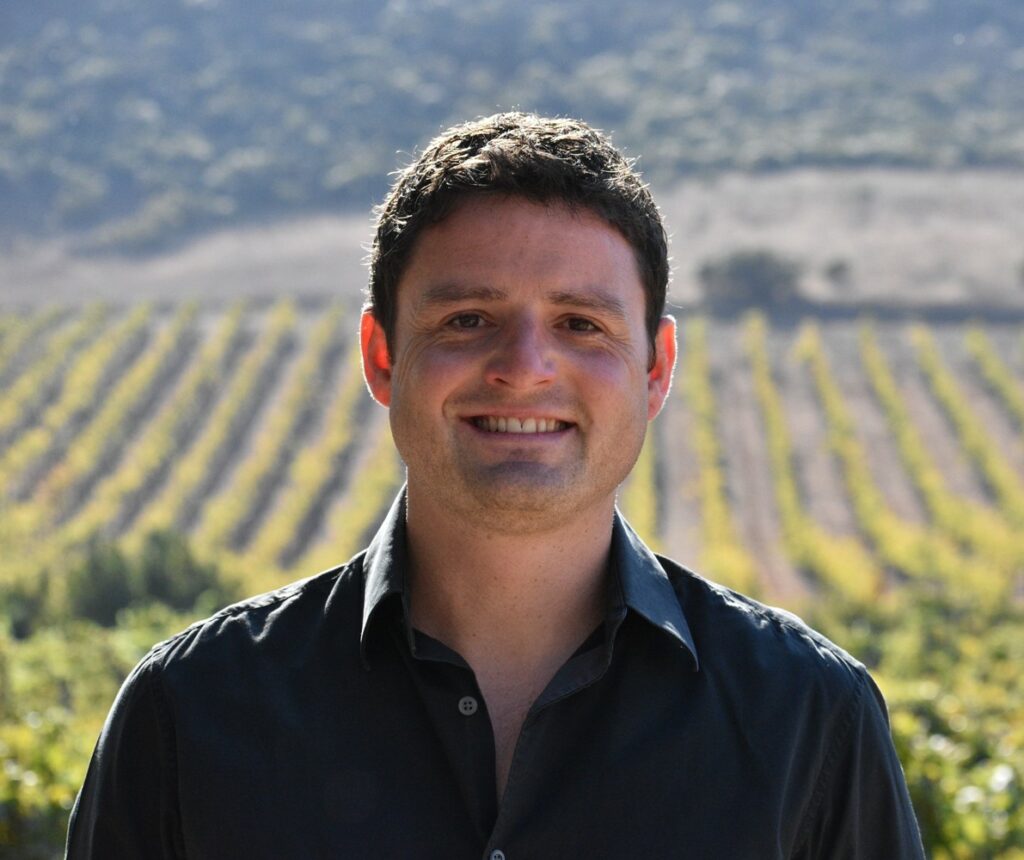 Johannes Scheid grew up beside a vineyard in Germany and always knew he wanted to work in the wine industry. He graduated from Geisenheim University, the top viticulture and enology training program in his country; Walter Schug, a leading pioneer for Pinot Noir in California, came to speak to students there, and afterward, he was able to arrange for an internship at Schug's Carneros estate. At the end of his internship, he went on to other winemaking positions but had the opportunity to return to Schug in 2016 as Assistant Winemaker and then was promoted in 2019 to lead their winemaking program. Grateful for these internships, he's now paying it back while leading a wine project at Sonoma High School, teaching his students about the grapevine life cycle and how wine is made. He makes the wine from the school's vineyard, which is labeled as Inceptum. A portion of the sales proceeds goes back to the school for fundraising purposes. Here's Johannes' story.
The Scheid family has cultivated vineyards and made wine for generations in the Mosel Valley in Germany. When did you decide to follow in your family's footsteps and become a winemaker? Was it something you knew early on or did you explore other career options?
Yes, I grew up on a small family winery and was fascinated by helping my grandparents and parents in the vineyards as a child, and later on, in the cellar and selling the wines too. It was always in my future to be in the wine business. Our summer vacations were often spent traveling through great wine regions in France and Italy exploring the culture there. Wine was always on the table, so to say, and my parents always let me have small sips of what they were enjoying. I like to say this helped develop my taste buds from an early age – ha!
You studied viticulture and enology at Geisenheim University and then came to the US as an intern for Schug Winery. Tell us how you found that position. Can you describe the work you did as an intern and how you got to become Schug's winemaker?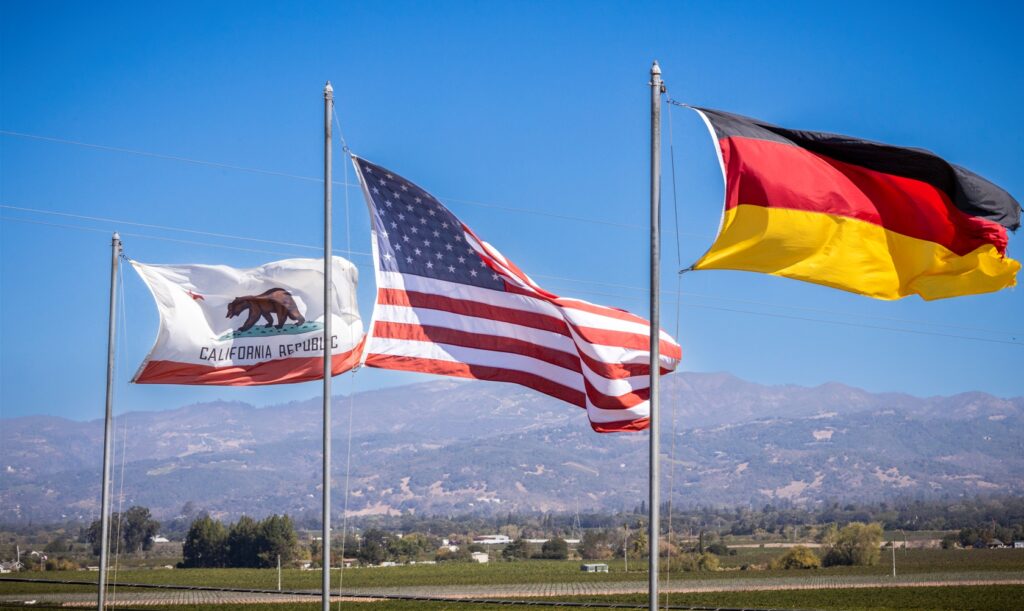 Our late founder, Walter Schug, was also a Geisenheim alumnus and was visiting the campus in the Spring of 2009, during which he gave a lecture on Sonoma Valley. I was captivated by his story and approached him about an internship. Six months later, I was in California crushing grapes at his winery! As an intern, though, I was involved in many aspects of the harvest, from sampling grapes, receiving and processing, barrel work, bottling, and "checking in on" my fellow local female intern, who is now my wife. 😉
Between then and when I became Schug's winemaker, I finished my studies, returned for another internship there, and worked in a few different positions in the wine industry, including Production Manager for Benziger. In 2016, I had the opportunity to return to Schug as their Assistant Winemaker and in 2019 was promoted to Winemaker.
We know you've made Riesling and other aromatic whites while making wine in Germany, but you're working with Pinot and Chardonnay now at Schug and previously worked with Bordeaux and Rhone varieties at Benziger. What are your favorite grape varieties to work with?
All of those! Even though Germany is widely known for Riesling, Pinot Noir is becoming more popular, and I made some back there as well. No other varieties other than Riesling and Pinot Noir perfectly reflect the place where they're grown. That's what I love about them the most. However, making Bordeaux varietals from some of these beautiful mountain properties is pretty special too. For me, it's amazing that you can grow Pinot and Cabernet within 20 minutes of each other. In Europe, you'd drive hours between vineyards in Burgundy and Bordeaux.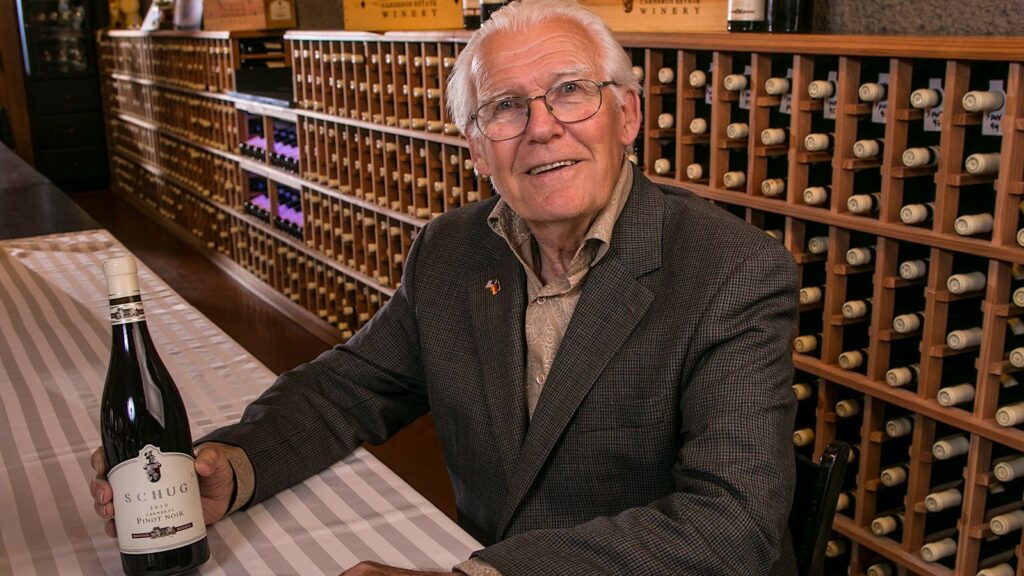 Walter Schug was passionate about Pinot Noir. He passed away in 2015. What part does Pinot play in today's portfolio at Schug?
Walter had the vision to make Pinot Noir popular in California. When Phelps ceased the production of Pinot Noir due to a lack of demand, Walter seized the opportunity and began his own label. Being a pioneer of Pinot Noir is still, and will always be our number one variety. We all love it and the legacy he created. We want to not just honor but continually improve and strive for the best wine possible. I think that would make him proud.
You met your wife, Jennifer, while interning at Schug. Was it love at first sight or did the relationship evolve over time? What happened after your internship ended?
I had no idea what was going to happen on my 3-month stint at Schug. I knew there was one other intern, but that was it! It was my first time in the States and she showed me around after work and on the weekends. We hit it off and had a lot in common, even with being from two different countries. After working side by side for three straight months, we got to know (and like) each other pretty well. Unfortunately, our time together came to an end in October when I returned home to finish my studies. We kept in touch and in 2011 I came back to Schug for a whole year, after which we spent some time in Germany and New Zealand before moving back here and tying the knot in 2013. Now, our 3-year-old loves doing punch downs, with her 6-month-old sister cheering us both on!
Tell us about Inceptum, the wine project you're working on with Sonoma HS students. How did you get involved and why? Do you have any students who are seriously considering careers in the wine industry?
Schug has always purchased Sauvignon Blanc from Pat Stornetta at Leveroni Vineyards, and she is involved with the Sonoma High vineyard. She approached me in 2018 about an opportunity to work with the students, caring for the quarter-acre campus Sauvignon Blanc vineyard. Throughout the year, we guide the students through the grapevine lifecycle; they learn alongside us by participating in the hands-on care of the vines. I then take over the winemaking part and the students come to the winery to watch the pressing and later on see how it's aged. Once the wine is bottled, a portion goes back to the school for fundraisers and auctions and we label the rest Inceptum which is Latin for "initiative" and the proceeds from our sales fuel the next year's project.
We had always wanted to make some wine here in California and this opportunity was hard to pass up! It has been so fun and rewarding to embark on this project within the community of Sonoma.
There are always a handful of students who are seriously interested in pursuing a career in wine. This is a great start to getting involved in a way that is practical for them.
Your thesis was on converting conventionally-farmed vineyards to organic and biodynamic farming. How do you go about choosing the vineyard sites that you source from for Schug?
To me, great wines always begin in the vineyards and a healthy ecosystem always translates to better, tastier grapes. That's why I wrote my thesis on the conversion to organic and biodynamic farming. At Schug, we source from some sustainably farmed vineyards. One of my goals is to increase this in the future and possibly even convert our estate vineyards to organically farmed.
When did you start sourcing grapes from the Petaluma Gap? What made you decide to venture beyond Carneros, where your estate vineyards are located? Do you plan to expand the Petaluma Gap part of your wine portfolio? How is the Gap Pinot that you make different from the Carneros Pinots?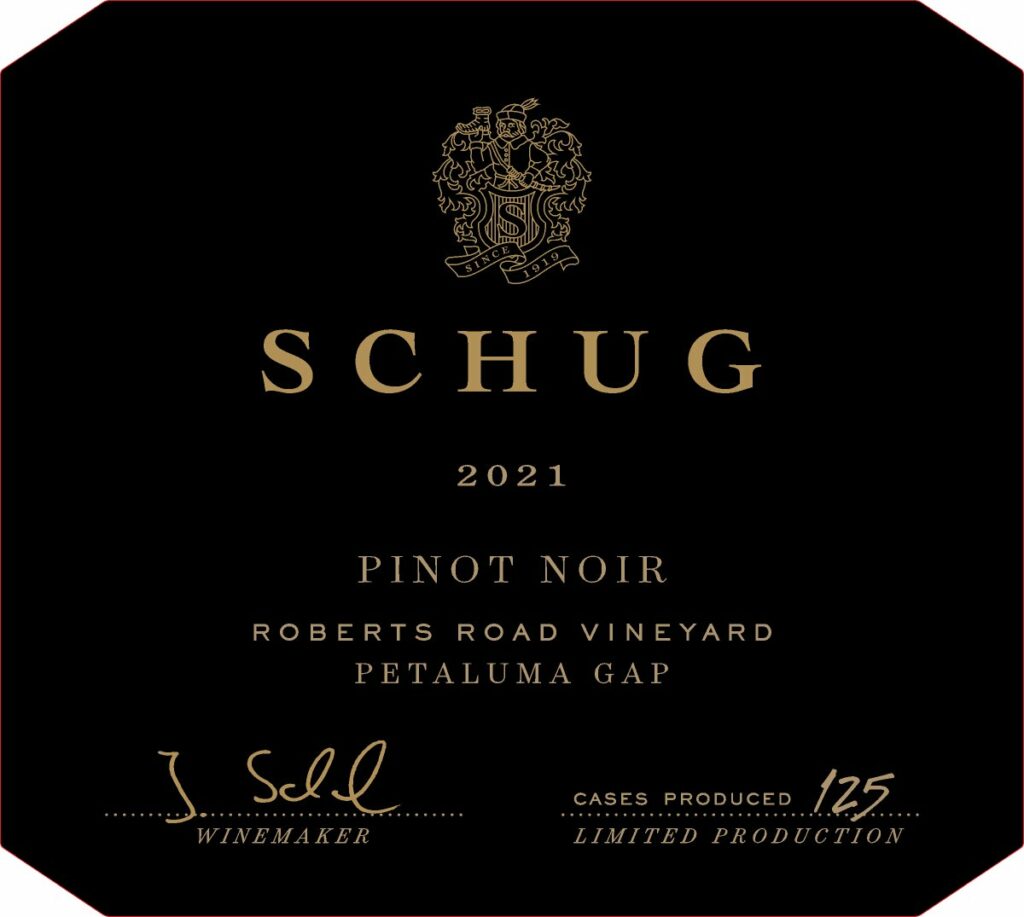 We began sourcing grapes from the Petaluma Gap AVA in 2021. We purchase grapes from Sangiacomo's Roberts Road Vineyard. To me, it's all about diversity and I always wanted to expand the Schug portfolio with different expressions of Pinot Noir. There's no other grape variety that portrays terroir better than Pinot. Currently, we only purchase a few tons of Petaluma Gap fruit and are very happy with the outcome. We would like to purchase more fruit with the 2023 vintage and beyond. Please let me know what's for sale (haha). That's part of the reason we joined the alliance – to meet more growers and see more vineyards. To me, Carneros highlights dark fruit characteristics with some saline backbone whereas the wines from Petaluma Gap, so far, show pure fruit components and elegance. That's the great part of making wines from different areas.
How involved are you in the farming of the vineyards that you source from? Is there a particular style you're pursuing when you make Pinot and Chardonnay?
Working with growers who we have a long-term relationship with has always been very important to us. Through those relationships, we have established great farming practices that help them and us bring out the best in each vineyard.
In terms of style, I always love the vintage to speak for itself. That's why it's important for us to source fruit from a variety of different vineyards for both Chardonnay and Pinot Noir. This allows us to sometimes blend together the best from different vineyards or allow a specific vineyard to carry out its unique vintage expression.
In 2020 you introduced a White Pinot Noir to Schug's line-up of pinots. Can you tell us about this wine—what inspired it, how is it different from rose, and what would you pair it with?
We always wanted to make more expressions of Pinot Noir, so why not make a White Pinot Noir! A wine that's been fermented and aged in neutral French Oak barrels with occasional bâttonage for about five months. Compared to our 100% stainless steel fermented and aged Rosé, it has more mouthfeel and structure and highlights those delicate Pinot flavors. I almost consider it an "alternative" white wine, even if it's made from Pinot.
Last year Schug celebrated 40 years of award-winning wines; how do you see the brand evolving over the next 40 years?
We have a rich history and are still a family-operated winery, which is something to be proud of. In the future, I would like to focus more on the details of each wine, which includes vineyard sourcing, investing in better winemaking equipment and creating some new styles that will attract younger customers. We have always been a Pinot house. Pushing the borders with the varietal and introducing new single vineyards to our lineup are at the forefront of our goals.
What do you feel most proud of since becoming the Winemaker at Schug?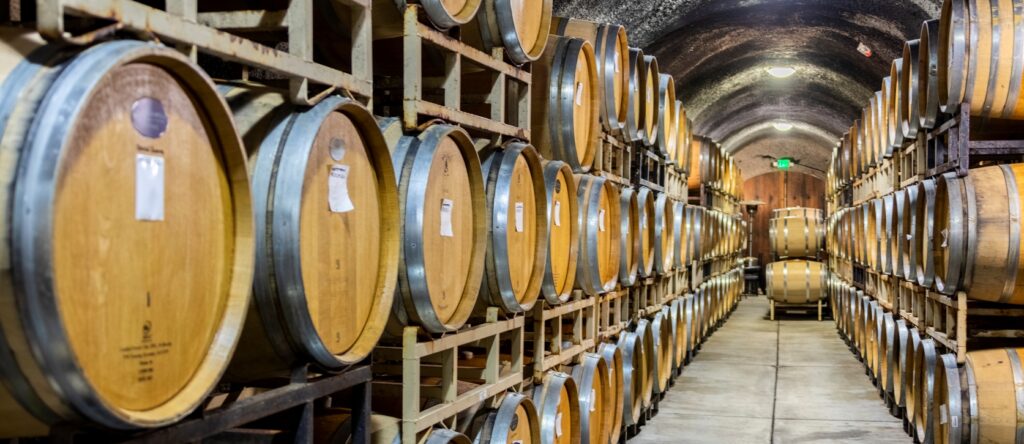 Becoming a winemaker at a relatively young age while being from a different country was among my most desired achievements but of course, it doesn't stop there. Now, working with our small team, I'm able to put my own signature style on the Schug portfolio. Having the support and trust of the family and team is important to me and allows for expanding our sourcing from regions like the Petaluma Gap to produce wines distinct from one another, creating interest and diversity in our portfolio. With each passing year, I want to be able to say, 'these are the best wines we've ever made and continue to look for improvement opportunities in each aspect along the winegrowing year and winemaking process. We have some fantastic 2022 wines in barrel that I am really looking forward to sharing with you all soon.