Jill Giacomini Basch grew up in Point Reyes on a dairy farm, that was started by her father, a second-generation dairy farmer. After growing his herd to over 500 dairy cows, and successfully operating a fluid-milk dairy widely recognized for its quality product, he realized that an operation of that size was placing stress on the land. After collaborating with his four daughters, they decided to launch Point Reyes Farmstead Cheese on the theory that when life gives you four daughters, make cheese. Here's her story.
Your great-grandfather, Tobias, came from Italy in the early 1900s; he raised chickens and cows. Can you fill in some of the family history going forward? How did your mother and father end up in Point Reyes?
Our father, Bob, was raised in Point Reyes on his family's dairy farm, where he grew his love for cows and the community, knowing he wanted to continue in the family tradition and have his own farm someday. He went to UC Davis, received his Ag Science degree, and met our mom, Dean. Together they came back to the region and in the summer of 1959, our grandfather helped them purchase the farm where our headquarters are located today. For the next 40 years, they operated a fluid-milk dairy, focusing on responsible and innovative land stewardship in order to raise the healthiest, happiest animals that produce great-tasting milk, all of which was sold to our local creamery processor, Clover Sonoma.

By the mid-1990s, our father had grown the herd to over 500 cows and the farm established a reputation for producing the very highest quality milk. However, a dairy of that size on our property of 720 acres was just too big, causing too much stress on the land environmentally, on our limited natural resources, and on the small staff working on the farm. But there's an expression here in the Giacomini family that says "When life gives you four daughters, make cheese". And so, after pursuing various business careers, we came back to help reduce the size of the dairy and transition the business into an artisan farmstead cheesemaking facility.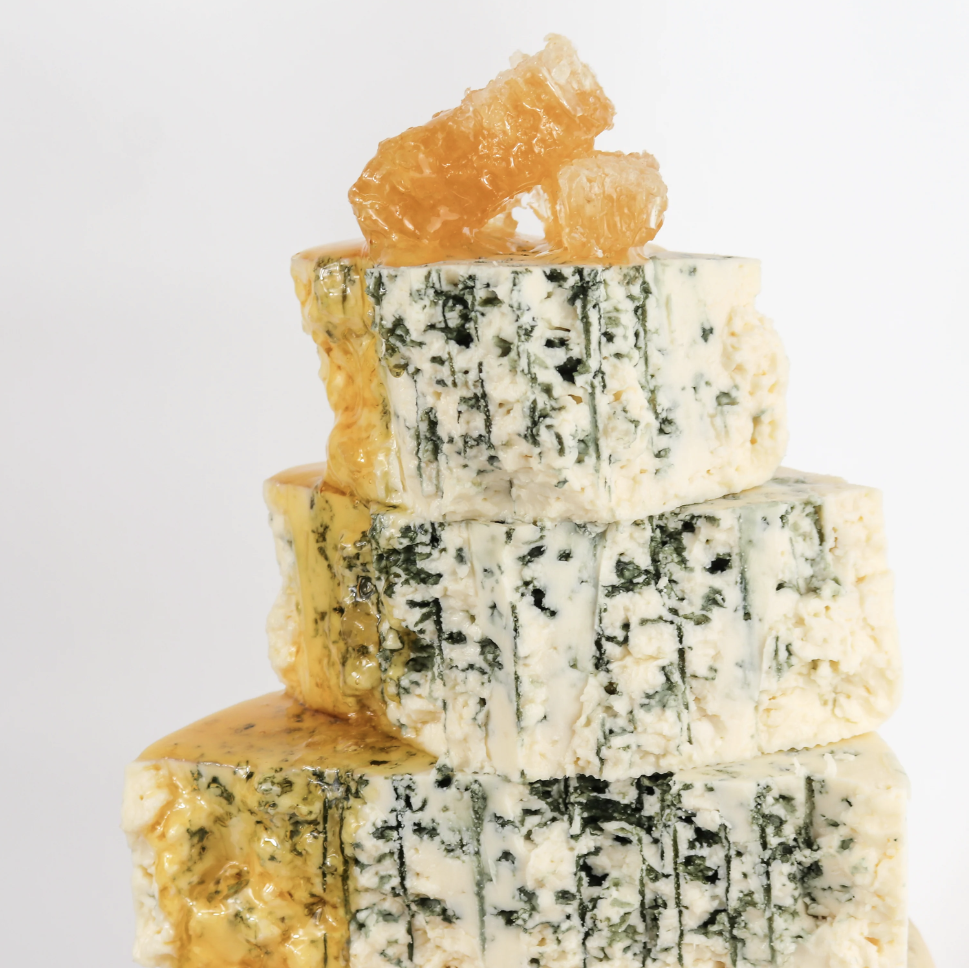 In August of 2000, we opened Point Reyes Farmstead Cheese Company when the first wheels of Original Blue, California's only classic style blue cheese, were introduced to Bay Area consumers, adding to a family legacy of farming that dates back well over 100 years.

Point Reyes Farmstead Cheese Company is our way of carrying on our family heritage, honoring the land we love so much, celebrating our passion for farm fresh food, and sharing it all with the people we consider our extended family–cheese lovers across the country who can now experience the incredible flavors created from our small, family-run dairy farm.
At one point they had a large dairy farm producing milk for Clover Stornetta. What do you see happening now to dairy farmers in Sonoma County and what do you think the future holds for them?
We saw the changing economics of small family dairy farming back in the '90s and knew we had to diversify to sustain our business (hopefully for the next generation). We did this through artisan cheese production on the farm. Other families made similar decisions –adding beef cattle, switching to organic milk production, and planting pastures with row crops or vineyards. Unfortunately, many families decided to quit altogether and sell their farms. Over 20 years later we're still experiencing attrition in the local dairy community as the costs of operating a successful dairy in the region fluctuate dramatically with inflation and the federally-controlled conventional milk pricing schedule doesn't guarantee a farm can be profitable – not by a long shot.
You started your career in the tech industry, but when your parents started talking about the next phase of their lives, you decided to transition back to the farm. In 2000, you and your sisters launched Point Reyes Cheese Company. How did you get from dairy farming to cheese making?
You could say the dairy part was certainly in our blood, but the entrepreneurial spirit was too. Watching our parents grow the farm to the point where it was a recognized industry example of sustainable farming at its best, was the inspiration for my sisters and me. We were thrilled to come back to the business to utilize our individual career experiences to partner alongside them and help write the farm's new chapter. It was an honor, actually.
Do you miss the tech industry? What do you love most about being in the cheese industry?
I don't miss tech at all. I have loved being able to use my marketing expertise to build a brand from the ground up and it's especially rewarding because cheese makes people so happy. Just about everyone is a cheese consumer and introducing our products to new fans still makes me proud.
A few years ago, you purchased property in Petaluma and built a cheese-processing plant there. Why did you choose Petaluma? How many employees are working there? Do you still produce any cheese at the farm?
In 2018 the company expanded to Payran Street in Petaluma, about 20 miles east of the farm in Point Reyes. This Sonoma County facility houses a second creamery, warehouse, and distribution center. Petaluma was the perfect expansion location due to its easy access for our distributors and employees, but also because of its proximity to similar high-quality, North Bay milk. We currently have approximately 55 employees at that location. The company's pasteurized cheeses, Toma, TomaTruffle, TomaProvence, TomaRashi, Bay Blue, Gouda, and Quinta, are produced at this location while Original Blue, made with raw milk, is still handcrafted on the farm.
For ten years you only produced blue cheese; then in 2010, you introduced Toma and never looked back. Why did you do that? How did the market respond?
In creating Toma, our team was looking for something with a complex, sophisticated taste, but in an approachable style. We wanted an artisan cheese for those seeking something more subtle than the bold flavors of a blue. Our Head Cheese Maker, Kuba Hemmerling, set out to create a cheese that would successfully capture the nuanced flavors of our pastures as well as highlight the pristine quality of our milk. He knocked it out of the park with Toma. The cheese really is a farmer's cheese (Toma means "wheel of cheese made by the farmer" in Italian), but for us, it's a cheese that represents the flavors of our farm. There are sweet creamery butter notes that come from the milk and a grassy tang finish that comes from the flavor of the region. Similar to wine, Toma is all about the terroir.
Tell us about your sustainability endeavors, such as water recycling and carbon sequestration.
Sustainability on our dairy farm has been at the forefront of our practices since 1959. First and foremost, we are stewards of our land in hopes of maintaining it for future generations. Applying innovative sustainability practices within our company creates a great benefit to our environment through bettering the land, air, and water. Additionally, it makes great business sense, for we believe the quality of our cheese is absolutely impacted by our farming methods.
Happy cows are healthy cows and healthy cows produce the best milk! We have a nutrition expert who helps us blend the perfect meal for our herd. Our green pastures of luscious rye grasses are a great natural resource for us, but it's no coincidence that California is called the Golden State; we go from gorgeous green hills to golden brown in a matter of days once early summer hits. To ensure our cows enjoy the flavor of our land all year long, we make silage every spring, which becomes the primary component of our cows' diet during the dry months. By harvesting our fields at their peak quality, then storing the cut grass in a way that allows for anaerobic fermentation, we can maintain the nutrients and flavors of the crop throughout the year.
We supplement the pasture grass and silage to maximize the quality of milk components, which in turn brings farm fresh taste to our cheese. Because cows are ruminants, they can feed on many byproducts of our own food system (and utilizing food sources that would otherwise end up in a landfill adds to our sustainability practices). Almond hulls, cottonseed, rolled corn, distillers' dry grain, and brewers' malt (from one of our favorite local beer producers, Lagunitas Brewing Company) are upcycled as nutritious ingredients that enhance our cows' diets. These byproducts offer benefits such as protein, fiber, healthy fat, and essential vitamins for our hard-working gals.
In addition, we feed our animals leftover whey from our cheese-making to supplement a great deal of protein and flavor. Whey is a byproduct that would otherwise need to be collected and hauled to a treatment facility. Whey is not only a nutritional food source for our cows, but it's also an additional productive source of methane gas when mixed with manure. We use approximately 40% of our excess whey to feed our cows and the remaining 60% is fed into our methane digester. By upcycling the whey ourselves, we are able to minimize extra labor, gas, and emissions, thereby broadening our sustainability practices.
As dairy farmers, we are well aware of the value of our manure, and happy, healthy cows make the best kind! Not only do we recycle the nutrients of manure by spreading it back on the fields to promote soil fertility, but we also power our farm with it. We call this process a closed loop, where the nutrients are used and reused in a continuous circle. We use recycled water from our creamery to flush out the waste components from our barns. The solids and liquids are mixed and then pumped into a separator machine where we take out about 10-12% of the fibrous material. We upcycle the solids into both cow bedding and fertilizer. The liquid coming off the separator is collected in a covered lagoon which captures the resulting methane gas and runs an 80-kilowatt generator.
The digestion microbes feed on the nutrition-rich waste to create methane gas. The renewable energy created supplies our on-farm operational facilities: the milking parlors, barns, creamery, and The Fork, our Culinary and Educational Center. On average, our methane digester supplies about 50% of our total energy needs annually.
But that's not all! After the methane is upcycled as energy, we utilize our wastewater in a timely application for our annual silage crop irrigation and for generating quality grasses for grazing in the late winter through early summer. During the digestion process bacteria is broken down, leaving us with a pure, almost clean nutrient. This byproduct liquid is in a "plant-ready" state, allowing for efficient absorption and timely pasture growth.
You are also making wonderful, aged gouda and some flavored versions of Toma. How do you decide to launch a new type or flavor of cheese and what goes into the planning and production? How many different types of cheese do you make today?
We released Toma in 2010 and it was instantly a fan-favorite, everyone from chefs to consumers fell in love with it. We had success with Toma in the marketplace for about 8 years before one of our largest food service customers asked us for a flavored version. Until then, we had considered ourselves "cheese purists" because we knew that great cheese (like the ones we make) didn't need to be covered up by an added flavor. However, this all changed when we started R&D and realized that we could create a delicious, flavored version of Toma that simply elevated the foundational characteristics of the cheese, and did not hide its creamy, buttery base. Setting out, we knew that we wanted to create unique flavors that the cheese world hadn't seen yet (with the exception of truffle – because who doesn't love a classic truffle cheese?!). We got to work testing out recipes and tasting what felt like hundreds of options, everything from basil to hatch chili to garam masala and just about everything in between. When the team tasted the cheeses we have today; TomaTruffle (using black summer truffles imported from Umbria), TomaProvence (using a custom blend of herbs including Rosemary, Basil, Marjoram, Savory and Wild Thyme), and TomaRashi (using a Shichimi Togarashi blend of nori, nigella seeds, chili flakes, and ginger) we knew we found the winners. Each flavor compliments the flavor of Toma without covering it up or taking away from the smooth & rich flavors of the cheese itself.
Wine aficionados talk about terroir all the time. Is there such a thing as terroir for cheese as well?
Like wine and its relationship to terroir, our cheese is an expression of the healthy land where it's produced. We know the care we put back into our farm has a direct correlation to the flavor profiles in our cheese. Ultimately, healthy lush pasture grasses indigenous to our coastal geography contribute to our uniquely high-quality, delicious milk, creating a full circle of flavor from land to cheese.
What kind of experiences do you offer at The Fork culinary education center?
Custom built here on our pastoral family dairy; The Fork was designed with two goals in mind. First was education, offering farm tours, culinary classes, and focused tastings to help guests better understand and appreciate all that goes into sustainable family farming and artisan cheesemaking. Second was entertainment, with incredible dining events hosted by our own culinary team and acclaimed local chefs.
We offer Cheese Lover's tastings from June through September plus scheduled holidays, reservable on our website. Additionally, you can book a private Cheese Lovers Tasting with a walking farm tour, which allows you an up-close experience that includes the history of our dairy, close-up interactions with our herd, and the inside scoop on our operation.
Our Farm Brunches and Farm Dinners are scheduled throughout spring, summer, and fall. We gather at communal tables overlooking bucolic pastures and Tomales Bay, for delicious, seasonal menus that are completely locally sourced.
Is wine an important facet of your family life? If so, tell us what role it plays.

Oh, my goodness, YES. We are big wine drinkers (and not just because of how well wine pairs with cheese :). Our appreciation likely stems from our Italian and Portuguese roots, but our love of travel for food and wine and the strong connection between farming, the fruit, and the flavor in the glass also plays a part. The fact that we are neighbors to some of the most prestigious wine regions in the world only makes our commitment to enjoying wine stronger! And – we love people in wine – like cheese makers, winemakers know how to appreciate life.
What is your favorite cheese and wine pairing?

There are so many… too many to really pick a favorite. I am often asked for a universal wine to pair with cheese, no matter the milk type, variety, or age. I always point to sparkling wine, specifically one with crisp apple-pear notes and a slight amount of residual sugar. I don't want to name brands for this article but there are plenty of local bubbles that fit this description perfectly.
What is the long-term plan for Point Reyes Cheese and the Giacomini family? Does the next generation show any interest in taking over when it comes time?

The long-term plan is to keep working hard to continue our growth trajectory. My sisters and I aren't going anywhere, and we really love what we do. Right now, we sell our cheese across the US, in Mexico, Canada, Panama, and seven Asian countries… we have a long way to go in satisfying demand! Hopefully, we'll see the next generation get involved in the next 10 years and if not, we have the most wonderfully talented team that can take the reins. I'm not worried.