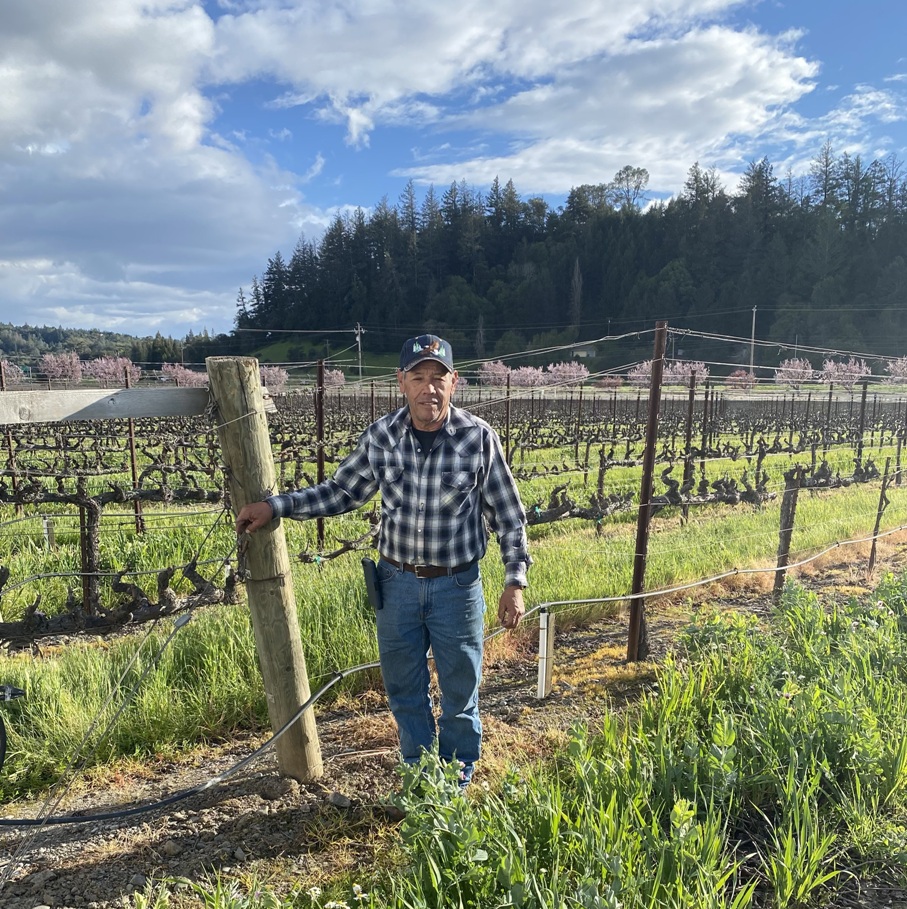 Jesus Torres Martinez, known by his friends and co-workers as "Chui," developed his love of agriculture while working in the fields in Mexico, just as his family has done for generations. The day after he arrived in Sonoma County, he met his current employer, Kevin Barr, at Redwood Empire Vineyard Management, and has worked with them for thirty-seven years now. A few years ago he was recognized by Sonoma County Grape Growers Foundation (SCGGF) for excellence in the workplace. Chui loves to teach others and share his viticulture knowledge and he enjoys working as part of a skilled vineyard crew. When not out in the vineyard, his perfect day off is sharing carne asada with his family and friends.
Everyone has stories from their past that were memorable or meaningful to them in some way – either because they required persistence, courage, or were touching or funny. Do you have a personal story you'd like to share so that our readers can get to know you better?
Thanks to Kevin, I could share my knowledge with many people. It is always satisfying to find people in different places that thank me for everything I teach them while working together. I don't even remember or recognize some people anymore, but they still remember and thank me for my help and all the knowledge I passed.
How long have you been working for Redwood Empire Vineyard Management?
I have been with the company for 37 years.
How did you start working in California's vineyards?
The day after I arrived in Sonoma County, I started working in a pear and grape field. I have always been very passionate about the field. My family is made up of people who used to work in the fields in Mexico, and that is where I inherited that taste for country life. I met Kevin through a friend back in 1985, and that same day he invited me to work for him, and since that day, I have been here with him.
REVM is known for its leadership in sustainability. Was there specific training in this area that you underwent when you first started working for the company or did you already have experience in sustainable vineyard practices when you started working for the company?
Yes, soil health, water conservation, and pest management.
Your work covers a large and diverse area. Is there anything special or different about working in Petaluma Gap vineyards?
Yes, the different types of soil. The soil in the Petaluma Gap Vineyards can vary from rich and loamy to rocky and well-drained.
Since you spend a lot of time in so many vineyards, do you notice anything different about the vines or the grapes here in the Petaluma Gap?
The cool weather also plays a vital role in developing the fruit. Cooler climates tend to produce smaller grapes with a more acidic flavor, while warmer temperatures make grapes grow larger and juicy.
In your opinion, what are the most important vineyard activities you can do to improve quality of the fruit?
I can mention many things, but the most important are fertilization, irrigation, pest control, training, and pruning.
What are the qualities that make a great vineyard crew?
Having someone who leads by example, has good communication, and sets clear expectations from the beginning, but above all, has a healthy and respectful work environment.
Are there any great new innovations that you are seeing in the vineyard that are exciting?
There have been many innovations since I started. They have modernized the irrigation systems; now we have machines to pick and cut the grass and many more. All this makes our work more effortless, but I always think that nothing can beat a man's hand.
What would you say or recommend to someone who was thinking of getting into viticulture as a career?
It is a fascinating career, but it demands a lot of time and patience, and it is not a career like others, since in this one, getting fully involved is essential to know all aspects of viticulture. I think it is no secret that 95% of the people who work in the field are Latino, and it is essential to connect with the Latino people and their culture.
On days off, when you're hanging out with family or friends, do you drink beer or wine or something else? Any favorites?
I like to spend time with my family. A perfect day off is having a carne asada and beer surrounded by all my loved ones.