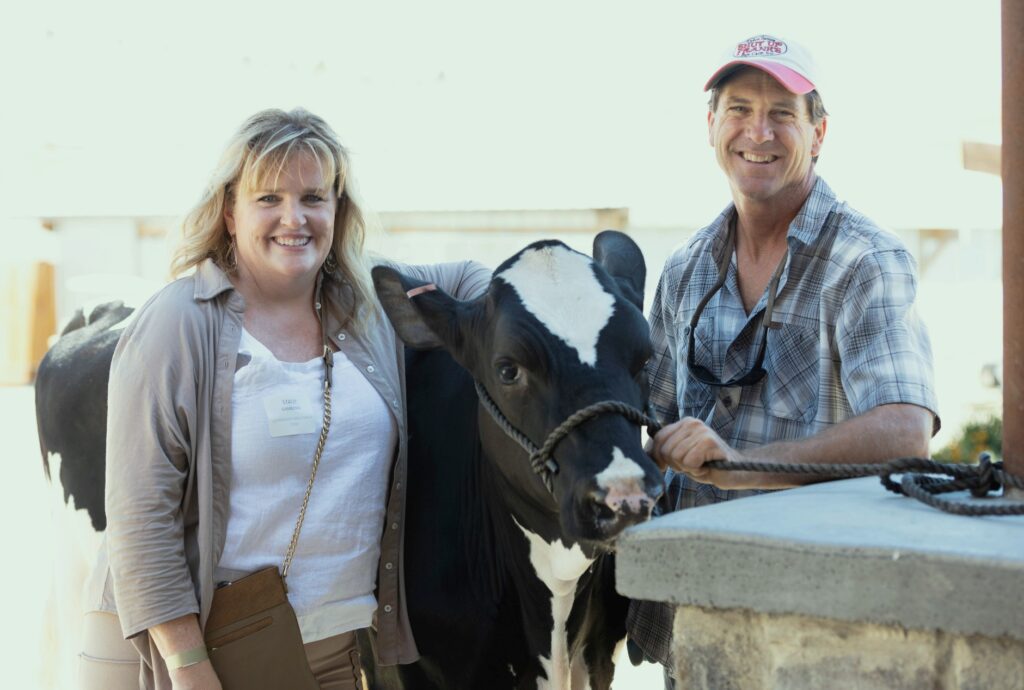 Frank Gambonini grew up on his family's ranch off Lakeville Highway in Petaluma; Stacey grew up on the south side of Chicago. They met in 1991 and married in 1994. They have three daughters, all of whom are pursuing agriculture as a career. At one point the Gambonini's had 600 cows on the ranch and Frank knew every single cow's name, date of birth, and pedigree. In 2019 they decided to sell the dairy cows and chart a new course, starting with agricultural tourism, rebuilding their 1924 hay barn as an agricultural event venue and plans to plant a vineyard and other crops. Here's their story.
Frank, you grew up in Petaluma; can you tell us about your family and the ranch? When did the Gambonini family first settle in Petaluma? Was the land always a dairy farm?
The Gambonini family's California legacy began in 1868, when my great-great-grandfather, Battista Gambonini, along with two of his brothers, Carlo and Giacomo, came here from Switzerland. For years, Battista worked as a hired hand at ranches in Hicks Valley and San Francisco before renting Rancho Nicasio, in Marin. He and his wife, Maria, married in 1880 and raised six kids, including my great-grandfather, Silvio. Silvio was born in 1882 and married Evelina Dado in 1909; in 1913, they purchased the Lakeville ranch, and started the family dairy business. The ranch was once owned by James Fair, the Virginia City Bonanza King, who made his fortune with silver. Now, four generations later, we are the stewards of this 540-acre property. We currently live in the home that was built by Silvio and Evelina back in 1923.
Stacey, your family is in Chicago. Did you grow up there?
I was born and raised on the south-side of Chicago, and in 1991, after finishing college, moved to Petaluma to start my career in San Francisco.
When and how did you two meet and was it love at first sight? How long have you been married?
We met through Frank's cousins, Mike and Tricia Wells. I came to visit Tricia, who was one of my work colleagues. I was already contemplating moving to San Francisco for work, and when Tricia introduced me to Frank, the decision became even more exciting! We married in 1994 in Orland Park, Illinois, and have three daughters, Francesca, 26 years old, Alexandra, 24 years old, and Samantha, 19 years old.
In 2019 you made the painful decision to stop dairy farming. Was repurposing your historic hay barn always one of the alternatives? How did you come up with that idea?
At the end of 2019, after four years of watching the decline of the dairy industry in California, Frank made the hard decision to stop the milking operation. By 2020, our milking herd had been sold, but we continued to raise over 250 organic dairy heifers, and also started a small beef herd. The conversation of future options started back in 2017. Following the sale of the entire 300 cow milking-herd, decisions had to be made. Like all farmers, alternatives are always at the forefront of your mind, but in Sonoma County agricultural demand, soil, weather, county and state restrictions, land size and use, and financials really limit your possibilities. Our decision was easy, but the true project description is still being melded into an exciting, thriving, all-encompassing farmstead of true agricultural tourism.
One part of our dream has been to repurpose our historic 1924 hay barn, for holding agricultural promotional events. Back in 1923, the ranch had a huge fire that destroyed all the buildings except for our main house. With an outpouring of help from neighboring ranches, the barn was rebuilt using lumber purchased from the defunct Cotati Speedway, located about a mile from us. The barn was rebuilt as a milking facility, storage for hay, and protected area for the cows. We are still in the permit process, but currently we're able to hold a few events by obtaining individual special event permits.
How did you get involved with the Petaluma Gap Winegrowers and end up hosting our Wind to Wine Festival?
In 2017, when we realized diversification would be the key to our survival, we started talking to our neighbors, Joan and Jim Griffin, former owners of Griffin's Lair, about growing grapes. Frank's cousin, Kevin Barr, and Tyler Klick, from Redwood Empire Vineyard Management, helped us to establish a vineyard plan. Today, we are permitted for 147 acres of vineyard. Joan encouraged us to join the Petaluma Gap Winegrowers to benefit from all the educational seminars and vast network of knowledgeable winegrowers and industry professionals.
Do you have other structures on the land that you plan to restore as part of your business plan? What are they and how could they be used?
In 2017, when we first started talking about a new plan, we decided to obtain a vacation rental permit for the home that Frank's now-departed grandparents, Earl and Esther, built in the late 1950s. Called "The Farmhouse," it is listed on VRBO and has a huge following. Our guests come from all over the world, attracted by the beauty of Sonoma County. The marketing of our vacation rental, with its spectacular views of Mount Burdell, and the neighboring Flocchini and Griffin's Lair vineyards, and of course, our cows, has been very successful. Many of our guests have never seen a cow up close and personal. It is always entertaining to show them around the ranch and promote both the dairy and agricultural industries.
We hope to also turn another single-family dwelling into a Farm-Stay to promote agricultural education on our ranch. In the future we will farm several crops and flower varieties, so we can open a seasonal farm stand. We are fortunate to have the space, barn storage capacity, and water to begin this part of the venture. Hopefully within the next several months our permits will be approved and we can officially open for business.
Your website also talks about having 200 cows; what's it like living with these beautiful creatures? Do you always know where they are or do they roam freely?
The Holstein cow will always be a symbol of heritage, legacy, family, education, and passion. Having cows our on ranch is completely inherent. It is everything and all that Frank knows. He knows how many we exactly have, where they are on the ranch, how old they are to the day, what their pedigree is, their health status, and their name. He knows that today, and he knew that when we had over 600 cows. Frank has also instilled this passion in all three of our daughters. He continues to advocate and promote the industry by being actively involved on several agricultural boards of directors, and through his many years of involvement as Petaluma High School FFA's Dairy Judging Coach and Sonoma Valley 4-H Dairy Leader.
You've told us you're considering planting a small vineyard on the property. What would that look like and would you farm the land yourselves or hire a vineyard crew? What grape varieties would you most likely plant?
We are hoping to plant 80 acres of vineyards in the next few years. We will continue to have Redwood Empire Vineyard Management help us, but Frank will also be learning how to do a lot of the farming aspects of the vineyard. Our plan is to plant mostly Pinot Noir and Chardonnay. We also want to plant a small passion project of Italian varieties and would love to partner and/or lease with a winery/winemaker.
Stacey, we've heard you enjoy Chardonnay. Is wine a regular item on your dinner table?
Yes, I am a Chardonnay girl and also love some bubbly. Wine is always in abundant stock in our home. We also gift our visiting guests at The Farmhouse a welcoming local bottle of Petaluma Gap grapes. Being from the Midwest, family and friends are always visiting, and we are always introducing them to our favorites and excitedly finding new favorites. This summer alone, I have been wine tasting on five different occasions. I always promote the Petaluma Gap and make sure to include the delicious and distinctive wines in every excursion. We definitely plan to continue our partnership with Petaluma Gap wineries in the future by including you all in our farmstead plan.
Frank, we've also heard that wine isn't your beverage of choice, but that you enjoy a great American whiskey. What's your favorite?
No, I am definitely a red wine drinker. It is true my favorite beverage is whiskey on the rocks. As Stacey says, I'm a true farmer, my favorite whiskey is free whiskey! But if I have to purchase my own, Jack Daniels is my poison.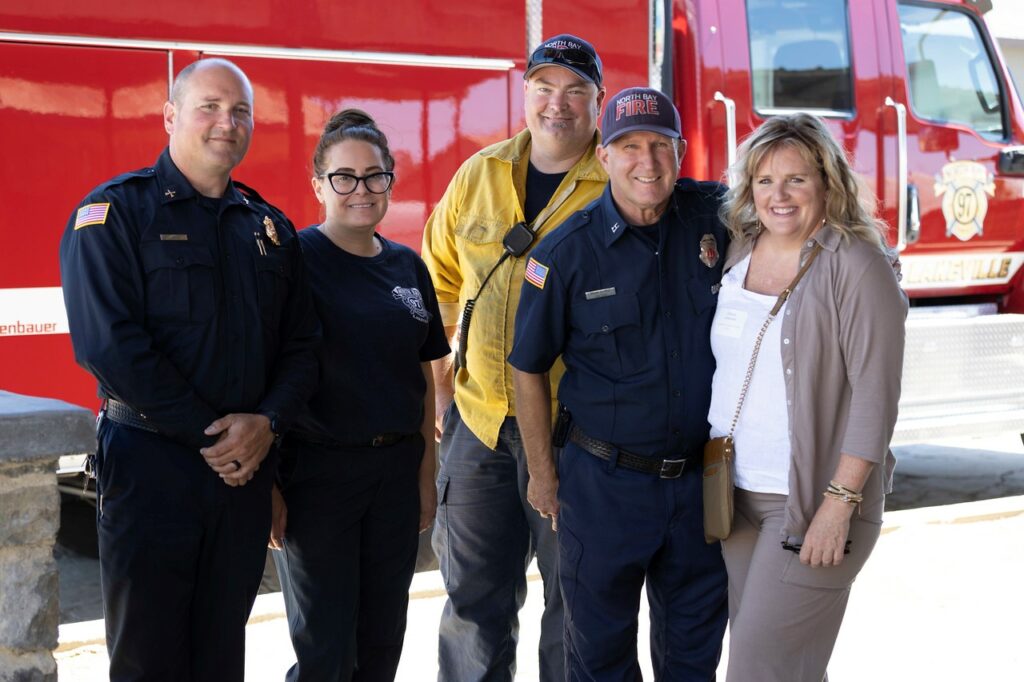 Stacey, you are also the President of the Lakeville Volunteer Fire Department. How did you get involved with them and what does the President do to support the fire crews?
I have always had in interest in Public Safety. Back in 1994, I became a Volunteer Reserve Community Service Officer for the Petaluma Police Department, in order to combine my love for public safety and to actively contribute to my community. After a few years as a volunteer, I was hired as a Public Safety Dispatcher for Petaluma Police and Fire, and worked part-time in that role for ten years. When I retired, a fellow neighbor and public safety officer convinced me to become a board member of Lakeville Volunteer Fire Department. For 8 years I was the Treasurer/Acting Secretary, and now I am the President.
Our volunteer fire department has grown immensely in the last several years. Our Board, Battalion Chief Nick Silva, Captain Brian Clarke, and firefighters are one big happy family. Being volunteer firefighters in rural areas like ours is an ever-changing concept. My job, duty, and commitment to this Lakeville community and to our volunteer firefighters, is to bring them into the 21st century and not be lost in the shuffle of politics and regulations. I can proudly say our department has made a difference to this community and to the hundreds of people who pass through our Lakeville scenic corridor on a daily basis.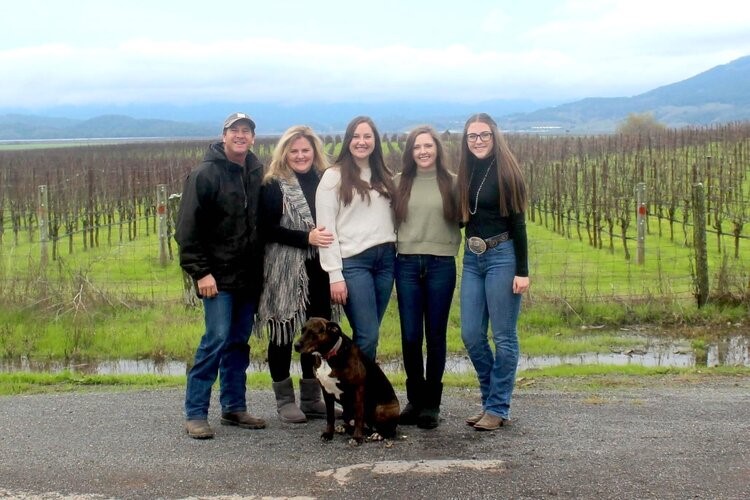 You've talked about the desire to create a viable way for your children to take over the land at some point. Your website mentions plans for a new level of "farm to table" experience. Did you collaborate with your three daughters on this plan? What is your vision and are you ready to share any details?
At our family dinner table, the conversations are always around the topics of cows, the dairy industry, education, sustainability, and the ever-changing world of agriculture. A multi-generational family farm is a blessing but sometimes a burden. We find our strength in our family, community, and education. Our older two daughters have earned their masters in Animal Science and Applied Economics, with emphasis in agriculture. Our youngest, Sammi, is studying Agricultural Education at Washington State University. Growing up on this ranch, they have completely engulfed themselves in the dairy and ag industries. Today, we still have long conversations about the ranch's future and each of their involvements. Frank and I could not travel through this transition without our daughters. We are grateful our daughters want to be the next generation on this ranch. They are the very reason why we are working so hard today, and truly risking everything for the Gambonini legacy and continuing stewardship of this exceptionally gorgeous and open land. The beauty of the regenerative agriculture and the power of a family farm business is the experience and resilience of the old and the innovativeness and vibrant energy of the young. These characteristics and traits will hold our core values and reshape the Gambonini Family Ranch to the next level. As for the details, with God's grace and our own blood, sweat, and tears, we hope to show you our vision in 2023.