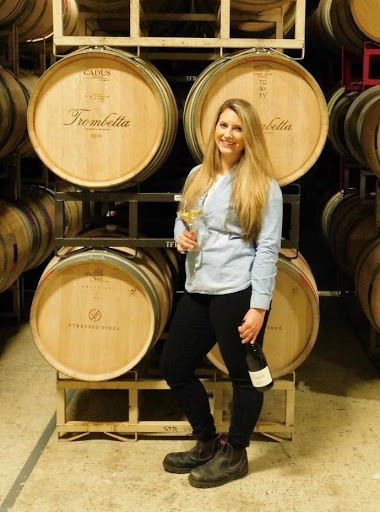 We know you grew up in a food-centric family. What is your first recollection of tasting wine and realizing that you liked it? Do you remember what variety it was and why you liked it? Were you certain at that time that wine was a direction you'd like to go in as you grew up?
While growing up with home-winemaker parents, my dad put wines "with issues" in front of me due to my sensitivity on aromatics (VA /Sulphur). Sometime around 2000, our family friend, Paul Hobbs, brought over a 1997 Michael Black Merlot from Coombsville. It was then that I realized how amazing wine could be. I was able to describe the wine in detail, as it reminded me of a blackberry cobbler my mother had made the day prior. That's when Paul realized my sensory capabilities.
Making wine is a very physical activity – one that requires strength, agility, and confidence – and one where you mostly work side-by-side with other winemakers and production workers, many of whom are male. Did it take some time to develop these skills or were you naturally strong and athletic?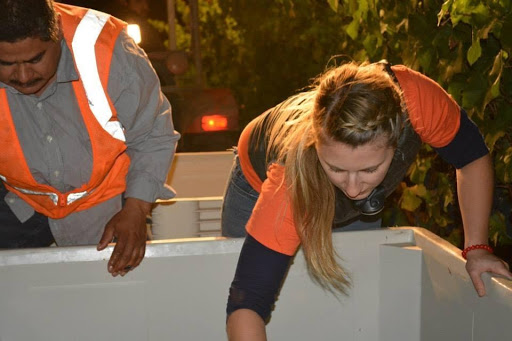 Thankfully, I've always been very athletic. I grew up riding horses so was used to being "pushed" around and having to do grunt work. I also love a challenge–if someone tells me I'm not strong enough to do something—I'm going to work extremely hard to prove them wrong.
You recently married your husband, Lucas. Where did you meet him? We know he's also involved in the wine industry; was that the case when you met him or did he get into the business after meeting you?
Lucas and I met at the bar in the Santa Rosa Airport due to a very delayed flight. He grew up in Sebastopol off of Vine Hill Road in the heart of the Russian River Valley, but never got into wine until we met. He's amazing with numbers and Excel, so he quickly became intrigued with the wine industry and decided he wanted to take classes to learn more about the business aspects.
As a young winemaker, you've already made a lot of wine; what is the first wine/vintage that you had total responsibility for and how did it turn out? What wine are you most proud of from all the wines that you've made so far?
The first wine I can truly say that was my "baby" was the 2014 Gap's Crown Chardonnay. Paul Hobbs gave me 3 Tons off of his contract and said "Here you go." With that wine, I was able to establish my "style" as Trombetta had never made a Chardonnay before.
At a very young age you interned at Viña Cobos winery in Mendoza, Argentina. Do you speak Spanish? What was it like going to a foreign country for this experience? What was the main benefit or learning experience that you enjoyed during your internship?
Well, in high school I studied French, so thankfully that gave me some understanding of Latin-based languages. However, when I went down to Mendoza, the only phrases I truly knew where "another beer please," and "where is the bathroom?" My friends down there were extremely patient and taught me Spanish.
Your mom, Rickey, is a very strong mother figure with a big personality. It's obvious that you're very bonded and work well as a team. But, as a young woman feeling her way, having a mom who is a superstar can also be challenging. Can you tell us what it was like as you started to carve out your own path forward?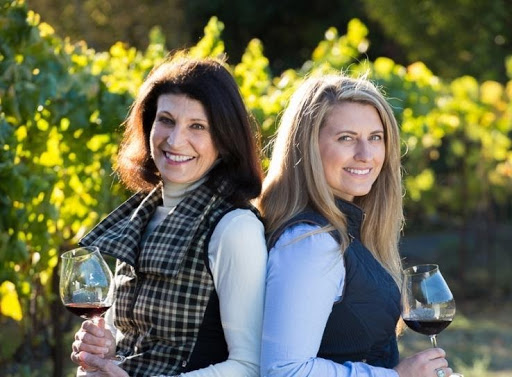 As two headstrong women who have had to pave the way for themselves in a male-dominated industry, it was extremely difficult. Thankfully, we both have had our own areas of the business that we are involved in, even with our crossover. Rickey is the business mind and I drive the production/creative side. I've been able to express myself through the wine I make, while we keep moving forward on our vision.
Your degree is in enology and you've had experience with analyzing wines to identify problems and find solutions. What was the trickiest problem you've dealt with and what was the solution? How did the wine turn out?
Where to start? I think the most challenging wines I've worked with are when people didn't realize there was a problem until it was too late. While I love the fact that I learned how to fix problems, sometimes there is no silver bullet and a wine will never be its best. Also, protein stability and pineapple wine do not go hand in hand!
You've worked with many different grape varieties, but these days your focus is on Burgundian varieties. For Trombetta you make chardonnay and pinot noir. How do you choose the vineyards to source your grapes from? Do you spend much time in the vineyard prior to harvest?
I try to look for unique vineyard sites that are farmed by passionate growers; the vineyard is where a great wine starts. Having a good relationship with the grower, a constant conversation and open dialogue is extremely important. I try to walk each vineyard through-out the growing season and then weekly / multi times a week as verasion and harvest approaches.
Paul Hobbs was the original winemaker for Trombetta, with you as his assistant winemaker. When you took over in 2014, was it an immediate or gradual transition? Do you still rely on Paul for advice when you encounter a difficult problem?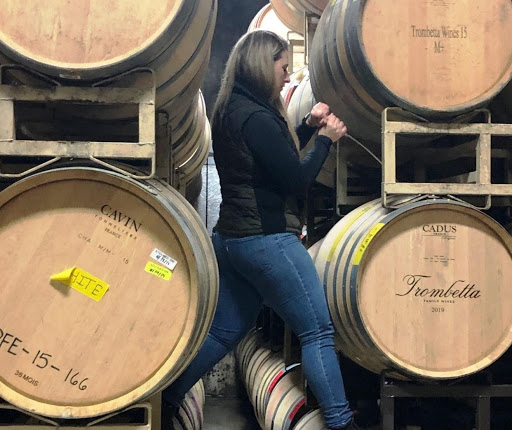 Having known Paul for much of my life and in his role as my mentor, he's not one to coddle. In 2014, he was there for questions and advice, but he wanted me to take over and really jump in with our winemaking. In 2015, I was 100% in control of the winemaking and vineyard decisions.
You and Lucas have both cats and a dog. Who rules the house?
The hierarchy of our house is as follows: Scarlett (old rescue cat), Me, Lucas, Mack (rescue dog) and then Skylar (deaf rescue cat). The animals by far rule the house. Especially in the mornings.
You've been cooped up during Covid-19. What has been the most memorable meal you've cooked at home and what wine(s) did you serve with it?
I had some leftover Foie Gras fat and decided to do a Ribeye steak with Foie Gras-roasted fingerling potatoes. I paired it with a 2013 Trombetta Gaps Crown Pinot Noir and a 2001 Paul Hobbs Michael Black Merlot (part of our wedding gift, thanks Paul!). Best meal ever.