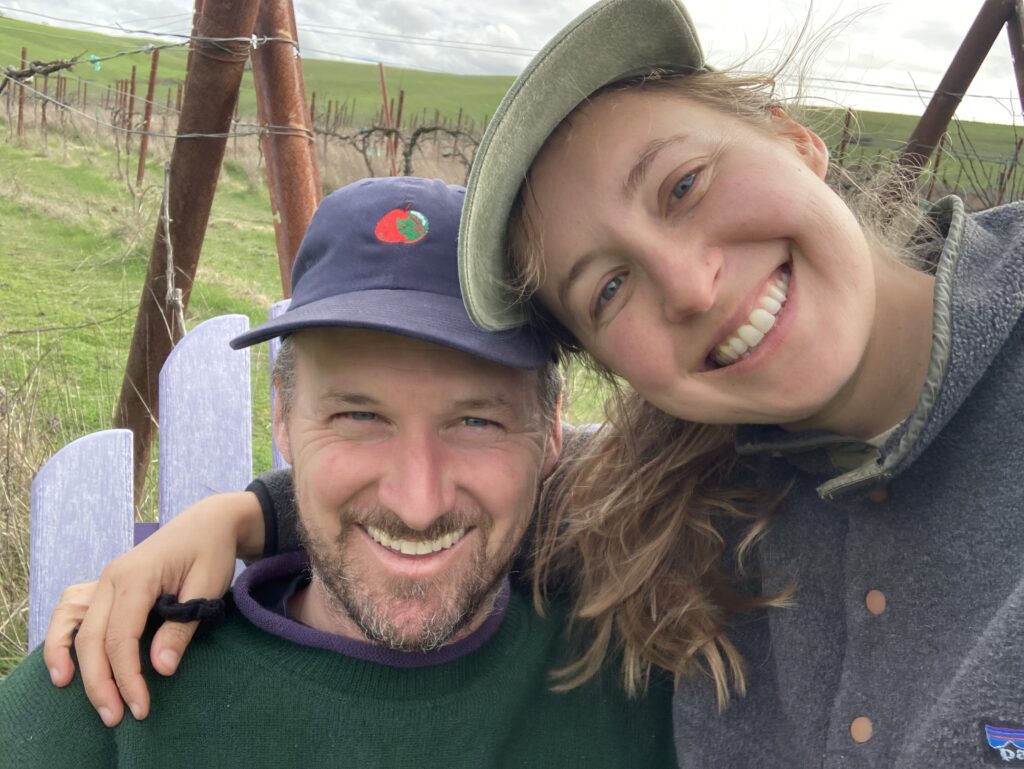 Charlie grew up with the scent of ferments in his family's garage in Woodside CA and has made wine for Mt Difficulty (NZ), AP Vin, and La Honda Winery. Emma experienced the freedom and art and chaos of being a teenager in NYC and then after college went on to start a pop-up restaurant in Mexico City. They met in Boulder but reconnected years later and today they are farming Tomales Vineyard, just a few kilometers from the Pacific. They had the itch to get into growing grapes and the good fortune to meet Cathy Schwemm, owner of Tomales Vineyard. Today they are farming Cathy's vineyard, with the hope of making their first Gap Pinot under their label, Dewey's Wines.
Charlie, you grew up in Silicon Valley, a place better known for technology than for winemaking. Do your childhood memories include wine being served with family meals? Where did your love of wine come from?
When I was a kid, my dad planted a small Pinot Noir vineyard in our yard in Woodside. I recall stomping grapes with my brothers and the garage smelling of ferments. Of course, I was young, and didn't take a serious interest in it, but it's implanted in my memory and so I've always had a built-in nostalgia around grapes and winemaking.
Emma, you've lived in a few places including New York, Mexico City and now the Bay Area. Your bio says you'll always be a New Yorker at heart. What do you love about it and what is your favorite thing about living in the North Bay?
I will always love the culture of New York and pace of what it felt like growing up there – so much freedom and art and chaos. But I love the North Bay for its stunning lands and I am so grateful to feel the presence of the Pacific in Tomales and in the Sunset neighborhood where we live in San Francisco.
What did you both study during your college years? Have you used your education in ways that you anticipated while you were students?
Charlie: I studied English and Creative Writing at the University of Colorado in Boulder. I don't know that I had much of a plan for what I would do with my creative writing degree. However, so much of wine involves storytelling, and I've had a lot of fun incorporating a creative spirit and aesthetic into Dewey's Wines.
Emma: I studied sociology and art history. Definitely didn't expect to continue working in restaurants with my degree, but turns out sociology was quite applicable!
Emma, you are the Managing Partner for Cala restaurant in San Francisco and worked for many years as the GM, too. How did you get the job? Do you sell more wine or beer? What wines do you recommend with Mexican food?
I moved to Mexico City for a few years back in 2010 and started a pop up restaurant there with friends. That's what ultimately led me to Gabriela Cámara (chef/owner of Cala). We sell more wine than beer (although much more mezcal than wine). It has been inspiring to introduce wines that go really well with Mexican food. Our wine director, Lauren Feldman (now of Valley Bar and Bottle), focused on coastal wines that especially complimented our vegetable and seafood driven menu. We focused our list on whites, roses and light reds and only offered one or two larger reds to best suit the food.
Charlie, you've travelled the world and made wine in Argentina, South Africa and New Zealand, before launching your California wine-making career. Which wine are you most proud of and why?
My fondest memories from my travels come from my 2011 harvest at Mt. Difficulty in Central Otago, New Zealand. Under the guidance of winemaker, Matt Dicey, I think we made some really special wines. As for the wines I've made myself, I'm most proud of our Dewey's 2019 Barsotti Vineyard Vermentino (releasing soon). We've worked with Barsotti fruit since 2017 and it's been a pleasure. Our 2019 is probably the most hands-off I've been with any wine (native ferment, no additions with the exception of SO2, bottled unfined and unfiltered) and it is crystal clear and a beautiful expression of the variety and the vineyard.
How and where did the two of you meet?
Charlie: We met in Boulder Colorado fifteen years ago – Emma waited tables there for a summer. We reconnected years later when we were both living in the Bay.
Tell us about your son, Frank.
Charlie: Frankie is a total character. He turned two in March. He's cute and sweet but definitely has a fiery side. He's obsessed with tractors and grapes, so our involvement in wine is a real perk!
You now have your own brand, Dewey's Wines, and have made wine from some of the lesser-known varieties such as Vermentino, Carignane and Cabernet Franc under your label, but you also made Pinot Noir for several years for AP Vin. Will Dewey's first Pinot Noir be from the Petaluma Gap?
Charlie: Assuming Mother Nature allows it, yes! We're new to the vineyard side of wine production, but assuming we get a good crop you should be seeing a Dewey's Pinot from Tomales Vineyard.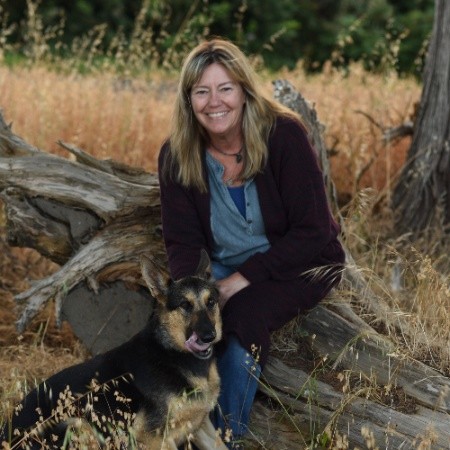 We understand you have a partnership with Cathy Schwemm, the owner of Tomales Vineyard, for her Pinot Noir. This property is very close to the coast and is probably one of the coolest sites in the Gap. What made you choose this vineyard and how did you get connected with Cathy?
Charlie: Years ago, I was working with a guy who told me about a vineyard he was tending in Tomales. It sounded cool to me, but he moved to Oregon not long after. Probably a couple years after that Emma and I had the itch to get involved with the farming side of things. I reached out to this guy I knew and he connected us to Cathy.
Emma: For being new to farming grapes, Cathy's two acres is a manageable size for us (and still a lot of work). We have always loved Tomales, and the opportunity to work for trade on her gorgeous property surrounded by hills, cows and her horses and gardens has been a dream. Cathy has maintained these vines organically and dry farmed and that was also of real interest to us.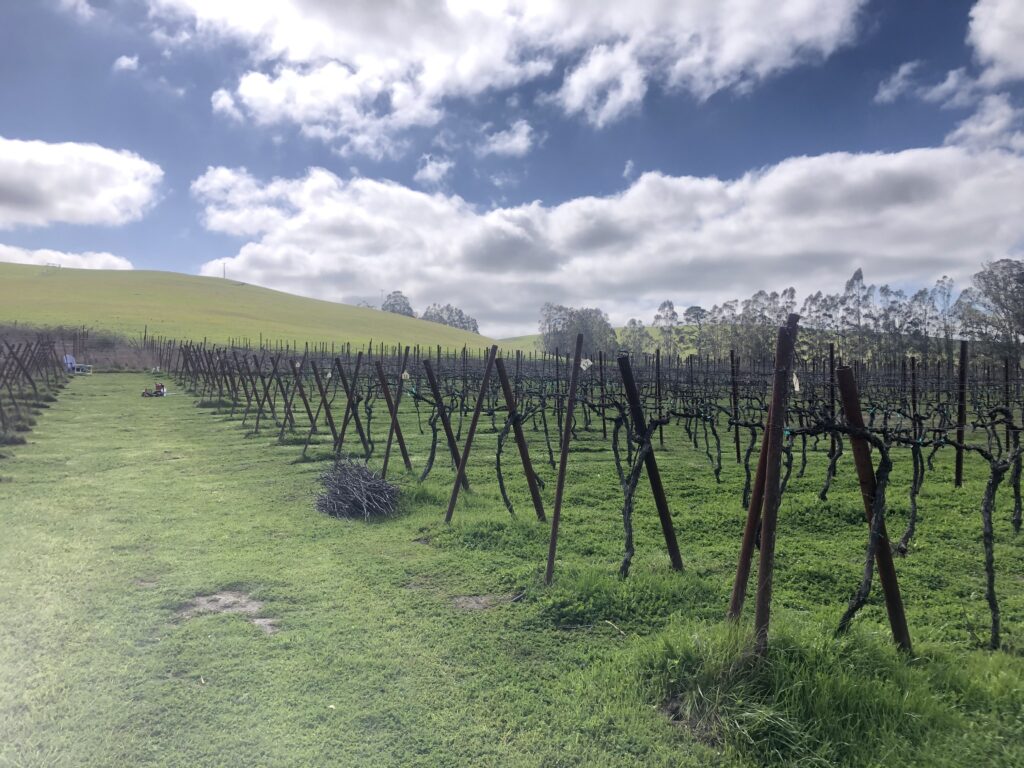 You started farming Tomales Vineyard within the last year. Are you doing all the work yourselves? How often do you visit the property? Where will you be making the wine from these grapes?
Charlie: Yes, we've been doing most everything, with some help from Cathy. It has proven a challenge, commuting from San Francisco, and with full time jobs and a kid, but we try to get up there most weekends for an overnighter. I work as the winemaker at La Honda Winery in Redwood City. We'll be making the wine there.
What is the biggest lesson you've learned about growing grapes in the Gap?
Emma: We've learned to not compare our vines to the lush vines further inland. Also, that we are terrified of powdery mildew! At the recent talk held by the PGWGA, my favorite quote about the three most important things when it comes to an organic spray program are: coverage, coverage, & coverage.
Charlie: Also, you can get really sunburnt in breezy, 60-degree weather!
In Esther Mobley's article about your winery, you talk about creating wines of tension, in which different voices harmonize with fullness and leanness all at once. Are there specific farming practices that you're using in the vineyard to create both tension & harmony in the resulting wines?
Emma: There are numerous challenges in a place as cool, wet and windy as Tomales. We're going to work hard to fend off mildew and get the fruit nice and ripe. We're on a strict schedule and canopy management is paramount.
Charlie: I expect we'll be getting some HIGH ACID pinot from Tomales Vineyard. Therein lies the tension! But I pray we can reach physiological ripeness to help round things out. Being new to the site, we don't know what we're going to come away with, but with great acid and sufficient brix I think we'll be able to create a tense rose or a delicate, elegant red – great oyster wine!