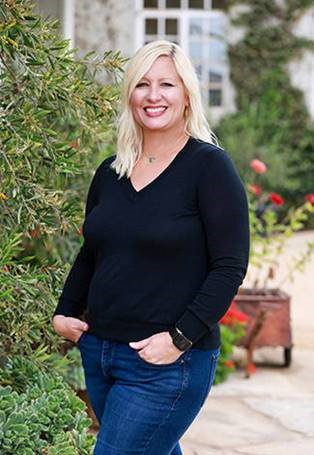 Emily Ash Lamb grew up in the best kitchens in Sonoma County and learned about food and wine from great chefs like her dad, John Ash. After graduation, when it came time to work, she pursued her dream of being a performer in LA and NYC. Like many budding performers, she also worked in restaurants to cover her expenses. Ultimately, she decided she was happiest while working in hospitality. For Emily, the best hospitality is like a choreographed experience, with the set, actors, and fare in perfect harmony. As Director of Hospitality at McEvoy Ranch, she will show you what that's like. Here's her story.
You recently joined McEvoy Ranch as the Director of Hospitality. How did you get connected with the McEvoy team?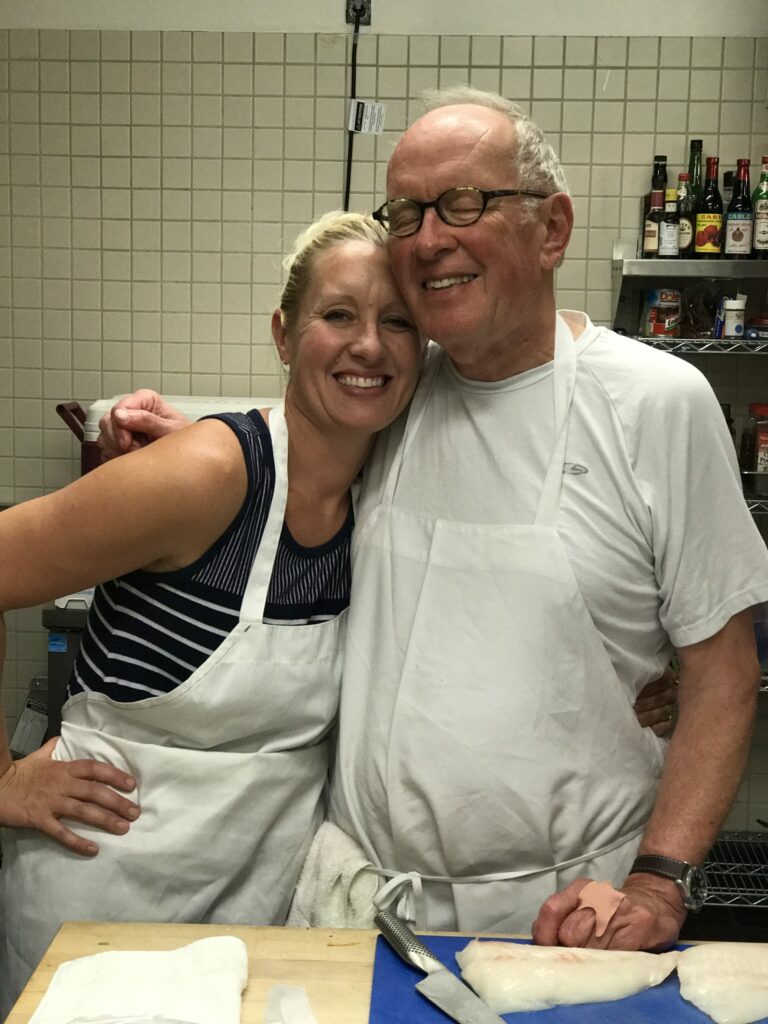 I was hired at McEvoy Ranch about 8 years ago when I had just moved back to Sonoma County. I was the Events Manager and loved the product and the property so much. But it was only a part-time position and I needed to work full time, so I left to take a job at Korbel. Then, the outstanding chef, JJ Buchanan, who had been working for many years for McEvoy Ranch and knew my dad very well, John Ash, also a chef, mentioned that they were looking for a Hospitality Director. Since I'd worked at the Ranch before and already had a pull toward McEvoy, the position and timing were finally right.
You graduated from Santa Rosa High School; what is your favorite memory from that time in your life?
As in most times of my life, my favorite part was the people; I'm still friends with many people from Santa Rosa High. During my junior and senior years I would leave class early and drive down to Marin Ballet to rehearse until the evenings. My love for dance was always my priority, but I had a blast at Santa Rosa High, too.

After graduation, you left Sonoma County for Los Angeles and New York City. What took you to these far corners of the country, and why did you return to northern California?
I wanted to perform, and bring my dance background to it, so I moved to NYC to attend theater school, which I just adored. I then moved to LA to pursue acting. Like many aspiring actresses, I worked in restaurants, and pretty soon I only wanted to work in hospitality.
You've worked at some high-profile restaurants in top cities. What was that like? Were you able to influence the food that was served or the dining experience or both? Can you give us some examples?
I was lucky enough to work for some of the best restauranteurs in the world such as Tom Colecchio, Danny Meyer, and Nancy Silverton and of course my dad started me on that path! I love that I grew up in an environment where food was what brought us together, and not just food, but food from farmers that we visited or people we knew. It was so personal and beautiful, so much more than just eating for fuel. I'm lucky to have had beautiful nourishment in my life. I'm a Libra, so I like all things beautiful. I spent a lot of time learning, then moved into creating, and now I love nothing more than to pull from all of my great teachers to produce the best possible experience.
Ballet is all about grace and beauty. How does your experience as a ballerina influence the choreography of the guest experience at McEvoy Ranch?
My love for ballet, theater, and performance is true to my soul and what brings me the most happiness. I absolutely feel that hospitality is a performance as much as a ballet is, or acting in a play. Through years of working at restaurants, I learned that having the lighting soft (never overhead), the right music (Led Zepplin at Craft Restaurant Los Angeles), and eating the best piece of fish was the best. The right servers (actors) serving delicious food and drink is like good theater; it moves you and makes you feel differently than when you arrived.
McEvoy Ranch is known for its estate-produced olive oil; wine was added later. Do you intend to make any changes to the wine-tasting experiences you offer at the Ranch?
We just recently changed our experiences as a whole. We're still focusing on olive oil, but making sure guests try our fantastic wine selection when they are tasting the olive oil. Really what could be better?! We are trying to make our service more like a restaurant, where you can come out and see what we have to offer when you arrive. The ranch is so 'of the moment,' and our wines are small release and constantly changing. My best advice for visiting the ranch and tasting wine would be to come on out and ask your server! We are changing our wine flights and offerings monthly, and sipping wine and olive oil out by the pond is like a European vacation right in Petaluma.

During your work day, do you get a chance to hike at the Ranch? If so, what's your favorite on-site destination?
Walking the ranch is like a walking meditation. My favorite spot is our Long Barn. Serene, amazing views, and the most adorable barn. I could sit up there all day. It's an amazing spot for small parties or events too.
How and where did you meet your husband, Blair, and what brought you together?
We met in Los Angeles 17 years ago through a mutual friend; he lived in South Pasadena and I lived in Hollywood. I kept making my way to that friend's house, hoping to run into him, and well, I guess it worked! We loved LA, but once we had our two boys, Leo and Zander, it felt like time to move back to Sonoma County.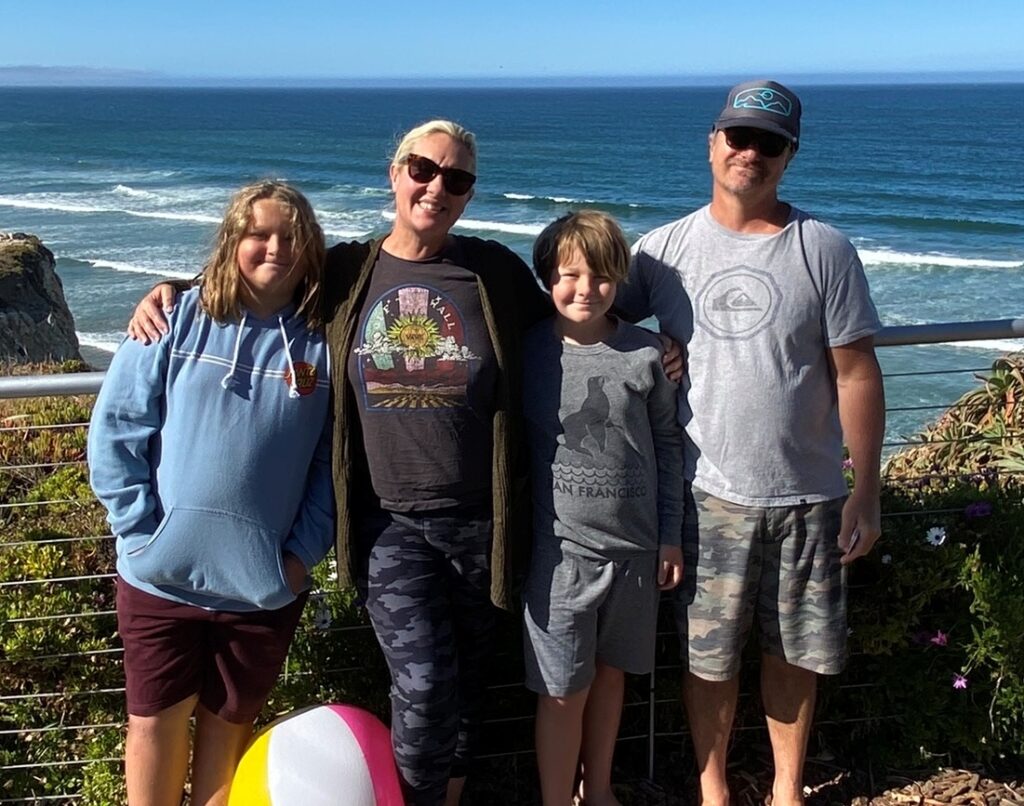 As a mother of two, in a dual-career household, is there time for wine in your daily life at home? If so, what is your favorite wine and what do like to serve with it?
I am happiest when I'm cooking and pairing food with wine. Probably my favorite pairing would be a great crisp white Sauv Blanc, Gruner Veltliner, or Vermentino with a bright salad like mustard greens, frissee, and red leaf lettuce with asparagus or English peas, feta, avocado and almonds, with a lemony vinaigrette. Acid, salt, and fat with a bright white is just the best.
Prior to McEvoy Ranch, you worked at Korbel, best known for its sparkling wine. Were most of your guests there to celebrate a specific event? What did you enjoy most about working there?
I really loved working at Korbel, the staff were one big family, with some of them having worked there for more than 40 years. My favorite part was putting on events for our distributors and showing them around the beautiful property while educating them on how sparkling wine can truly go with anything. I also loved seeing travelers from all over the world come to Korbel and say "I use your champagne every Sunday in my mimosas!" Korbel was great because it made a celebration out of every day.

You were a young woman when 9/11 happened. Do you remember what you were doing when you first learned of the events that day? Did it have an impact on the way you view experiences with friends and family?
I lived in the East Village of Manhattan and actually watched the second plane hit the towers from my roof. We were on lockdown for almost three days as we didn't know what other strikes would happen. It still seems unreal now to have seen that happen. I was amazed at how after the attacks, NYC came together. For weeks afterward, lower Manhattan was like a big family, you could walk into any restaurant or bar and they would just ask if you needed anything; food, a drink, or to just sit and talk. Everyone in NYC usually looks down and keeps to themselves, it was unprecedented. At the time I was working for Danny Meyer at Union Square Café. About a week after the attacks, he boarded and set up a cruise ship and we spent eight hours feeding first responders all the food from his restaurants since they were still locked down. I listened to fire fighters, EMT's, and others share stories of what it looked like with the rubble of the twin towers and then actually walked out there with a fire fighter and broke into tears. A million feelings to share there, still takes my breath away in sadness, heartbreak, and the beauty of humans in times of tragedy.
If you had just one minute to tell someone why they should come taste wine at McEvoy Ranch, what would you say?
The wines are fabulous and different. The experience is unique. A patio full of lounge chairs overlooking an olive orchard and one of our ponds. It feels like you are a million miles away, in the best way. I swear the light is different out there, it always looks in soft focus. Our servers are warm and inviting, it feels like you are visiting their home. The wines can stand on their own, but I really think when you add the full feeling of the ranch it's an experience not to be missed.