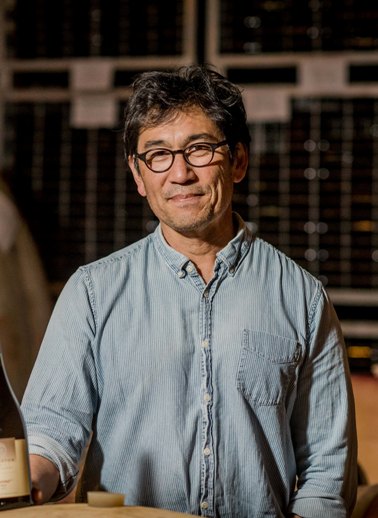 Byron Kosuge grew up in California's Central Valley as a second generation Japanese American. His father was raised on a farm in Colorado and became a professor at UC Davis in Plant Pathology; agriculture was a natural part of Byron's DNA. But it wasn't until college that Byron discovered wine while working at a restaurant to help pay his school bills; since he was already a student at UC Davis, he had easy access to winemaking classes and enrolled in an Enology class for fun.

How do you pronounce your last name and what is its meaning? Is it related to the village in Yamanashi, Japan?

My last name, in the Americanized version, is pronounced Coe-Sue-Ghee.  I am actually not sure if it is related to the village in Japan; it is not a very common name so may indeed have a connection that I am not aware of.
You've been making wine for more than 30 years. Where did you get started and what drove you toward this profession? Was agriculture a part of your family history? How did you transition from English and American Literature in college to winemaking?

Like many, I stumbled upon wine while pursuing a different vocation. I did not enter college with the goal of becoming a winemaker. I was much stronger in math and science than the humanities as a high school student and my family assumed I would become a doctor or a scientist. But, instead, I studied literature in college because I felt like I wasn't well-rounded and it frustrated me that I did not know much about literature and its history. My parents were, not surprisingly, a bit disappointed! I discovered wine while working at a restaurant to help pay the school bills, and as I was already going to school at Davis, studying winemaking was close at hand. That ability in the sciences came in handy after all, so I enrolled in some Enology classes; one thing led to another and here I am.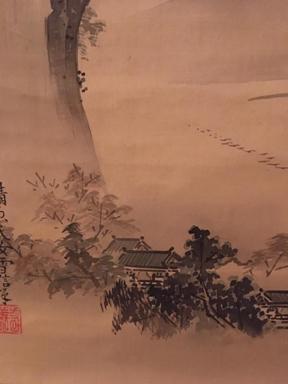 Your mother had a fondness for Japanese art and you have talked about a scroll that has hung in her home for many years. Is the fondness you've expressed for the simplicity and purity of that object reflected in the way you make wine?
Very much so, and although it has always been a part of who I am and how I view the world, it has only been in the last 6 years or so that I have been aware of how strongly it influences how I make wine. It's not that I think of Japanese art or aesthetics while making winemaking decisions, it's more subconscious. Purity of flavor is extremely important to me, and sometimes the simplest of techniques, if executed carefully and properly, can make all the difference.
You grew up in the Central Valley as a second-generation Japanese American. Can you tell us about your family heritage and what influence it's had on your craft?

I grew up in Davis, where my family's "Japanese-ness" was not a big deal so both my sister and I pretty much felt like any other small-town Californian kids, although my parents maintained a number of Japanese traditions, especially where they involved eating! My father, who was a professor at UC Davis in Plant Pathology, grew up on a farm in Colorado, so I suppose agriculture is somewhere in my DNA. My father enjoyed wine although we seldom drank wine at the dinner table until I was of drinking age. My parents entertained a lot and there was always wine on the table when there was company, but it was not a part of daily life; nevertheless, it was around enough that it inspired me to learn more about it as I got older. For most of my winemaking career I felt that my Japanese heritage was irrelevant to my winemaking—parallel, but not really intersecting. It's only been in the last few years that I've started to find connections between the two.
You spent several years working with Saintsbury and learned to work with pinot and chardonnay. What was the key takeaway?

They say that your first job out of college shapes who you become professionally and that was certainly the case with Saintsbury. Obviously, it turned me into a Pinot Noir and Chardonnay specialist, but it also cemented in me a love of the arts (the Saints, as I like to call them, were big fans of classical music and opera, even sponsoring performances at the San Francisco Opera). In terms of winemaking, my biggest takeaway was to always aim high. We may not always make great wine every year, but that should always be the goal.
How did you get connected with McEvoy Ranch? Which of McEvoy's wines are you most proud of?

It was somewhat serendipitous. Our paths crossed when McEvoy was looking for a new place to make wine and, at the same time, a new winemaker. They moved into the facility where I am based, and as I was already there making other wines it seemed like an easy match. As we talked, it became clear that my winemaking style was well suited to the McEvoy ethos and so we decided to work together. I don't know yet which McEvoy wine I am the most proud of. I feel that all of them are works in progress, and while many of them have turned out quite well, I have only just finished my fourth vintage as McEvoy winemaker. Ask me again in five years!
Winemaker Maurizio Castelli preceded you at McEvoy and he continues in a consulting role; how do you split responsibilities?

I am the primary winemaker, Maurizio travels to California and tastes with me and the rest of the team each year, at least until COVID stopped most international travel. I enjoy the opportunity to get a second opinion from someone whose perspective and experience is different from mine. It keeps me open-minded and inspired.
You not only make wine for McEvoy, but you've also been involved with Kingston Family Vineyards in Chile (the Kingston's are related to the owners of Griffin's Lair in the Petaluma Gap). How did you meet Courtney Kingston and what role have you played on their team?

I have been working with Courtney and her family for nearly 18 years. We met when Courtney and her father were visiting winemakers and grape growers while they were in the planning stages of their vineyard down in Chile. This was in the mid-90's. Our paths crossed several times between 1997 and 2001, at various events. Eventually we became friends and in 2003, we began working together. For the first couple of years I was the lead winemaker, although we have always had someone on the ground in Chile who was the hands-on winemaker. Now I am primarily a consultant, working on the blends, focusing on big picture things and trying to keep everyone inspired.
How do you balance making wine for McEvoy with also making wine for others as well as having your own brand?

It can be difficult. I have enough experience making wine that I am comfortable working with different styles and different varieties; in fact, I enjoy it. I'm the opposite of the winemaker who puts his stamp on everything, I take pride in the fact that my wines don't all taste alike. But there is a lot to keep track of. I'm pretty well organized most of the time, and I have a lot of spreadsheets that help me keep track of the wines, and stay in tune with the wines as they develop. The most difficult part of it is managing the different bottlings—each client uses different suppliers, has different packaging design and different requirements in terms of updating things each year. And because packaging doesn't impact the quality of the wine (although it definitely impacts one's ability to sell the wine) I often feel like every hour I spend on bottling supplies keeps me away from the wine.
What is your favorite grape variety to work with and are there any special methods you employ to bring out its best qualities?

The obvious answer would be Pinot Noir, which is my specialty, but in reality, I am drawn to any aromatic red variety—Pinot Noir, Gamay, Syrah (a lot of people don't think of Syrah as an aromatic red but it can be). I like working with varieties that are not typically turned into "big reds," but rather can be nuanced and perfumed. As far as specific techniques, I use a lot of whole clusters and am careful not to over-extract the wines. With white varieties, most of what I have made over the course of my career has been Chardonnay. McEvoy does a Rhone white blend which is great fun to work with, and soon will be making an Italian white blend, once we can secure a good fruit source. I look forward to that!
You've talked about all the variables in winemaking, from vineyard sources to corks to storage. What is the most interesting variable that you've employed to date and how did it impact the finished product?

Like most winemakers, I believe what you do in the vineyard is the most important. There are too many viticultural variables to list here, but broadly speaking, the best fruit is the product of caring for the land and working with, rather than against, the vines and nature. As far as what happens in the cellar, I've done a lot of work over the past several years with different aging regimes, both in terms of time and using different vessels—barrels, concrete eggs, larger format barrels, oak casks. The way we "raise" the wines has a big impact on the finished product and it is a way to steer the wine in one direction or another without additives or excessive manipulation.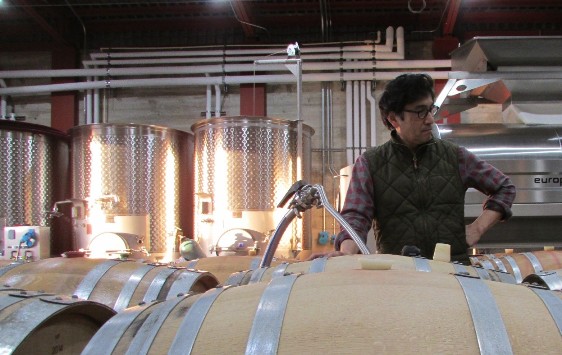 In your mind, what sets Petaluma Gap apart from the other AVAs that you work with?

The Petaluma Gap is where the cool air from the Pacific Ocean gains entry into most of the major cool climate growing regions in both Sonoma and Napa County so it's extremely important for that reason alone. Wind, fog and humidity shape the wines from the Gap. Although Pinot Noir and Chardonnay thrive in the gap, the wines that have been the most interesting to me are the Italian varieties I made from the McEvoy property the last two years—the cool temperatures yield wines of great varietal character and wonderful aromas.

McEvoy has decided to lease its vineyard property and to buy grapes from other growers going forward. How will you decide which varieties and vineyards you'll be working with?

Most of the wine program is already in place, in terms of the varieties. I have been around long enough to know a lot of growers up and down the state in a multitude of different climates, and we have already started working with several growers to replace the fruit that we used to grow ourselves. In the Petaluma Gap, we've been sourcing Pinot Noir from Griffins Lair and Chardonnay from the Keller Estate La Cruz vineyard. How we find these growers varies; obviously the fruit and farming must be top-notch, but farming philosophy (all the McEvoy fruit was grown organically and that is a focus with the purchased fruit as well), personal relationships, vineyards of historical interest, and other things also factor into it. Although it is a little disappointing not to be involved in the farming of the grapes, it is exciting to be working with these new growers.
What was your favorite food growing up and what wine would you pair with it?

Not surprisingly, I grew up eating a lot of Japanese food, and I don't think I could name a favorite dish. In general, I think that Japanese food is often a very good match with wine. I suppose to be a purist I should insist that Sake or Japanese beer should be the proper match for Japanese food, but I have found many happy pairings of wine with Japanese cuisine. Aromatic reds, which as you know I really love, often are good matches for the savory, meat-based dishes and I happen to think the ideal beverage to wash down sushi is Champagne. Pierre Peters Blanc de Blancs and pristine raw fish is a match made in heaven, in my humble opinion!