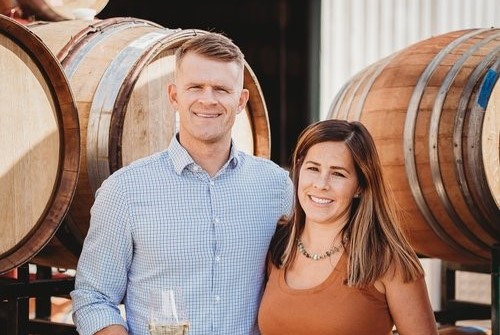 Alexis dreamed of being an artist, but the pragmatic side of her thought cooking, or possibly wine, would allow her to utilize her creativity while earning a living. Matt was on his way to being an astronaut when he discovered wine while taking a class at UC Davis. They met while working at Meadowood, where Alexis was a sommelier. They attended a Champagne Holiday event and fell in love with each other and with bubbles. Today they make sparkling wine, as well as pinot noir, chardonnay and syrah, mostly from the Petaluma Gap, and have four children who love to help out in the winery. Here's their story.
Tell us about where you grew up and what you wanted to be when you were a child.
Ever since I was 6 years old, I wanted to be a chef and an artist. I watched Julia Child's show on Saturday mornings, and she inspired me to cook from a very early age. I ended up going to culinary school and art school, but it was at culinary school that I discovered wine!
You studied art and then went on to get a degree at the prestigious Culinary Institute of America (CIA) in NY. What made you decide to switch gears from working with paint and brushes to working with culinary items to satisfy your desire to create?
Being practical, I was unsure if I could make a living as an artist. I've continued to paint for fun since then and have dreams about having a studio one day to really focus on it. Cooking is very creative and satisfying but in a different way. I love the way that it brings people together, no matter what the political, religious, or other opinions. Wine does the same thing and of course is always on the table at our home for meals.
Matt was traveling down the educational path to becoming an astronaut, but suddenly changed course with a wine elective at UC Davis. How did you meet? When you and Matt met, was wine a focal point in your relationship early on?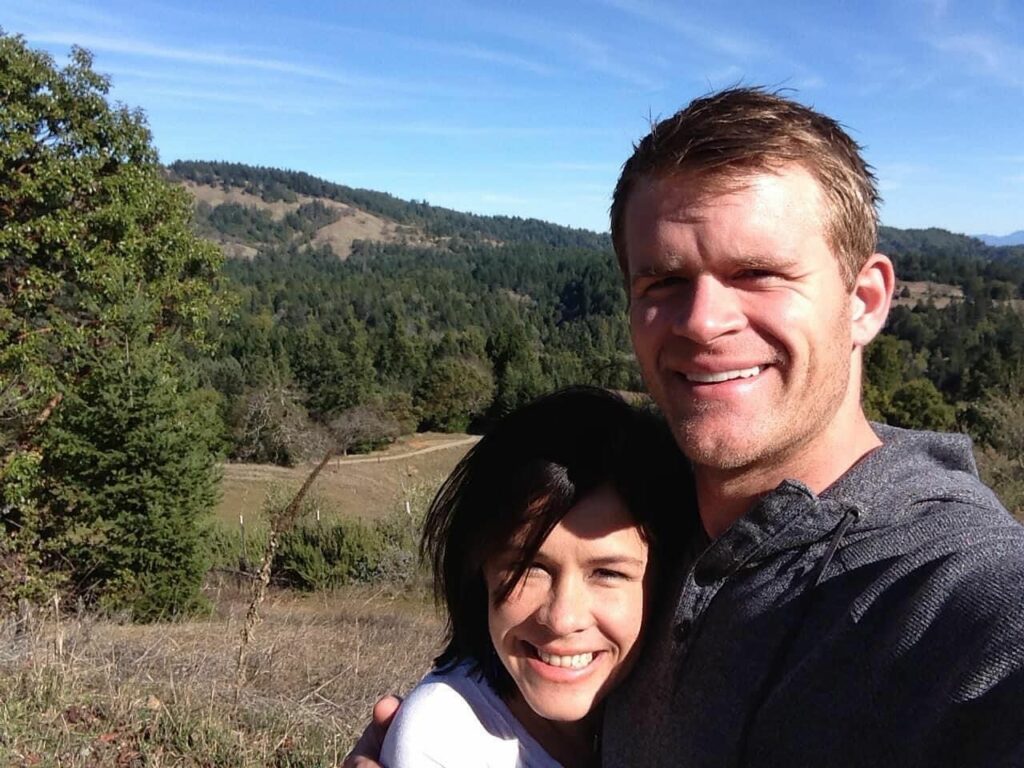 I met Matt three years after he'd graduated from UC Davis. He was working at Antica Napa Valley on Atlas Peak, and then got a job working nights at The Restaurant at Meadowood where I was the sommelier. He was assigned to be my assistant in the wine department since he was a winemaker. We connected early on because of that, and we've been tasting wine and traveling to wine regions ever since. Early in our dating life I wiggled my way into a very tight knit holiday party thrown by one of his collector friends called "Champagne Holiday," where the host shared many amazing bottles of Champagne with a small group of friends. As a sommelier this sounded too good to miss, and after this party Champagne became our shared passion.
What inspired you to launch 'brick and mortar' wines together?
Partly it was both of our desires to build something together. We are both very entrepreneurial and the idea of working for ourselves was very appealing. Also, with Matt graduating with a winemaking degree during the recession years of 2008-2011, there weren't many winemaking jobs available. Back in 2011 we had no idea how much work it was going to be to build a successful winery!
Your go-to wine is Champagne, and we know you've enjoyed many very special sparkling wines from the finest French producers. Of all that you've tasted, which wine stands out and what were the circumstances that caused you to pop the cork?
We started making sparkling wine in 2015, after several trips to Champagne, learning from the producers over there. The process-based wine was a natural fit for the style of Pinot and Chardonnay that we were already making. For every truly special occasion we open something memorable. For the birth of our last child in 2021, we opened a 1982 Philipponnat Clos de Goisses, L.V., which is a single vineyard Champagne which was on lees for 35 years before disgorgment! In our own production we've been testing longer lees aging with our own sparkling wines, so this was amazing to taste something so developed and yet so fresh. Aside from that, when we bought out our partner for brick & mortar, becoming the sole owners, we opened 2000 Dom Perignon P2 which was truly the most complex and impressive wine we've had in many, many years!
Eventually you studied wine and achieved the "Advanced Sommelier" level from the Court of Master Sommeliers. What was that experience like?
The exam itself was rigorous, but what was much harder was the many months of preparation leading up to it. At the time I had two small children, so finding time to study after or before work was tough. I passed the Advanced test back in 2012, and then in 2017 decided to continue on to take the Master Sommelier exam. I had two tasting groups that met weekly to practice blind tasting, an online wine theory study group, and spent many hours in the morning before work reading wine books, online publications, wine business news, and creating practice exams for my friends. I even changed jobs from working in DTC sales for a winery to return to my old job at Meadowood as a sommelier so that I could get back into the swing of service and also have access to tasting so many rare wines. I took the MS exam twice in 2018 and 2019. The average pass rate is between 4-5% currently. At this same time period brick & mortar was thriving and we had just launched our second label Delta Wines for Environmental Change. I made the decision to focus my energies on our business rather than pursue the MS path.
For a while you worked as a somm at Meadowood, Barn Diva and Cyrus restaurants. Was that experience useful for approaching beverage directors about carrying brick and mortar wines?
Yes! It has landed me industry credibility for sure. I can connect easily with buyers in restaurants or those who have spent time working the floor. Spending time "in the trenches," working nights in a restaurant can be both grueling and truly enjoyable. With folks that have worked in fine dining, this is a truly unique experience that many will never have, so it is certainly common ground for me when presenting my wines and telling our story.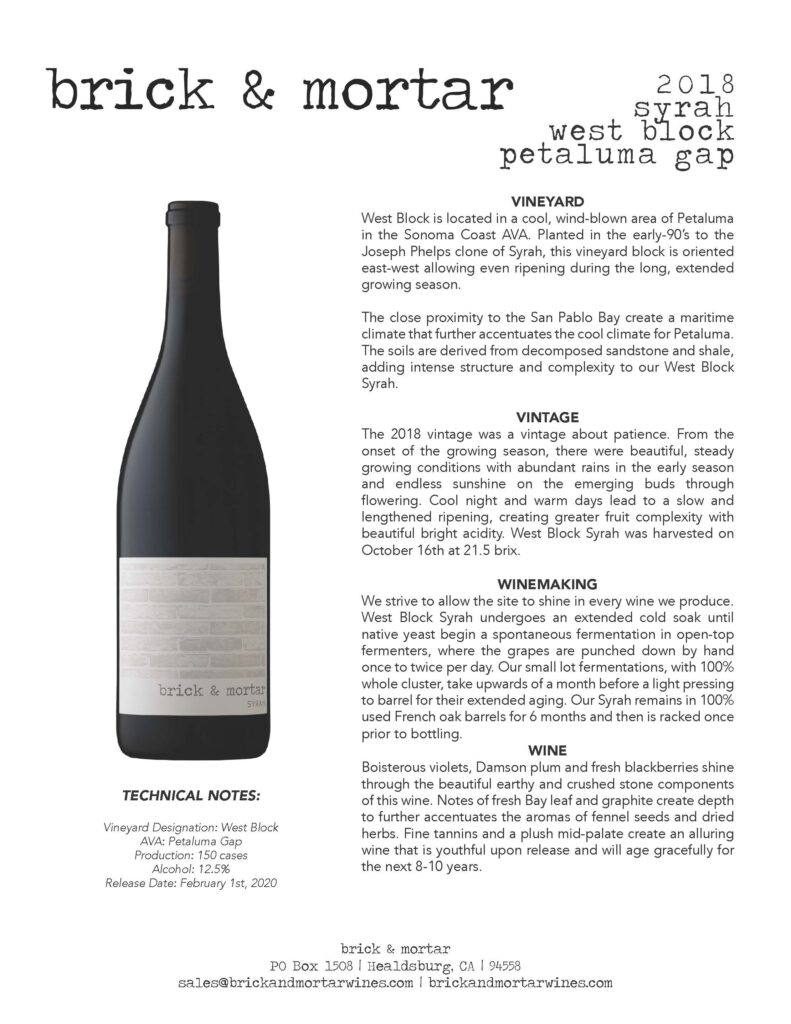 You make a red wine and a rosé from Syrah grown in the Petaluma Gap.  How did you identify the West Block vineyard site as one that you'd like to source fruit from? Are these wines labeled as Sonoma Coast or as Petaluma Gap (or both)? 
We label with the Petaluma Gap AVA and have since the 2017 vintage when it became an official AVA. In 2016 we decided to add Syrah to our lineup, as the only bottled wine not made from Pinot and Chardonnay. We wanted to make a "big red," which is kind of a joke because Syrah made in our style is quite Pinot like and approachable. For all the vineyard sites that we work with, we search for either high elevation vineyard sites, or sites that are impacted by the ocean and are cool climate. Petaluma Gap checks several boxes for us as a region that is very much impacted by the cooling winds of the Pacific. We work with Adobe Viña del Sol vineyard which is on Old Adobe Road. We source Syrah from the western corner of the vineyard, so have designated this on our bottle as "West Block." The vineyard is farmed organically, and has quite a long growing season for Syrah.
Your Syrah is low alcohol, at 12.5% and fermented with native yeast. What choices do you make during harvest and winemaking to achieve low alcohol, balanced wines?
We source Syrah from the western corner of the vineyard, so have designated this on our bottle as "West Block." The vineyard is farmed organically, and has quite a long growing season for Syrah. We usually pick this vineyard at the very end of September or first week of October. The vines have usually started to shut down, and we struggle to ripen past 22 Brix. The result is a very fresh and lively Syrah that is naturally high in acidity and low in alcohol which fits out style. We ferment 100% whole cluster in 500L puncheons, without any new oak influence. This wine is also very low sulfur like everything we do. It's pretty simple since the fruit is such great quality.
You also make Chardonnay and Pinot Noir, as well as sparkling wines. Do you have any plans to make these from Petaluma Gap vineyard sources in the future?
We would love to! We are exploring a new Pinot Noir site for a small single vineyard bottling for 2023. We produce Sonoma Coast Pinot Noir and Chardonnay and eventually if it made sense to make these all from the Gap we'd love to.
One of your distributors asked you to consider making a canned wine in 2017. Tell us what happened and how it turned out.
Yes, this was fairly early in the recent trend of canned wines and RTD drinks. A distributor was complaining that he couldn't find any decent wines in a can, and would we consider making one? We were drawn to the idea because this was still early days for sales of brick & mortar and we certainly were trying lots of different things. We sourced grapes from Lodi to be able to produce a delicious and fresh, lower alcohol wine that would reflect our style. We produce a Chenin blanc as the white and sparkling, and then a direct-pressed Syrah for the rosé. We also make a chillable red based on Cabernet Franc and Petit Verdot. Since 2017 this line has been quite successful in many Whole Foods stores and other retail that we hadn't had access to previously. Since 2017 the sales of cans slowed as the market has become quite crowded, so it's no longer as big a part of our sales as it was in previous years.
You and Matt have four children. Do they help at harvest or in the winery? Do they demonstrate any curiosity about wine or winemaking?
Our youngest two children are 7 and 2 and love coming to help at the winery. We are hoping that at least one child will want to follow in Matt's footsteps and learn winemaking. The older two kids are teenagers and have worked with us for years, walking vineyards during harvest, helping with bottling or labeling projects. So far the older two are not especially interested in tasting wine, but we are hoping that once they go off to college they will realize how cool their Sonoma County upbringing is and perhaps come back to work with us!
How do you manage parenting four children, brick and mortar wines, as well as your most recent venture, Delta Wines for Environmental Change? That's a lot of wheels spinning at the same time!
We are still figuring this part out! It is very challenging to keep all the balls in the air, and also to find a work/life balance where we are not always talking about the business.