Your dad inspired you to be a doctor and get your MD degree, which you did in 1998, yet you've chosen to be a winemaker. Tell us what inspired you to go from pathologist to enologist? Do you ever think about going back to medicine?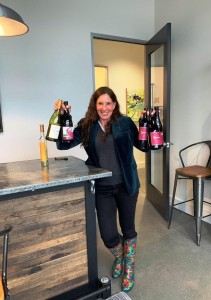 Throughout medical school and residency training, I was always an enthusiastic taster. I reflect on those years as "due diligence!" Ever cost-conscious medical students, we pooled our resources to purchase wine by the case, in order to qualify for the 10% discount. But more than discounts, sharing wine fostered community. Sipping together forced us to relax, slow down, and celebrate our small student victories. There I started to recognize wine as the glue of humanity. During my residency, I joined a social and somewhat rigorous tasting group. Once a month, we'd blind taste by theme, like SB [Sauvignon Blanc] under $15. The chairman of UCSD's neuropathology department also loved wine, so sometimes he gifted us magnificent, old bottles of Bordeaux. Back then, I never thought about making wine myself.
The first domestic Pinot Noir to steal my heart was sourced from Garys' Vineyard in Santa Lucia Highlands, another bottle that pre-dated my winemaking career. John Brecher and Dorothy Gaiter, two amazingly talented and beloved wine writers, had recommended it in their weekly column. After reading their article, I bought the bottle on a whim, and it forever altered my professional arc. Today, I play with fruit from Soberanes' Vineyard, Garys' neighbor. Kismet? Serendipity? Dumb luck? I still keep a worn–out copy of that crumpled newspaper article in my study. From time to time, I'll pull it out, re-read it, and laugh.
Your marketing of Bruliam Wines includes the tagline, "wine is elemental." Can you share with us what that means to you and how wine is woven into your everyday life?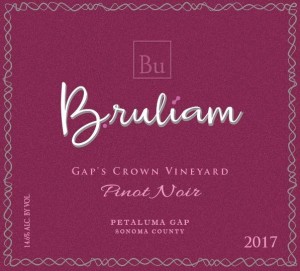 Imagine discarding a stable career in medicine to make twenty-five cases of wine. Any undertaking so quixotic, extravagant, impractical, and frankly ridiculous demands family support. As penance, I named Bruliam after my three kids: Bruno, Lily and Amelia. "Bruliam" sounds enough like cadmium or polonium that our original logo is a riff on the Periodic Table of Elements. Instead of an atomic weight/atomic number, you can see a little dot for Bruno and a double dot for the twins. It's also a cheeky nod to my past career in medicine. When we say, "wine is elemental," we mean it both as a twist on the Periodic Table of Elements and a testament to the ways winemaking has wiggled into every crevice of our daily lives.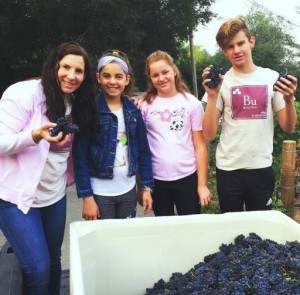 Like every working mom across the globe, my challenge is finding that work/life balance. Bruliam Wines is my baby. I built this winery from scratch, all by myself, from one barrel of Pinot Noir. But I'm also a wife and a mom, a "hovering, helicopter mom," according to my teenage son. I answer emails while waiting in the school pick-up queue and manage PO's from the bleachers at swim meets. Having a small, family winery means that Bruliam is part of our lives 24/7, 365 days a year. My kids understand that harvest is a zoo, work travel is part of the gig, and hospitality happens on weekends. I am lucky that my children accept and honor my career path. That said, none of my kids aspire to be a winemaker…yet!
You are buying grapes from a few different growers in the Petaluma Gap. Can you share why you've chosen these growers and how this relationship has evolved over the years?
I came to winemaking with a strong background in science but none in viticulture. So, I chose to align myself with iconic vineyards and longtime growers whose reputation for excellence exceeded my own. Call it marketing. Call it plucky. I plied them all with various homemade treats until they sold me grapes. Biscotti are well and good, but I actually stalked Mike and Steve Sangiacomo for at least a year before they sold me fruit. Every three months I sent a chipper and polite email inquiring after grapes. I finally wore them down by 2012, when they sold me 1.5 tons of Pinot Noir.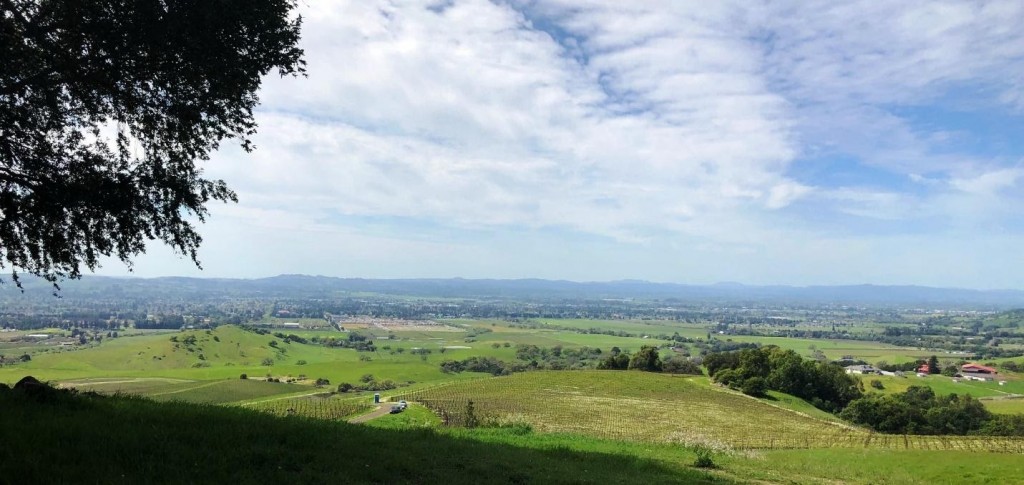 In contrast, Gap's Crown is my oldest vineyard partner. I have been playing there since 2009, which speaks to the power of relationships. Because I'm lucky to partner with the best grape growers in California, I am deeply committed to their fruit. Our relationship is something of a sacred pact. In exchange for access, I promise them a wine that is expressive of their vineyard, reflective of their farming, and brings pride in our partnership. Writing their vineyard name on my bottle is an expression of our years–long collaboration, from vine dormancy to bud break to harvest. The importance of my grower relationships cannot be underestimated. But my vineyard selections are also intentional. I work with specific growers in specific vineyards because those sites have something special to say. Consider Sangiacomo Roberts Road and the Gap's Crown Vineyard. These next-door neighboring vineyards yield Pinots that taste wildly different. Pinot is so deeply informed by minute deviations in terroir, climate, and soil. To me, the joy in crafting single vineyard Pinots is finding the richest and most characteristic traits for each vineyard site and allowing every step of my winemaking to cultivate that precept.
We like to talk about the effect of wind on the grapevines in the Petaluma Gap. As a winemaker with a background in science and chemistry, how would you describe the effect of wind on our wines?
Wind absolutely informs the personality of Petaluma Gap wines. Wind dries out residual moisture from morning fog and mitigates rot pressure. As the sun hits its peak, the wind keeps grapes cool so that they retain their acidity. Wind roughens up the skins and makes them thicker, so winemakers can extract more color and flavor from the grapes. Lastly, at their gustiest peaks, winds can even shut down photosynthesis. The grapes will stop accumulating sugar even as they mature their acidity and tannins. This decelerated sugar production allows for slower, even ripening and a longer "hang time."
We've heard you say that Bruliam Wines is a family affair, with your husband, Brian (doing the numbers), and three children, Bruno, Lily and Amelia also involved. How do you and Brian engage three teenagers in the work of farming the vineyard and making the wine? In a few years they'll be off to college; how will that change the dynamics of your winemaking?
At Torrey Hill (our estate vineyard), the kids help fertilize the vineyard and sort fruit. Both Amelia and Bruno do punch downs during harvest, and Amelia is the go-to harvest babysitter for multiple Grand Cru wineries. If I have a lot fermenting with 100% whole cluster, I send Bruno into the woody tank to "foot tread" the clusters (yup, fancy lingo for barefoot stomping). He is a swimmer with a great sense of humor and jumps into the tank in his speedo. We have priceless video footage I'm saving for his wedding. His swim coach thinks it's hilarious. Only in Sonoma County….
I am lucky to have kids who are proud of their winemaker mom, and they feel involved and invested in what I do. Since the inaugural vintage, the kids have designed the label art for our estate Russian River Valley Pinot. The hand–drawn labels change with each vintage and always feature our pound pup, Dexter. Luckily none of the kids have been through a dark teenage spell – yet. I always half expect to see Goth Dexter dog with a spiked collar and black X's for eyes. Hopefully someone will take a digital design class in college so they can just email me a new label design every spring.
You make your wine at Grand Cru Custom Crush in Windsor. Why did you choose this facility?
Grand Cru offers a beautiful hospitality space with six tasting lounges. The spaces include bar tops and reclaimed wood tables, designed to hold big or small groups. I welcome visitors by appointment!
You've enumerated the tasks in the winery that you're responsible for, including being the "Go-to-Tank Sanitizer." What's the worst task you've ever tackled? Can you share any pictures?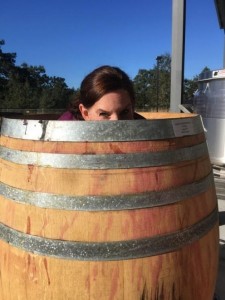 When I ferment in little woody tanks, I need to climb inside and shovel out the grapes. It's sweaty, sticky work. If I'm shoveling out a tank from the inside, I need to slither out the tank door on my bottom. It's slimy. Hand waxing rosé bottles or magnums is time consuming. Packing case boxes on the bottling line is mind–numbingly boring. Hand–placing foils on "bellissima" glass while watching bottles whiz by made me sea sick. But honestly, even the dirtiest, most boring day in the winery is still pretty terrific. Plus, holding every winery position myself is cost effective. I can't pay myself a bonus for writing website copy because there's nobody else to do it. But it's free to tell myself I'm awesome!
Your wines are in some very prestigious restaurants – The Mark by Jean-Georges in NYC, Bouchon in Beverly Hills and Farallon in San Francisco. How did this happen and how did you feel after landing your first orders with these iconic restaurants?
Funny story. I landed my very first restaurant account at Dry Creek Kitchen. Back then, Drew Munro was the wine buyer, and he remains one of the kindest, warmest, and most gracious people in the industry. I was so nervous, clammy and sweaty, sticking to my seat. I poured him a sample of my Pinot and waited expectantly for his reaction. He was thoughtful and methodical. He swished and spit. And then he looked at me and said, "I'll take a case." I was so relieved that I promptly burst into tears. Utterly confounded, Drew turned to me and said, "Don't cry. I'll take two cases." For all I know, those '09s are still sitting in their basement storage cellar!
You've been making wine for ten years now; which of the wines you've made are you the most pleased with and why?
I have a soft spot for my 2014 Sangiacomo Pinot. The alluring aromatics, the core of red fruit, and the soft, restrained tannins showcase the beauty of this ranch. 2014 also marked the first year that I played with non-Saccharomyces yeast (super cool). I split the fruit into three fermentation protocols that also included native yeast and woody tanks. A long-time mentor from "Famous Two–Name Winery" came to sort with me, which was pretty special too. Good times.
For the last three years you've participated in the Sonoma County Barrel Auction, helping to make the Petaluma Gap women's lot. What was your role in that effort and what are the plans for 2020?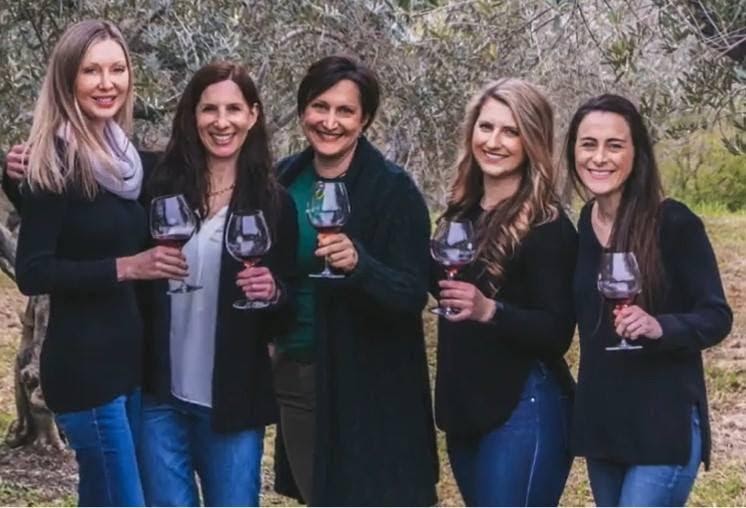 Supporting the Gap through the Sonoma County Barrel Auction has been a joy! It's so much fun to work with so many talented friends and colleagues. I love tasting everyone's samples from different vineyards across the Gap. Each individual wine is delicious and speaks to site. I participated in the big Petaluma Gap lots as well as each of the two women's winemaker lots. Through the auction, I have met wonderful industry and trade professionals, consumed fabulous meals (all in the name of fundraising), and forged deeper friendships. I am grateful to participate each year. I believe 2020 marks the inaugural Pinot versus Syrah smackdown. Guess we will have to do a LOT of tasting. Hmmm, tough job…
You recently added Chardonnay into the mix of wines you're making. Where do the grapes come from and what inspired you to begin making a white wine?
I source my Chardonnay grapes from Charlie Heintz's ranch way out in west county (Sonoma Coast). I'm inspired by white Burgundy, so my Chardonnay is Burg-aspirational. My goal is to make a lean and zippy, food friendly, acid driven, citrusy Chard. The terroir at Heintz really lends itself to that particular style.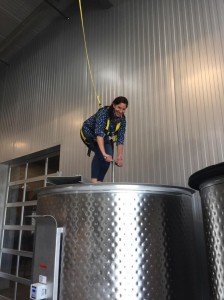 Your sense of humor is woven throughout your marketing efforts, with some delightful stories and humble anecdotes. Where does your creativity gene come from?
Thank you for saying so. Mock yourself and you'll rarely offend anyone else. But speaking frankly, I am notoriously a graceless spaz. If there is a hose, I will spray myself. If there is a line, I will trip. If there is a "quick connect" fitting, I'll clamp my own finger. Clumsiness aside, my life is lucky. And being a winemaker means that my life is also rich––rich in delicious wine, fresh, seasonal Sonoma produce, brilliant colleagues, and inspiring, industry friends. But my life is far from "Instagram perfect." The kids leave empty ice cream containers in the freezer. In 2016, I lost the dog at Sangiacomo (actually). Just recently, I showed up to bottling with the wrong glass mold. Once, I even spit into a dump bucket, and it splashed back at me. Grossest part-–I didn't know I had a wine spit stain on my forehead for at least three hours. Sharing that messiness brings authenticity to what I write and what I post. My winery photos are not staged or glamorous. Rather, they're a diary of my work. And pratfalls are funny. It's always easiest to go for the laugh.