You grew up in the Midwest in farm country. Your mom and dad were college professors, but your mom grew up on a ranch near Santiago, Chile. What influence did that have on your decision to become a vineyard owner/grower?
My family has been ranching since the early 1900s. My great grandfather grew up in Michigan and after attending the Michigan School of Mining, moved to South America to explore mining and natural resources. His journey took him on a meandering path across several countries and ended on a cattle ranch west of Santiago, Chile, and from its highest hills, just within sight of the Pacific Ocean.

Kingston Vineyards, Santiago Chile
This plot of land which we lovingly call "The Farm" has acted as glue for our family for generations now. My mom grew up there with her four siblings: home schooled, racing horses and milking cows. She and her four siblings all moved back to the US for school, but my Aunt Sally returned to Chile to help run the farm with my uncle, Enrique. We are all close to this day and do annual reunions which gather three generations of all five families – it's a lot of people! Even in this crazy COVID era we have family Zooms which span ~20 different families across the US and Chile.
In the 1990s we planted a portion of the farm with grape vines—an incredible piece of foresight by my cousins, Courtney and Tim, as well as my uncle Michael. This is now Kingston Family Vineyards (Kingston is my mom's maiden name). At the time we decided to do this, I was visiting Chile (on a Christmas gift ticket from cousin Tim) and ended up spending a summer riding horses in the hills and (ineffectually) helping dig some of the first irrigation trenches of the new vineyard.
Spending time at the farm as a child engendered me with a love of the countryside and open space in a way that is hard to describe—for everything from wild animals to soaring mountains. When I look at an open vista, I feel my heart rate slow and I'm both calm and focused. It's almost meditative. The natural world holds a balance that people can learn a lot from—interminable desire for life and growth, periods of feast and famine, competition for resources, symbiotic relationships. Most importantly: long-term success is driven by planning for the future each step of the way. Things happen slowly in nature: creating the right biome for durable success requires years of careful and deliberate decisions and actions. Whatever path my life took, I knew from a young age that I would take care of a little bit of land.
You attended the University of Pennsylvania's Wharton School and have degrees in engineering and finance. How did that prepare you for your role as a vineyard owner in the Petaluma Gap?
In short, it didn't! I went to college wanting to be an aerospace entrepreneur. I quickly found out that my odds on that path were poor, to say the least, and I pivoted! Along the way, I wrote my senior thesis on vineyard management, as our project in Chile was of great interest to me. So, you could say that a seed was planted during that time, but the reality is that none of that really prepared me for what we do today.
This is a project of three passions—wine, family and land—which have brought us to where we are today. We have surrounded ourselves with great advisors and have a simple goal: to grow the best Pinot Noir and Syrah grapes that we can and to work with the most talented and creative winemakers that we can to make distinctive wines that bring people and families together.
Your mom's ranch in Chile started out as a dairy and cattle ranch. Then, about 20 years ago, grapevines were planted and Kingston Family Vineyards was launched. Can you tell us how that transition came about and why? Do you spend time in Chile and are you involved with the ranch at this time?
I alluded to this earlier, but this really comes down to a bit of multi-decade foresight on the side of my cousins and uncle.
Agriculture is a cyclical industry, and a low margin one at that. To survive, we realized early on that we had to diversify. My family experimented with cheese, pigs ("las chancheras") and a number of other smelly things that we eventually lost money on, and stopped doing. In the 1990s we were down to two legs of the business—dairy and forestry. No stool has ever stood for long on two legs and we knew we needed a third leg, if our kids were to ever spend time on the farm.
Kingston Family Vineyards was born out of the mind of my cousin Courtney. She, her brother Tim, and her father Michael have doggedly pursued this vision for the last 25 years. The idea was to grow cool-weather Pinot Noir and Syrah in our unique location about 15 miles from the Pacific Ocean. Does that sound familiar? [Griffin's Lair sits in the Petaluma Gap a little under 20 miles from the Pacific Ocean, albeit a continent away]
The farm will always hold a very sentimental place in my heart. While I am lucky to make it down every other year, it is always on my mind. And yes, I remain involved with it to this day and always will.
Jim and Joan Griffin developed the vineyard at Griffin's Lair in the late 1990's. What attracted you to this property and when and why did you and your family purchase it?
Griffin's Lair is a very special place. Joan and Jim planted the vineyard in the late 1990s with an incredible vision—they created one of the finest vineyards in Sonoma County. They understood that the land would generate a unique terroir as a result of the distinctive soils as well as the Petaluma Gap winds and coolth of San Pablo Bay.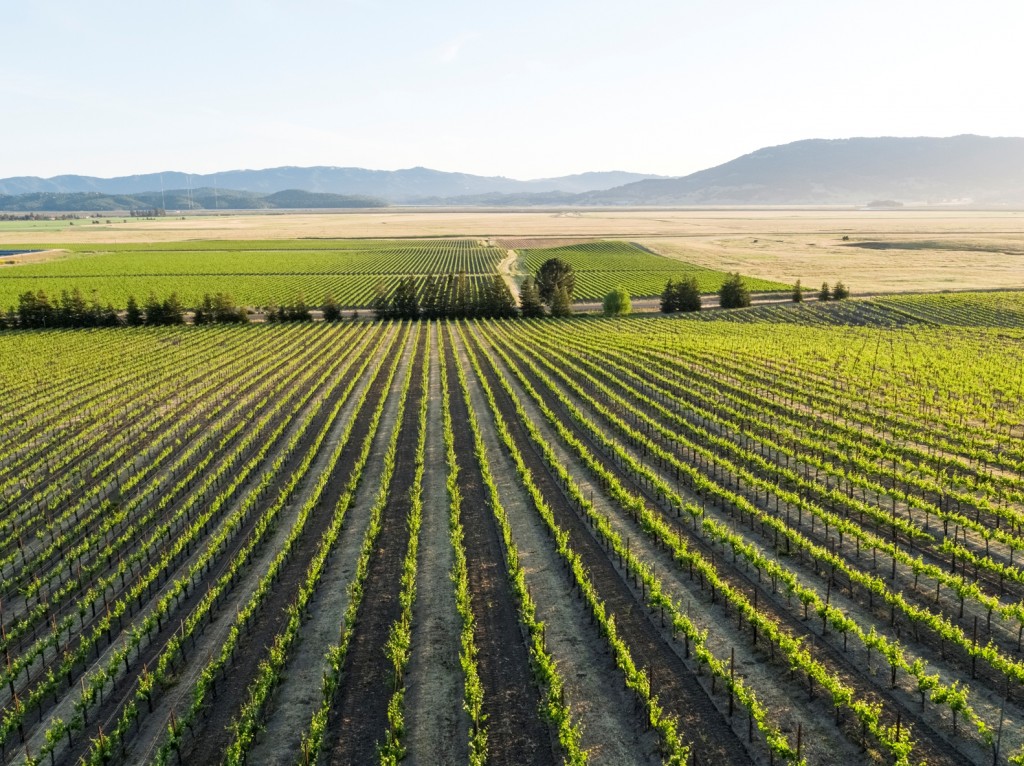 Griffin's Lair Vineyard – Photo credit Erin Malone, Lightspeed Films
Griffin's Lair has diverse soil—predominantly from the Haire, Clear Lake and Diablo family—which results from three active faults—the Tolay Fault, which sits right above us, as well as the Roche-Cardoza and Rogers Creek faults. On top of that, the location at the southern end of the Petaluma Gap provides both a cool evening wind that extends ripening and adds complexity to the resulting wines, as well as a morning marine layer which brings a tinge of saltiness to the fruit. This was an empty field surrounded by dairies when Jim and Joan arrived. Their vision was extraordinary.
Jim and Joan faithfully executed on their vision for Griffin's Lair for more than twenty years. You've said you're picking up the baton where they left off. Do you plan to expand or build on that vision in any way?
Jim and Joan built something very special. Our intention is to continue to cultivate this land to produce the best fruit it can. We adore old-vine wines and believe the flavor profile of Griffin's Lair will only grow more distinctive and nuanced as the vines age.
We are philosophically organic farmers and the vineyard is certified sustainable today. Our goal in the coming years will be to become certified organic and possibly, with time, biodynamic. This piece of land is not just a farm, but also our family home and it is important to us to control what goes into and comes out of it with an absolute assurance that it will be good for people to consume for all time to come.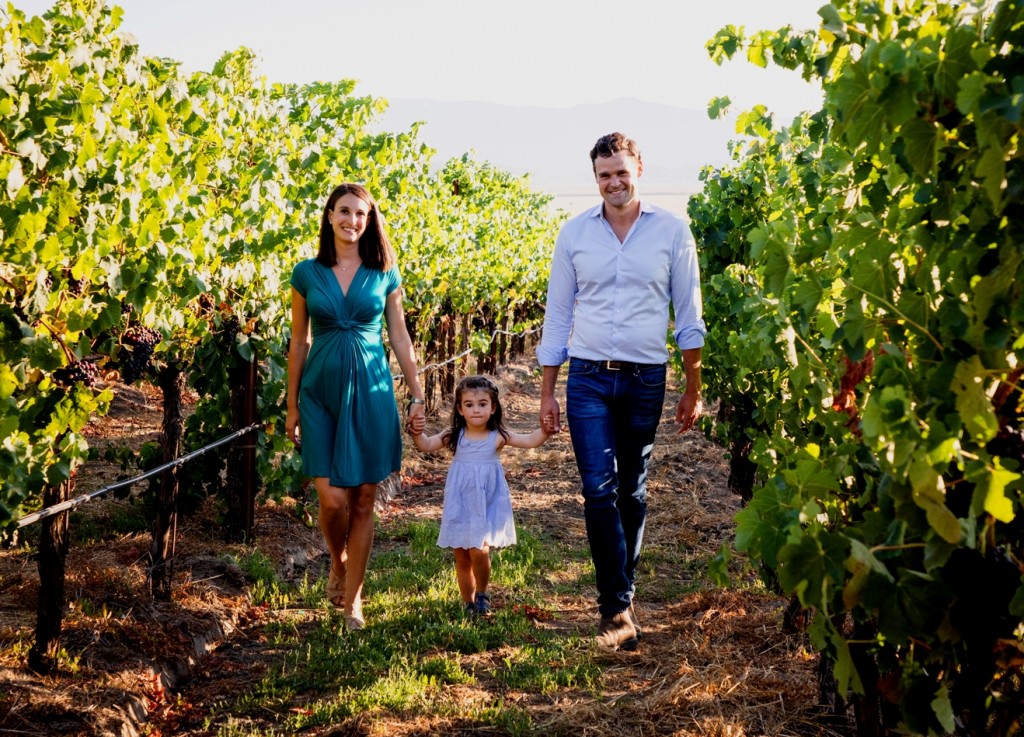 John & Alix and their daughter at Griffin's Lair – Photo credit Erin Malone, Lightspeed Films
Kingston Family Vineyards, your mom's ranch in Chile, is recognized as among the best estate wineries in that country and more specifically is credited with making some of its best Pinot Noirs. The vineyard is located about 12 miles away from the Pacific, just as Griffin's Lair is close to the Pacific here in California. Are there differences in the growing conditions at these two vineyard sites?
What can I say, we really like Pinot!
It's true, the parallels between the sites are remarkable on some levels and that certainly influenced our feeling of familiarity as we undertook this project. These are both cool weather valleys in relatively dry climates with diverse soils.
That said, the land is quite different. The Casablanca Valley in Chile is much drier than Sonoma County (hard to believe!) and while both areas benefit from the marine cooling because of the proximity to the ocean, the Petaluma Gap's distinctive wind pattern and the nearby bay brings a unique and complex flavor profile to the wines. Generally, the Petaluma Gap is a tough growing environment which results in moderate vigor and lower yields – our yields are 2.5-3.0 tons per acre.
Also, the soil types, while individually diverse in both locations, are totally different.
Atlas Vineyard Management tends the vineyard at Griffin's Lair. What direction have you given them for how they are to farm the property? Do you plan to pursue organic farming practices? If so, what challenges do you anticipate with vines that are now over 20 years old?
Our vines require a lot of TLC and Atlas has been an excellent partner in that pursuit. This is a tough location for the vines to grow—while we have less risk of frost than other locations in Sonoma County, this is a generally difficult growing environment due to the cool winds. It's compounded by Pinot Noir being a somewhat fickle varietal. We believe in clonal diversity as a tenet of delivering a unique flavor profile to winemakers. This is also reflected in the difficulty of the farming process as different clones respond differently to the terroir and express very different levels of vigor. Atlas has also been instrumental in helping us to fend off viruses which are rampant in older vines.
As I mentioned before, we are philosophically organic farmers today and plan to become certified organic in the coming years. We believe that people deserve to have control of what they put into their bodies and it's important to us that our wines are free of synthetic chemicals.
Griffin's Lair has been the fruit source for so many highly-rated wines — from wineries such as Spottswoode, Pax Wines, Adobe Road and Desire Lines. How do you make connections with these winemakers? Are there any restrictions you put on the winemaking or marketing and promotion for those who purchase your fruit?
We are extremely proud of our winemakers. One thing we didn't realize entirely when we took over Griffin's Lair was that equally important as the talent of the winemaker is the personal connection that you feel with them. We spend a lot of time with these people and have a great deal of respect for them—just as in your normal day job, the most important element of any work is who you work with. The winemakers are also some of our closest advisors. We seek out their input on every major decision we make and welcome them to determine farming techniques employed as well as harvest timing. We have been extremely fortunate in this regard.
We do not place any requirements on our winemakers from a marketing perspective although we generally expect that wines made from Griffin's Lair will be designated as such. We believe this is in the advantage of the winemaker—consumers want to know exactly where the products they consume come from. Given how many wines from Griffin's Lair have received high ratings, we believe this is also helpful for wine sales for the winemakers.
On a much wine-nerdier note, we are deeply interested in the differences between wines made from fruit grown in similar locations. This is something we gained appreciation for while traveling around Burgundy 15 years ago and since that time have invariably sought out wines which are specifically denoted in terms of the winemaker as well as the specific site. The more specificity the better!
We believe that the marriage of winemaker talent and idiosyncratic terroir is what makes wine beautiful. And just to mix up the beauty a bit we insist that every winemaker have a unique mix of our four clones of Pinot Noir and four clones of Syrah – every wine is different even if it is the same varietal and same vintage from Griffin's Lair. We encourage our winemakers to disclose their clonal mix to help consumers understand this important difference.
You've expressed a love for Burgundian wines and the finesse and attention to terroir that winemakers in the Burgundy region undertake. Do you see parallels in the wines made by the Petaluma Gap winemakers that are using your grapes?
I absolutely do. California's wine industry is much younger than France's. I believe that we are on a unique journey here, but one where we can look to France to understand and predict some of the twists and turns we will take in the future.
For me, Sonoma County, and Burgundy in particular, have cultural similarities both in terms of the focus on distinctive world class Pinot Noir and Chardonnay wines, but also in terms of the culture of the people. These regions are characterized by open minded, explorative and creative people who appreciate nuanced differences while also realizing that part of the experience of tasting a glass of wine is drops of flavor remaining from your last glass. This is not a hermetically isolated experience, but a dynamic experience influenced by a number of external elements: age, temperature, food and so forth.
At the same time there are clear differences, not the least being the soils and marine influence of the Sonoma Coast. Burgundy has been broken down into 6 sub-regions and ~100 AOCs (Appellation d'Origine Contrôlée – in English 'protected designation of origin'), each of which have been created to encompass unique flavor profiles of the wines from that specific location/terroir. These AOCs are as small as a few acres in some special instances, although most are tens to hundreds of acres and some are larger.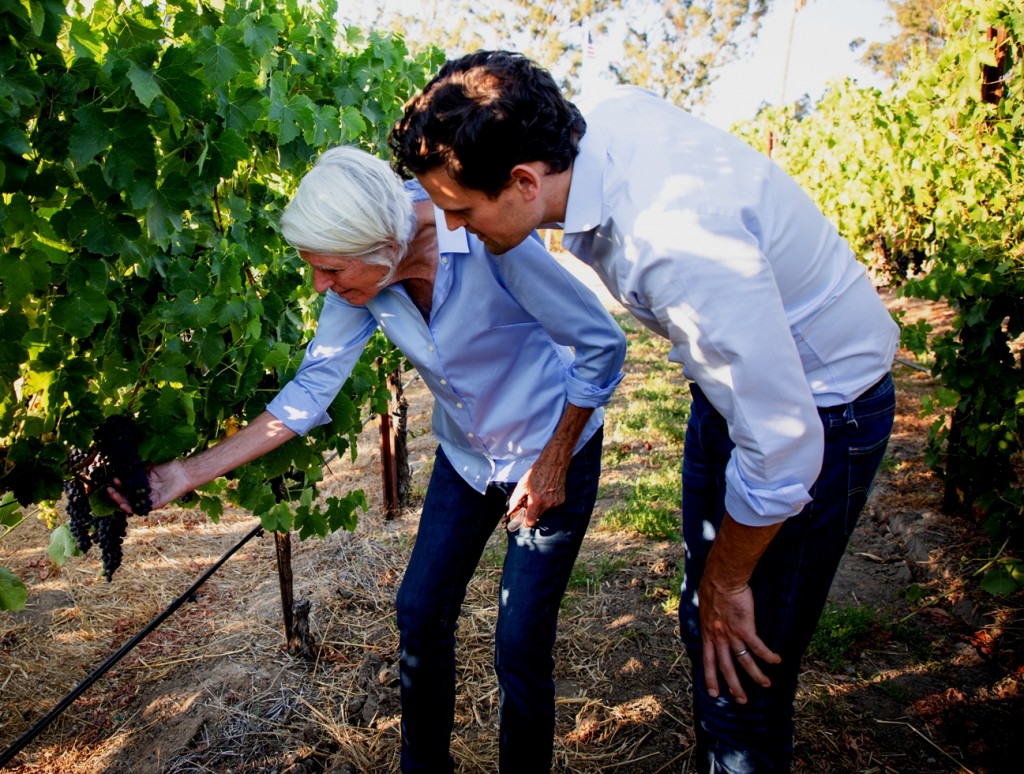 John with his mother, Susan Kingston Colb, at Griffin's Lair- Photo credit Erin Malone, Lightspeed Films
The recent creation of the Petaluma Gap AVA is an example of this parallel path progressing in Sonoma County as we identify more and more specifically the differences of the Sonoma County terroirs. Today we have 18 AVAs in Sonoma, a number which I hope will grow with time. Even just within the Petaluma Gap there are at least three distinct growing regions in my mind, and the Petaluma Gap composes just over 5% of Sonoma County's vineyards.
If you had to pick one wine to celebrate a momentous occasion, what would it be?
Isn't it obvious from above? DRC for sure, but only if you are buying!
[DRC= Domaine de la Romanee-Conti]