Neither of you have backgrounds in viticulture–you're both urban professionals—but you moved to Sonoma Mountain after falling in love with a property that just happened to have a vineyard on it. When did it become "real" to you that you are now grape-growers? Were there ever any doubts or regrets?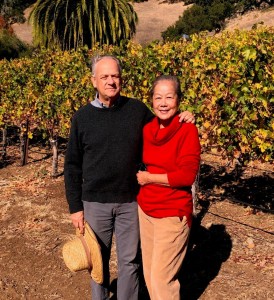 Moving to this property is the best thing that has happened to us since we became emptynesters. It's true, we did not set out to become growers. We were simply looking for a low maintenance second home close to San Francisco, where it would be hot during the summer and mild during the winter. We stumbled across the property on-line and said to the broker, "it's beyond our budget and not what we are looking for, but we'd like to see it just for fun!" Then, we fell in love with it.
We knew nothing about growing grapes and were concerned about the three-acre vineyard and what to do with it. But, with the help of some new friends, we committed to growing premium grapes. Roger's former law partner, Dick Keenan, who planted the Kick Ranch Vineyard, introduced us to Glenn Alexander with Bacchus Vineyard Management and Sanglier Cellars. Entirely by chance, we met Francisco Araujo with Atlas Vineyard Management. Fast forward seven years and we are still constantly learning; while challenging, it is also very rewarding.
Hsiomei, you spent many years as a currency trader in NYC. To be successful as a trader, you have to be comfortable with uncertainty and avoid hasty decisions. Have these qualities helped you with managing the vineyard business?
I came to New York City from Taiwan in 1973 to study. After getting my degree in 1978, I joined an international bank and went through its management training program. I learned I'm attuned to numbers and chose to work in foreign exchange trading. Throughout the 80's I traded foreign currencies in NY, London, and Singapore, wagering bank capital in what we called "proprietary trading;" that is, trading to make a profit for the bank, not to fill customers' orders. This was before the fall of the Berlin Wall, the formation of the European Union, and the Euro. Trading involved near instant decision-
making and embracing uncertainty. One had to be disciplined, measured, intuitive and quick all at the same time to be successful. Farming involves uncertainty, but of a very different type. I can't really say that my trading background helped me become a grower, but I'd say without my tolerance for risk we would not have plunged into this new venture. And what a miss that would have been for us!
Roger, you're an attorney and an experienced commercial litigator. Your bio states that you "seek to understand and solve your clients' problems and help them seize opportunities." Does this skill translate to being a grower?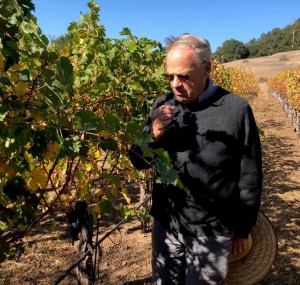 I'm more deliberative than Hsiomei. My favorite advice for her is "measure twice, cut once." I enjoy solving problems, which requires unpacking and understanding the underlying issues. Hsiomei says I'm an engineer at heart, because I can fix most anything if I can figure out how it works and have the time to put my mind to it. The ability to fix things comes in handy at the vineyard; it seems that there's always something that needs to be fixed or improved. Being hands-on is a good thing.
Lichau Hill Vineyards has just three acres of grapes, and it's planted to Cabernet Sauvignon. Most people think of Pinot and Chard in the Petaluma Gap, not Cab. What is unique about your site that makes this variety do so well?
We wish we could tell you! Our vineyard was planted in 1998. When we took ownership in 2012, everyone was telling us we were growing the wrong grapes on the wrong side of the mountain. But at an elevation of 1250 feet, we are higher than the pinot vineyards near us. We are most often above the fog line, with a southwest exposure that brings heat to the vines during the day, and big daily temperature swings. We are located on Sonoma Mountain; premium cabernet is grown on just the other side of the mountain. The wind on our side adds nuance; and the climate change with warmer temperatures seems to benefit us. Notice all the palm trees that surround our vineyard!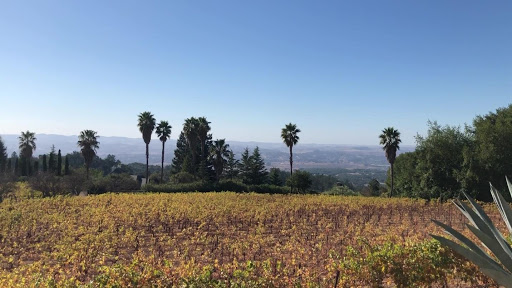 Your grapes have been used to make highly-rated wines from Adobe Road, Sanglier Cellars and Desire Lines. How did you get connected with these winemakers?
The first couple of years, we relied on our vineyard manager to sell our grapes. Then in 2015 Glenn Alexander, who had seen the vineyard when we bought it, approached us and began buying our grapes for his label, Sanglier Cellars. In 2016 we connected with Adobe Road through an industry event. We're very excited about the Petaluma Gap Cab they are making from our grapes and about the waterfront winery they are building in Petaluma. In 2018 we were looking for an additional buyer to take some remaining fruit. Dick Keenan suggested we write to a few winemakers who crafted Sonoma Cabs, and that's how we connected with Desire Lines. They just happened to be looking for a hillside "windy" Cab.
When we asked what your favorite varietal wine is you replied, "Cabernet, of course!" Before you owned the vineyard, what are some of the more memorable Cabs you'd tasted and why did they stand out? Was it the wine itself or the time and place when/where it was enjoyed?
When pressed, we always say "our favorite variety is Cabernet from grapes grown in the Petaluma Gap, and specifically those that are grown on the southwest flank of Sonoma Mountain!" LOL! The truth is, we've always enjoyed lots of varieties. And it's also true that since becoming Cab growers we've developed a greater appreciation for all the nuances that Cab has to offer.
Is there a unique flavor that comes from Lichau Hill Cab?
Tasting notes for Sanglier's 2016 vintage Family Reserve Cabernet, made from our grapes, describe it as "opulent, smooth, lush, textured, with ample cherry and spice." Starting with the 2017 and 2018 vintages, we'll be able to taste what other winemakers, with different styles, do with our grapes and how they showcase the range of flavors that are present in our fruit. Your website says that when you bought the property that the vineyard was "neglected" but that you committed to making it "the best that it could be."
What are some of the enhancements that were needed to bring the vineyard back to life?
This is easy. We gave it love. And, a lot of loving work.
With a small vineyard, it's hard to find a vineyard manager to agree to take on tending the vines. You are working with Atlas Vineyard Management; how did that relationship get started?
Timing was everything. As luck would have it, Atlas Vineyard Management had spun off from Premier Pacific Vineyards at the time we connected with them and Atlas didn't think we were too small for their separate portfolio. It didn't hurt that we are just five minutes from their operational hub at Gaps Crown. We knew none of that at the time; we just saw their phone number on a sign on what looked like a well-managed vineyard. We called and connected with their chief viticulturist, Francisco Araujo, and have enjoyed a great relationship with them ever since.
Owning a vineyard is not for the faint of heart, it can feel like playing roulette as you deal with what Mother Nature provides. Has the challenge of owning vineyard property brought additional stress or has it strengthened your commitment?
Yes, sometimes there is stress, but more often just fretting and worrying. Having said that, the joy of being here with the vines and in nature makes it all worth it.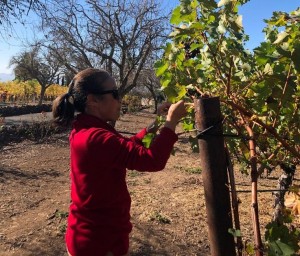 How much time do you spend in the vineyards; is a walk among the grapevines part of your daily routine?
Roger walks the property daily when we are here. Before and after harvest, I walk every row to drop second growth and conserve energy in the vines. I don't know why, but when the vineyard is done growing and picking, I love to visit it. It's laborious, but it feels intimate and makes me appreciate the crew's efforts when they tend the vines.
You have a son named Weishen. Does he share your love of wine and does he have any interest in the business of growing grapes or making wine?
Weishen hasn't shown any interest in growing grapes or making wines. He's a millennial techie. But he loves that we love it.