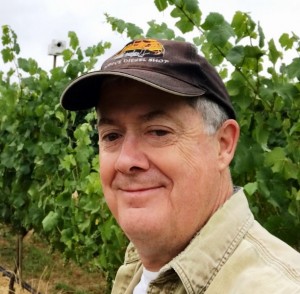 Your vineyard property at one time had five different grape varieties, but now it's all Pinot Noir. Why did you make this change?
When we purchased the property in 2006, the existing vineyard had been planted with the idea that the prior owner, who intended to make their own wine, wouldn't have to drink the same varietal two nights in a row. A couple of the varietals struggled in the cool Gap climate and at just over 3 acres, the vineyard is barely large enough to squeak by commercially with just one varietal. Once we were feet on the lot, I made some investigations with a few nearby vineyard owners, stopping by and introducing myself, and discovering what they were growing. Realizing that we had stumbled into an ideal location for Pinot Noir and Chardonnay and not being a real white-wine guy, I set off to transform the vineyard to only Pinot Noir by re-budding the other varietals the following season.
On your blog you've talked about patience and the search for the perfect vineyard manager. Have you found that person and what have you learned along the way?
When we arrived in Sonoma County and found ourselves owning a vineyard, my wife, Patty asked me if I would be taking classes at UC Davis in viticulture. In medicine and in aviation, after the book learning the real education comes by doing under supervision. Consequently, I opted instead to hire the farming talent and learn by observing and doing. Unfortunately, that first year it was difficult to get many vineyard management companies to journey to Penngrove from their home territory. I interviewed the few that would and wound up using someone who didn't have the experience with Pinot Noir or rebudding and especially not with the winds of the Gap. We probably lost 1/3 of our rebuds due to wind damage and had to repeat it the next season. Since then I have had three more vineyard management companies. The determinates for me of what make a good vineyard manager is knowledge and responsiveness. The second vineyard manager grew over 3 years from an average vineyard size of 5 acres to an average vineyard size of 30 acres and we were lost to the big guys. The third fellow was never able to maintain a labor force capable of timely vineyard operations. We currently use Alta Vineyard Management run by Eric Neil. Eric's done this for as many years as I've been a physician. He knows cool climate Pinot Noir like no one else I've talked with and it's not just the How and When but the Why you do it. Having Eric for our vineyard manager the past three years has been like a masters' program in viticulture.
You spent four years in the Air Force as an officer; has that experience had an effect on how you approach managing your vineyard and selling your grapes?
"Uncle Sam" was kind enough to pay for medical school; in return I gave four years of service as a Flight Surgeon—a general practitioner for the flyers and their families. I traveled internationally for the first time and spent about half of those year's overseas, in 2-month blocks. Patty and I also learned to fly through the flying club on base. Then the Air Force brought me to California; I'd been trying to get here since the day I graduated high school in Minot, North Dakota. I made life-long friends and had experiences that shaped me to who I am today. How to manage people, how to manage complex problems and how to make the best of a situation are used routinely with the vineyard. The attention to detail required in the service, as well as in medicine, is right at home in the vineyard. As a matter of fact, the name of our vineyard, Volamus, comes from U-2 squadron I was attached to as a flight surgeon: Solum Volamus or "alone we fly" was the squadron motto. As Patty and I are both pilots, it seemed a fitting name for our new endeavor.
What is on your personal highlight reel of being a vineyard owner in the Petaluma Gap?
In the beginning it was just about walking out the front door and having a vineyard for a front yard. After the potential of the vineyard became clear, it has been satisfying bringing the best- possible quality fruit into production. I've enjoyed being involved with the wine industry here in the county, albeit at a small level. I've met so many people who love what they do whether it's growing grapes, making wine or selling wine and people love to talk about what they love so I've learned so much in the process. These days, the annual rhythm of the vineyard has a beauty and pace that defines the year. Winter-dormancy and pruning leads to Spring bud-break and bloom. Summer-veraison and ripening leads to fall's hectic harvest. Each season has the required phases to accomplish. It's very satisfying.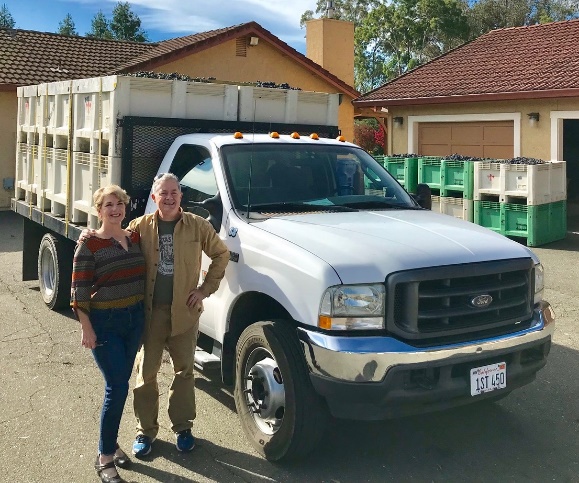 What impact has the wind in the Petaluma Gap had on your farming practices?
We lost a good portion of our initial rebud because our first vineyard manager didn't sufficiently support the new shoots of the rebuds. There are definitely adjustments that have to be done to farming practices because of the winds: Only irrigate or spray at night when the wind won't blow it off course. Young vines need more support and the rows require hedging to avoid shoots from drooping into the downwind row. On the upside: rapid drying of the vines and clusters after a misty foggy morning, the onshore coastal marine layer each night that provides moderation of the climate and provides the cool climate that allows the Gap to do so well with cool climate varietals.
You've talked about how owning a vineyard is a family affair. How have your wife and daughter been involved and has that communal effort impacted family life?
We moved from Marin County when our daughter was 5. My wife and I both grew up in middle class families and wanted to eschew the sense of entitlement that seemed so prominent there while we raised our child. In Sonoma County, our daughter attended the local elementary school in Penngrove and went on to Hillcrest and Analy in Sebastopol; she's at Cal now. She was always surrounded by kids who lived on farms or vineyards or smaller towns. She helped hand-raising chicks (she's Vegan now) and used to run the dogs around the vineyard. She and my wife helped pick MOG on harvests and occasionally I could even convince my daughter to help with re-suspending irrigation drip lines or placing bird reflective ribbons. For a few years I made a barrel of wine each year and the annual bottling party was an excuse to get the family and friends together and bottle a vintage. Patty has also done all the graphic design for the vineyard (logo, swag, biz cards, etc), as conveniently, she's a graphic designer. These days our daughter is off at college and Patty is working as a creative director in the wine industry so the vineyard has done much to help shape us and move us forward. However, we still have our front yard to return to when we're all together.
Your day job is as an anesthesiologist, which can be long hours and high stress. Are there any parallels with owning a vineyard? Which is more satisfying?
The years of training with too much work and too little sleep have given me an appreciation for the frenetic pace of harvest. These days it's much less common for me in medicine with the exception of the occasional nights being on-call. The good news is that as someone who can't sleep past 6 AM, my days off are incredibly productive. Anesthesia and medicine are very detail-driven and episodic. The vineyard has a long-term rhythm and the detail is in making sure that the something that is done today will have the desired effect down the line. A nice yin to the yang.
To whom do you sell your grapes and what is the highest rating that has been received?
We've sold to several wineries over the dozen years that we've shepherded the vineyard. We've had several good scores by various raters. The best would be the 2013-2015 vintages that we sold to Lando Wines which received 91-points from Wine Spectator for their Sonoma Coast releases that we were a majority grape in. This year has been difficult. We had hopes of a long-term commitment from a new buyer last year, but due to a massive fruit glut and the slowing of wine sales they backed away. We're flirting with a new (to us) winemaker and hope to get asked to the dance in short order. Until then, I'll keep that confidential.
When did you first get involved with the PGWA?
Probably my first year here, my friend John, from Koos Family Vineyards, and I heard about the formation of the Petaluma Gap and went to an early meeting held at Adobe Road Winery. I've followed the development of the PGWA since and participated as appropriate and when able. I think that the PGWA provides a needed voice for the unique growing area that it is and for its member vineyards and wineries. The word seems to be out if you look at all the new vineyards going in.
What's next for you?
Hard to say. Thirteen years is the longest we've lived in any one place; our daughter's off to college and we're not getting any younger. But every time I come home after a long day at work or from a vacation away, I'm struck by the beauty and tranquility of where we live. I've planted over 150 trees on our 6-acre parcel in addition to maintaining and improving the vineyard. Maybe I'll sit in the shade of those trees for a while and enjoy the fruit of my labor, preferable fermented, before chasing something new.