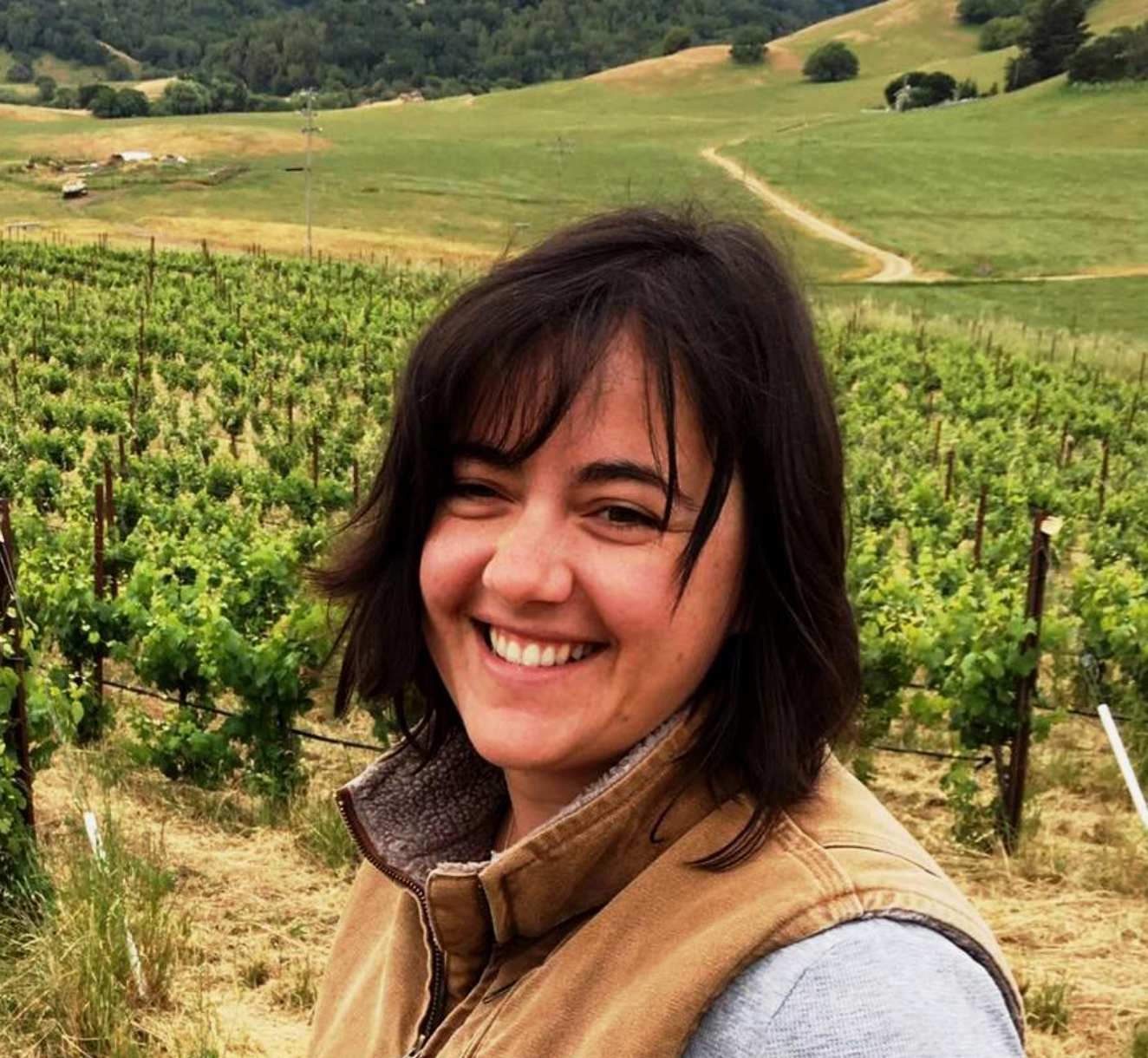 Are you farming sustainably and/or organically and what specific practices are you most proud of?
McEvoy Ranch is certified organic by CCOF and it is something we are very proud of. Our founder, Nan McEvoy, and the ranch team developed the land through regenerative cycling of nutrients and detailed care for each crop planted, and our soil health is strong because of it.
We are all land stewards here at the ranch and care deeply about what goes into our crops and what we take from the land.
How many different grape varieties are planted and why were they chosen?
We have an interesting blend of the classic Petaluma Gap varieties (Pinot and Syrah) plus the Italian varieties (Montepulciano, Refosco, Sagrantino and Vermentino) due to our long-lasting relationship with Italy and our Italian consultant Maurizio Castelli. He helped us develop the ranch and we are happy to have his Tuscan influence throughout our acres.
How many acres of grapevines are planted at McEvoy Ranch and how does this compare to the acres of olive trees?
We have 30 acres of grapes and 57 acres of olives.
Is it difficult balancing your time and attention on both grapevines and olive trees?
Olives and grapes both require fertilization, irrigation and pest and disease monitoring. However, grapes require sprays at a higher frequency than olives, so we can easily organize our weeks and months to make sure both crops get equal attention. Further, olives are harvested on our ranch much later than grapes, usually starting in early November when all the grapes are already in the wine cellar.
What impact has the wind in the Petaluma Gap had on your farming practices?
The strong afternoon wind is something I really love about working in the Gap. During those high heat days of July and August, our vines can rely on the cooling winds. I think it sets us up well for climate change's unexpected weather conditions, with varied high and low temperatures. Our vines are hardy because of the wind, but also profit from its cooling.
We've heard that you enjoy working with your hands and started your career as a chef making pastry dough. How did you make the transition to viticulture?
My transition to viticulture and farming isn't too far off; I studied Botany at the University of Vermont and went to work at the New York Botanical Garden doing research right after college. During 2008 the financial crisis hit and all staff was required to take a sabbatical. Mine took me to Italy where I studied pastry. I found myself enjoying the wine classes and vineyard visits more than the kitchen and found a job in a vineyard in Piemonte, in northern Italy. That job inspired me to apply for graduate school; my attendance at UC Davis' Master's program for viticulture is what brought me out to California.
Does McEvoy sell grapes to any local winemakers or do you use all the fruit for your own wines? If you do sell to others, which wineries are you working with?
We do both. We make wine for ourselves; Byron Kosuge is our winemaker. We also sell our fruit to other wineries. One of our longest client relationships is with Dutton Goldfield who makes an estate Pinot from our Azaya Vineyard. Our pinot grapes are also sold to Boisset for their DeLoach brand and to Garry Brooks at Brooks Note. We also sell our Syrah to many exciting, smaller wineries including Harrington, Pax Mahle, Darling and Pennrose.
Any awards for wines made from grapes that you've grown that you'd like to make note of?
Our 2016 Montepulciano recently received: GOLD, BEST OF MARIN, 90 Points at the 2019 North Coast Wine Challenge. It's great to see our wines out there and getting noticed. We think we are doing something really special here and I am happy to share it.
Are there any notable changes planned for your vineyard program?
In the beginning, it was all about finding what works and ripens in our area. Earlier on we had many more varieties. Grenache and Mourvèdre were planted, but we had mildew pressure and the cool nights weren't conducive to ripening. Our current mix of varieties suits the Gap; the grapes are able to reach the physiological ripeness that pleases our winemaker and winery clients.
You recently had a baby; how difficult is it balancing family & work? Any parallels in your tending the vineyard and caring for your child?
How sweet of you to ask! Marigold is 6 months old and I can already tell she loves being outside looking at flowers. A growing baby and a growing season are quite different, but they both require loads of patience, detail and care. 😉