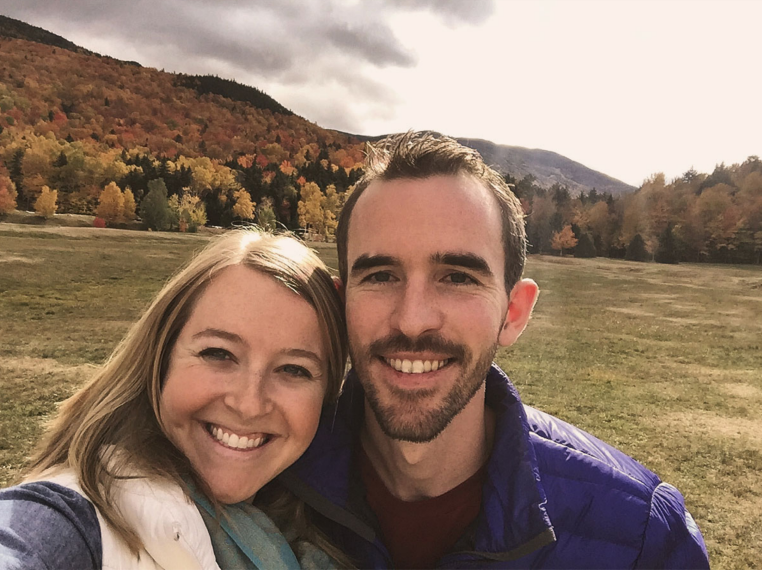 You both grew up in Iowa and wine wasn't part of your family experiences. Do you remember the first wine you tasted and whether you liked it?
Cody: Outside of communion at the Lutheran church I grew up in, the first wine I ever tasted was at the Morgenhof Estate in Stellenbosh, South Africa. I was on a J-term study abroad trip in 2008 and we spent a half-day in Stellenbosch visiting wineries. I remember being absolutely fascinated by the glass vials in their tasting room with all sorts of different soil profiles from their various vineyard blocks. It blew my mind that somehow the different soils would impact the taste of the wine. My classmates and I bought a few bottles to bring home and ended up opening a couple bottles back at the hotel with pizza in the hot tub. I can remember thinking, "I'm sitting in a hot tub, in South Africa, looking up at Table Mountain as the sun sets over the ocean – if wine doesn't taste great here, maybe it's not for me." Luckily, the wine was good enough to pique my interest, and a later study abroad semester in Italy sealed the deal.
Emily: When we were juniors in college, Cody came home from his study abroad in Rome with some Prosecco to share with friends over New Year's. I remember loving it, but I think it had more to do with the fact that Cody had brought it thousands of miles in his suitcase to share after being out of the country all semester long. We popped that same Prosecco a year and a half later on the night that we got engaged, and made that particular bottle into a lamp that now sits in our living room.
Cody, you've said that the book, Reading Between the Wines, by Terry Theise, changed the course of your career. What was it about that book that caused you to shift into making wine?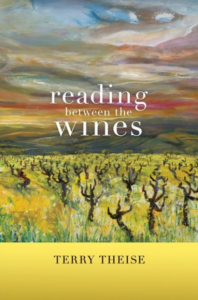 I think it was Terry's capacity to personify a wine and to dig deeper than associative tasting notes (green apple, white flower, peach, petrol, etc.), in order to more fully understand a wine, that opened my eyes to the possibilities of wine. He's a wonderfully talented writer and he's so clearly in love with his growers in Germany and their vineyards and wines. I've re-read that book probably seven or eight times; it's my standard beach read on vacation. I love the pictures he paints of families gathering together on Christmas morning to harvest their eiswein, and of the grandfather who wanted to be buried near the vineyard in the same slate soils as his beloved vines. Work in the vineyards and cellar isn't a life of riches, but it's a wonderfully rich life and I think the book cuts right to the heart of that.
Cody, Anthony Beckman from Balletto Vineyards gave you your first job in the wine industry in 2011. Without any experience, why did he hire you, and was your experience working that harvest what you expected?
This is one of my favorite stories, just because I'm so grateful to Anthony and the whole crew at Balletto for taking me under their wings. When I had my phone interview with Anthony from my college dorm room in Massachusetts, he explained that he liked to pay it forward every year by hiring someone without experience because he'd had a hard time getting his first gig in the wine industry. Ironically, I'd worked in a paint factory in our hometown one summer and it prepared me pretty well for my first harvest – long hours, physical labor, attention to detail, and fluid engineering at a large scale.
Harvest at Balletto was fantastic. It's a family-run winery and they treated us like family. We had dinner together a few times a week, and Anthony had an open sample-tap policy, which meant that I was free to taste any ferment I liked before or after my shift. I took full advantage of that policy. Most nights Emily would drive to the winery to pick me up, join for dinner, and wait patiently while I tasted through all 20 open top fermenters before driving me home. We shared a car, and she needed it to get to and from work. We lived only six miles from the winery and I think I fell asleep in the car most nights on the way home.
Emily, when Cody first told you about his wine experiences while on a study abroad trip in college, were you concerned that he would come back a "changed person" and might be going down an incompatible path?
The funny part about this is that both Cody and I would have been voted "least likely to drink in college," let alone working in wine, back in high school. But when Cody went to Rome and wine was a part of the lifestyle there, I loved hearing his stories. It all sounded so magical – hearing about the house wine he and his friends had with their pizza before getting gelato on the walk home. Now that's how I feel when we tell our friends and family back in Iowa about our lives here in Sonoma.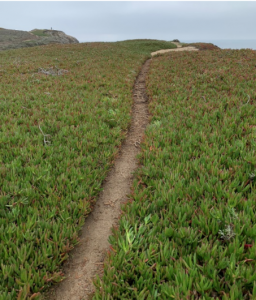 The name "Desire Lines" is a term borrowed from architectural landscape lexicon and is used to describe informal paths worn into the ground as routes that are preferred to established sidewalks or roadways. How and why did you choose this term for the name of your winery?
Finding a name was one of the hardest steps for us in creating our own wines—our fridge was covered in rejected prospective names for about a year. About dozens of failed prospects and three rejected trademark applications later, I was on a backpacking trip with a good friend who is a creative genius. Backpacking trips allow hours of conversation about everything under the sun, and at one point Erik commented that "desire lines" would be a cool wine brand name as we passed a use trail veering away from the main trail.
The name seemed perfect because it captured our move from Iowa to California, the meandering routes I drive to check on all of our vineyards, and even the symbolism of forging our own path in winemaking along with our day jobs. All those paths are deeply personal, and we love sharing those stories in the course of explaining the brand name. Trust Erik to absolutely nail it – Em has since promised a lifetime of marketing services to his soon-to-launch wine brand, Filaments Wine Co.
The first wine you produced under the Desire Lines brand was a Syrah. At the time, Syrah's reputation had been compromised and confused with high-alcohol Shiraz. It was considered a "hard sell." What made you choose this variety to launch your brand?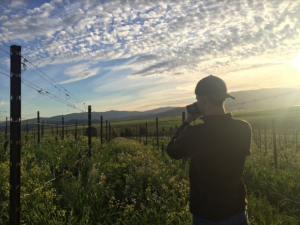 Unfortunately Syrah still is a hard sell, but it was a bit of serendipity for us. I love the Syrah that we make from Griffin's Lair for Bedrock (my day job), and when we found out that Nathan and Duncan from Arnot-Roberts were dropping their rows we shouted, "We'll take one!"
Also, probably because I'm stubborn and occasionally immune to good sense and reason, and because I honestly believe Syrah is wonderfully suited to be planted all across California. It's a Mediterranean variety that flourishes in the cool and windy northern reaches of the Rhone Valley (hello California!) and yields a huge range of wine personalities. I'm particularly fond of the more-traditional producers from the right bank of the Northern Rhone (Jamet and Jasmin in Cote Rotie; Gonon and Gripa from St.-Joseph; Clape, Allemand, Gilles, and Robert Michel in Cornas).
You've been known to go "vineyard hunting" searching for great fruit and leaving notes on scrap paper tied to fences to try to reach the owner and buy some grapes. Did it work? What causes you to seek out a particular vineyard?
It did work in that case, which to this day still seems ridiculous. I'd read about Cole Ranch in the SF Chronicle after I'd had a wine from the vineyard that I thought was surprisingly compelling for California Riesling. On its face, it seems suspicious that Riesling would do well in California – the variety reaches its fullest expression in the most northerly vineyard regions on earth, while California basks in what's mostly a warm and sunny Mediterranean climate. But, California does have cold little pockets here and there, and Cole Ranch is one of them. It snows in the valley a couple of times each winter, and by the time harvest rolls around in late October the nights are dipping down to the mid-20s Fahrenheit. The first grapes that we pick each year on harvest morning, before the sun crests the ridge, are literally frozen clusters.
Cole Ranch is and was pretty emblematic of what we look for in a vineyard site – older vines in a cool and/or windy location that has made great wines in the past, or maybe by some accident of history has potential that we think is yet untapped. Farming is critical for us; our most important relationships are those we have with our growers. No other variable or vendor has such an outsized impact on wine quality as good farming.
You're currently getting Syrah from Griffin's Lair and Cabernet Sauvignon from Lichau Hill in the Petaluma Gap. What has your experience been in working with these vineyard owners?
It's been such a pleasure working with Hsiomei Hung and Roger Mead at Lichau Hill, the Flynn and Colb families at Griffin's Lair, and Joan and Jim Griffin (the eponymous former owners of Griffin's Lair).
Joan and Jim were "our" first growers because Griffin's Lair was the first vineyard that we worked with for Desire Lines, and we couldn't have worked with better folks from the get-go. Their attention to detail and respect for the site were exemplary. Joan took viticulture courses at the JC shortly after they bought the property and they both felt really strongly about soil health and integrated pest management practices before those were cool. The whole crew at Griffin's Lair (John and Alix Flynn and John's parents Norm and Susan Colb) have done a wonderful job carrying on that legacy.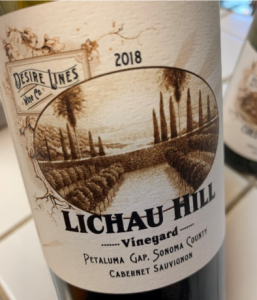 Hsiomei and Roger are both fantastically sweet, wonderful people. Hsiomei made me breakfast at 5:00 AM on the morning of the pick while we waited for the picking crew to show up (it was pitch black outside and very cold, so we huddled in the kitchen) and they always have fresh produce from their orchard picked and ready for me to take back to the cellar crew whenever I visit. I love that they never tore out the Cabernet in favor of Pinot, even though I'll bet all their neighbors thought they were crazy not to, but now we're very lucky to get to work with twenty-year-old vines at such a beautiful site.
Now that Caleb, your son, has arrived, how has that changed your roles at the winery while also caring for a baby?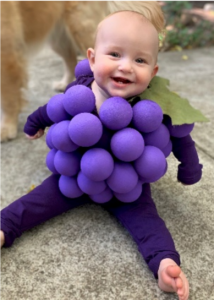 We are definitely planning to teach Caleb how to do punch-downs as soon as he can walk! 🙂 It's actually been pretty smooth adjustment to having the little guy around. I work mostly from home, talking to our customers and setting up allocation releases, and during harvesttime we love going to visit Cody at the winery. Our boss (and dear friend) Morgan Twain-Peterson made his first wine at age 5, so if Caleb expresses interest, we'll try to top that record.
You moved to California in 2011, almost a decade ago. Since that time, you've seen wildfires, and floods and now Covid-19. In hindsight, would you do anything differently?
It has been a crazy few years… Perhaps the best thing we've done for our business in that regard is diversifying our vineyard sources. That's a lesson that we learned from Morgan at Bedrock. Having vineyards spread out all over the state makes for some really long drives during harvest to drop off bins and taste fruit, but the upside is that we're relatively well insulated from severe weather events in any one growing region. It breaks my heart to even think about the possibility, but the threat of wildfires isn't going away.
We've also tried to hold aside certain wines in our library, in the tradition of the grape-growing families of France that sell old wines from the cellar to pay the inheritance tax bill, as a nest egg and to diversify our income sources. Our Experimental Series of wines has been helpful in that regard. In just a few weeks we're going to sell the first wine that we ever made (a 2014 Syrah from Eaglepoint Ranch in Mendocino) and give a big portion of the proceeds to charities for restaurant workers and food banks. We've jokingly referred to that wine as our rainy-day fund for years now.
Looking back to the launch of Desire Lines, what aspect of the business are you most proud of?
My proudest moments have been sharing our wines with folks and having someone remark, "Wow that tastes just like Shake Ridge," or "Hey that smells exactly like Griffin's Lair." We leave our own little thumbprint on our wines, but I think it's so important that the wines reflect when and where they're from. We want to taste the vineyard, the vintage, and the variety in the glass, and sometimes that means taking a step back in the winery and letting the science-magic run its course. Other times, other times it means intervening on the wine's behalf, and learning to tell the difference is the hardest part of being a winemaker.
More specifically, I'm really proud of our labels and all the credit goes to our wonderful label artist and our good friend, Adam Stoner. Each of our single vineyard wines has a hand-drawn illustration of the vineyard on the label and the vineyard name is the largest font on the front label. In the course of designing the label, we were inspired primarily by two things: European wine labels obviously, with the vineyard name given pride of place over the domaine name, and pre-war California fruit crates with their vibrantly idealized California landscapes. I love that visual export of landscape as the brand, and I think that's basically what wine does at its best. The labels are a great way for us to explain the various vineyard settings to folks and to re-iterate that, for us, vineyard identity in the wine is paramount.