Al, you grew up in Shasta County CA and, after getting out of high school, attended the US Air Force Academy. Did you know at the time that you wanted to be an attorney? Did you plan to own a vineyard? What twists and turns did your life take along the way?
When I entered USAFA, my plan was to become an engineer and fly fighters and make the Air Force a career. I barely knew wine existed. While at the Academy, it became apparent that math and science were not my strongest subjects, and I ended up with a double-major in Economics and Engineering Management. I was also selected for a special program at UCLA which allowed me to complete an MS in Finance before heading to pilot training.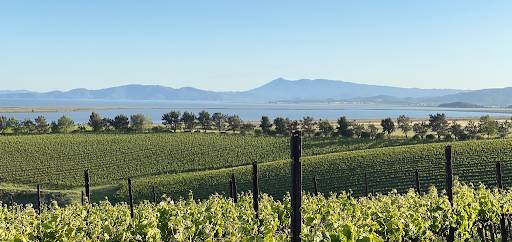 Unfortunately, while at UCLA, my thyroid went bad and I was no longer eligible for pilot training. Facing career choices that included being a missile officer living in a silo in South Dakota, or going back to school, I got an early admission to law school and convinced the Air Force to let me go back to school. The only catch was I had to do a year of active duty at March Air Force Base as a Management Analysis Officer before I could resume my education.
I still barely knew wine existed, generally drank beer and Seven and Seven, and thought the Mateus Rosé bottle was kind of cool. It wasn't until I was in law school, and started making wine as a home winemaker, that I decided if I got a chance, I would like to own a vineyard. It took another 25 years before I was able to do it.
Lisa, how did you meet Al? Was it while working at Al's law firm (Brayton Purcell LLP) or before then? How did you end up working there?
I starting working at Al's law firm back in 1992 as a clerk in the file room. My office was in an old bank vault. Al was the "wizard" who made everyone nervous, including me. I am certain he did not know I existed for at least the first five years of my employment at the firm. Funny to think about that now.
Eventually our paths crossed, as I advanced to different administrative positions and ultimately into a job that placed me in direct contact with Al. I remember hearing stories that he was building a house and planting a vineyard on Highway 37 and that he planned to work part-time from the vineyard. Cracks me up thinking about it now that I live at that vineyard property on Highway 37.
Fast forward 6 years. At a birthday party in his office, a discussion arose about Al's homemade Port. Turns out my father had recently gifted me with a bottle of his favorite Port – which I loved. It was our joint interest in Port that drove Al to invite me to his home at the vineyard (remember, he is my boss) to taste the two Ports side-by-side. I was so nervous! The funny thing is I didn't know a darn thing about wine – all I knew was that I enjoyed Port and he did too. As you can guess, shortly thereafter, we began seeing each other – outside of work – secretly! Oh yes, it was very hush, hush as the boss was going against his own policy of "no fishing off the company pier." A year later, when the news of our relationship surfaced, I was given the option to continue working at the office and end our relationship, or work from home as a contract employee so I could maintain my blossoming relationship with the boss. In my
opinion, even though I was a single mother with two young boys, there was no option other than the latter. It was the best decision I ever made!
Nine-and-a half years later, in 2015, I proudly became Mrs. Brayton. We were married by our dearest friend, Michael Marron, overlooking Paradise Vineyards and the grapevines that Al had planted on Highway 37 back in 2001. My sweet husband has been my introduction to growing grapes. And, a big thanks to dad for that bottle of Port!
Al, you are well-known for your courtroom savvy and business acumen. Owning a vineyard and launching a winery brand is not for the faint of heart; are the same skills required for both endeavors?
I think the answer is yes, and no. Certainly, many of the skills I use as a trial lawyer, whether talking to a jury or negotiating a settlement, don't work well on the vines–they rarely listen, and are much more responsive to Lisa! An early lesson from business school was that "sunk costs are not relevant for decision making" and that rubric has served me well in both arenas. The fact you may have $150,000 invested in a case that goes "south," has nothing to do with whether you should invest another $100,000. The same is true with winery and vineyard operations. Thorough preparation and planning, and attention to detail, are important in both endeavors, as is the manner in which you treat the people you do business with. One of the toughest things to get used to in the vineyard are the things you have little control over–you are really just a farmer. As a result, you control what you can and try to minimize your exposure to adverse events. In the courtroom, the biggest variable is how a jury that you select will respond to your case; at least you have total control over the cases you select and how well they are prepared.
Paradise Vineyards is one of the most spectacular properties on the North Coast. How did you find the property and what did it take to make it what it is today?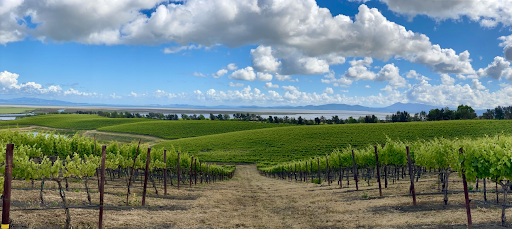 When I got out of the Air Force in 1983, I took a job in Novato with McQuaid, Bedford, Clapper & Lynch, and initially commuted from Vacaville – this was in the era when Highway 37 was still "Blood Alley." As I passed Sears Point, I often thought the hilltop would be a spectacular site for a restaurant–perhaps with chefs from San Francisco and Napa that rotated quarterly.
Over the next few years, I moved to Marin County, but still continued driving regularly to Fairfield for our cases in Solano County. I watched the property. Then, in the late 90's, I noticed a "For Sale" sign on the hilltop and decided to take a look. Much to my surprise, I discovered it wasn't all brown hills, but there were a few acres planted to grapes on the far side of the property. In 2000, after lengthy negotiations, I purchased a ten-acre parcel with plans for a homesite and vineyard, plus a 50% interest in a 210-acre adjacent parcel that included the existing grapevines plus wide areas for development.
Over the next several years we contoured the hills, planted an additional 100+ acres of grapes, put in a dam and created a reservoir. Later, I was able to buy out my partner and finish planting the vineyard. Along the way there were varietals we tried in our test vineyard that didn't work out as we had hoped, so we either re-planted or T-budded. We still have a little more of that to do, but overall, we are very happy with what we have created. Today we farm 140 acres. We use about 10% of our production for our own wines, and sell the balance to others.
Who buys your grapes? Is all your fruit contracted or will you have some available from the upcoming harvest?
Got grapes? Yes, and plenty of them! With 140 producing acres and 13 different varietals, we bring in approximately 400 tons of fruit, depending on the year. That is no small chunk of change. The good news is this year's crop looks fairly normal; the bad news is this year's crop looks fairly normal! But the macro bin is half full!
Al said the lawyer in him says we should pay attention to the clause in our grower contract about not disclosing who we sell to without permission. Suffice it to say our buyers include some well-known larger wineries, as well as some folks like us who are small family winemakers. If you see Al running around the vineyard or at PGWA Board meetings, check out his baseball cap for a clue.
This is a tough year to sell grapes, and while we had a couple of our customers from last year not renew their contracts, we gratefully have three remaining contracts and anticipate we will have quality Pinot Noir, Chardonnay, Syrah and Merlot available from the upcoming harvest. Like many small growers, the uncertainty is concerning at times. But, remember, the macro bin is half full!
We are also using this slow time to re-evaluate the future of several production blocks in the vineyard. Six acres will be removed this year and another four or five next year as we re-evaluate what to plant. We also have an additional 13 acres coming into production over the next few years. Grapevines are clueless and unaffected by the state of the industry and the pandemic; right now, they are in their glory growing beautifully in the Petaluma Gap. It's hard to believe harvest is only a couple of months away. This is a precious time in the vineyard; as growers we are blessed to be surrounded by such beauty every day.
Al, your first wine was made with the help of your friend, Father Tom Turnbull. What was the variety, how many cases did you make and where did the grapes come from?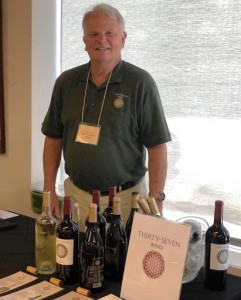 My first wine was made while I was still in law school, and it was made as a home winemaker at Father Tom's property which was located just off Silverado Trail at Stags Leap. He had 15 acres that was planted primarily to Merlot. I spent all my money on Slovenian Oak barrels and some glass carboys, so I didn't have money to buy grapes. The solution was to approach surrounding property owners, and get permission to go through and pick leftovers when they were done. Not ideal, but the price was right, and thankfully their picking crews were moving quickly and they left some fruit hanging.
My first production was a field blend of Cabernet Sauvignon and Merlot, and then some Chardonnay. It was bottled in bottles scavenged by us from the dumpsters of some of the finest wineries in the Napa Valley, with Father Tom acting as quality control to insure we got just the right color and bottle style, with my job being to crawl in the dumpster and pass them out. Father Tom's wife, Mary Jane, then soaked the labels off and sterilized the bottles to get them ready for our fall bottling.
Total production was probably under 40 cases, and while I thought the wine was wonderful, it wasn't very good. There is a reason I leave the winemaking to Shane Finley, our winemaker who has been with us since 2013.
Lisa, the name, Thirty-Seven Wines, was not chosen just because of your location on Highway 37, but rather to recognize the thirty-seven interlocking circles that create the Flower of Life. Based on your love of flowers, we assume you suggested the name. Can you tell us more?
All the credit goes to Valerie Moberg. Val and her husband, Dan, have been a part of our team for over 12 years. They joined us to help develop and market our brand. When the decision to bottle a "reserve" wine was made, we wanted a striking and classy brand and logo to with it. Location, location, location. Brilliant! Let's call it Thirty-Seven Wines. Super, now we needed a logo.
Val began researching the number 37 based on our desire to have a sense of place and our location on Highway 37. It was during that search, Val found that thirty-seven circles makes the most common version of the Flower of Life and one of the most basic geometric shapes. It symbolizes creation and the unity of all living things. It brings together all the essential elements and reminds us we are built from the same blueprint. Val thought this was the perfect symbol to represent the vineyard location, as well as our emphasis on sustainability and the concept that wine can be such a wonderful way to connect people.
Shane Finley is a very talented and experienced winemaker. How difficult was it to find the right winemaker?
Team member Dan Moberg, from Vintelligent Marketing, introduced us to Shane back in 2012. Dan has spent the greater part of his career in the wine industry and had excellent connections and good insight on what we needed to bring our brand to the next level. We actually met with two other winemakers, but there was something about Shane that just felt right. With a military and financial background, he speaks Al's language and his experience with Burgundian and Rhone wines fit the bill as well.
Bringing on a new winemaker opened the opportunity for a brand overhaul. When Shane came on board in 2013, we were still bottling under the Paradise View brand; only our Reserve wines were bottled as Thirty-Seven. We decided then to buckle down and focus our efforts on marketing and producing just one brand, so Paradise View was put to bed. Today, the Thirty-Seven brand encompasses all our wines: the "Essential" portfolio, previously Paradise View, focuses on "economical, big-bang-for-your-buck," everyday wines and the "Reserve" portfolio features more focused, rich and full-bodied wines.
Shane Finley is the man. He has found his Paradise-groove and has taken ownership of crafting Thirty-Seven into a brand that can stand up to the best of them. Shane has crafted over 45 gold-medal wines and 28 wines rated 90 or higher by Wine Enthusiast, not bad for our small brand of 2500 cases. Bravo Zulu Shane!
For the last couple of years your Pinot Noir has been carried by Costco. Was it challenging to get your foot in the door there?
Actually, Costco approached us in 2016. Anna-Marie Ferris, Assistant buyer at Costco tasted our Pinot Noir at an event in San Francisco. Since then Costco has sold out our Essential Pinot Noir. Our wine is in five local warehouses and ten in southern California. Fortunately, our vineyard is loaded with Pinot Noir, which has enabled us to increase our case production over the last two years, to accommodate additional sales. We are excited that the 2017 vintage has almost sold out. With that, comes the birth of the 2018 vintage and having Petaluma Gap as the AVA on the label. Additionally, it looks like our Syrah will be finding its merry way onto the shelves of Costco in the very near future.
Lisa, you play so many roles with Thirty-Seven – overseeing the vineyard crew, watching over sales and marketing, mastering the technology behind your virtual tastings, attending technical classes at SRJC and being the queen of hospitality for all your events. How do you manage to do it with such grace and exuberance?
Remember that earlier I mentioned knowing nothing about wine? Well, I knew less about growing grapes, sales or marketing. Al asked me to sit in on vineyard meetings with him. It was his way of making me feel a part of his dream. Listening in, I felt significantly out of my league with discussions about fertilizers, petioles, canopy management, stages of berry development, integrated-pest-management; that's when I looked into viticulture classes at SRJC and am so glad I did. Through their excellent wine and viticulture program, I now have a solid foundation to build on. Every day is a learning day.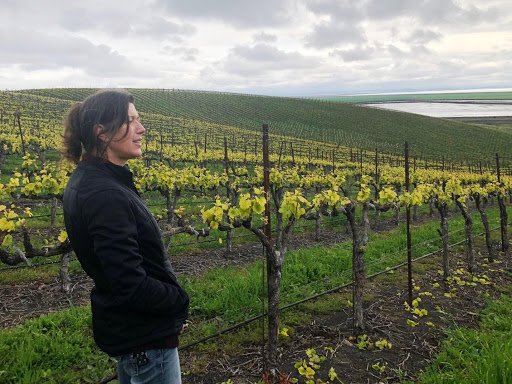 I enjoy working with Atlas Vineyard Management and being a part of the day-to-day operations in the vineyard and keeping our winemaker, Shane, up to date throughout the growing season and during harvest. As a people gal, I find happiness in hosting tasting events in the vineyard, virtual tastings, cave dinners, working with the many non-profits we partner with throughout the year and using these as opportunities to connect with people. Admittingly I am a bit shy, but love being a part of something which brings joy to so many.
You were married on Sept 6, 2015. What wines were served at your wedding and why did you choose them?
We had a fairly large wedding, with a lot of food and wine. Wines were chosen based on crowd favorites and what paired best with the food. The caterer used some of our wines in the dishes, which were prepared and served family-style, such as Chardonnay in the Chicken Francesca and Reserve Merlot in the Braised Short Ribs. We served Albariño with Hog Island oysters, along with our Tolay Red Blend, during the cocktail hour. At dinner the Essential Chardonnay and Syrah were poured family-style at the tables, while, at the bar, we served Pinot Grigio, Albariño, Pinot Noir, Reserve Chardonnay, Reserve Hermit, Reserve Merlot and Reserve Malbec. Lastly, at the dessert bar, we shared our Port (in memory of our first dinner together) and Late Harvest Molly's Delight, named after Al's mother, with brownies, mixed berries and sabayon.
You both have grown children with former spouses. Are your children interested in following in your footsteps?
The kids have been very supportive of the vineyard and have poured with us, or for us, at various tasting events. They also are spreading the word about our wines with the younger generation. My daughters both have full time careers in health care that we would not recommend they abandon for the vicissitudes of growing grapes or making wine. Lisa's sons are also fully committed–Alex to school, and Vince to a job in the hospitality industry. That being said, Vince has showed a real interest in working as a sommelier and has completed course work towards that end, so who knows what the future holds. One thing for sure, as you noted in an earlier question, this business is not for the faint of heart.