Sherry Crichfield grew up on a tobacco farm in Southern Ohio; the farm was regulated by the US Government's New Deal Quota System. Her family had 7-10 acres of Burley tobacco, which she and her siblings farmed along with her mother. Later in life, she went on to become a sales rep, where she gained confidence in meeting and greeting new people, a dental hygienist, where she learned the importance of cleanliness and organization, and finally, a chef, where she learned how to have sharp knives, cook over high fires and hone her techniques. Today, she and her husband, Tim, are growing Chardonnay, Viognier, and Syrah in the Petaluma Gap. Here's her story.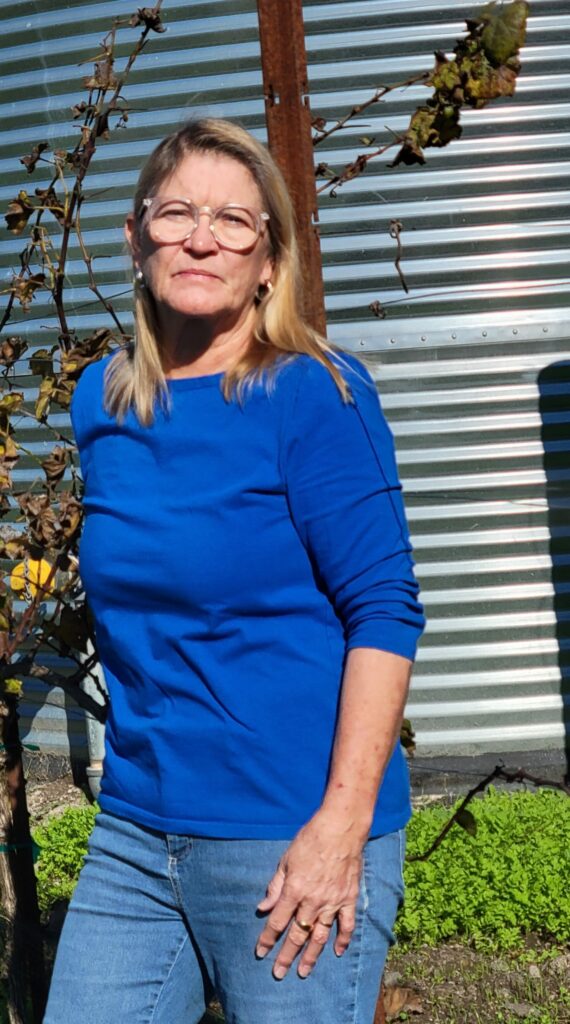 Part of your childhood was spent in the Midwest, living on a tobacco farm. Tell us about that experience. How big was the farm? Was it regulated by the federal government's New Deal quota system? Did your family care for the tobacco or did you have hired hands to help?
Our family farm in southern Ohio was 120 acres. We were very close to the Ohio River and sold our Burley tobacco at the market in Maysville, Kentucky. Burley tobacco is light and air-cured for cigarette use. We only raised 7-10 acres; it was regulated regarding how much we could raise. We hung the tobacco stalks to air-dry in our barn. Mother was a full-time overseer, having a neighbor sometimes plowing the fields with his mule. Crews were brought in as needed, but most of the work, suckering, topping, and hoeing was performed by me and my six siblings.
In 2011 you and your husband, Tim, bought a cow pasture on the Northeast side of Petaluma. What was your shared vision for the property? Did you plan to plant grapes from the start?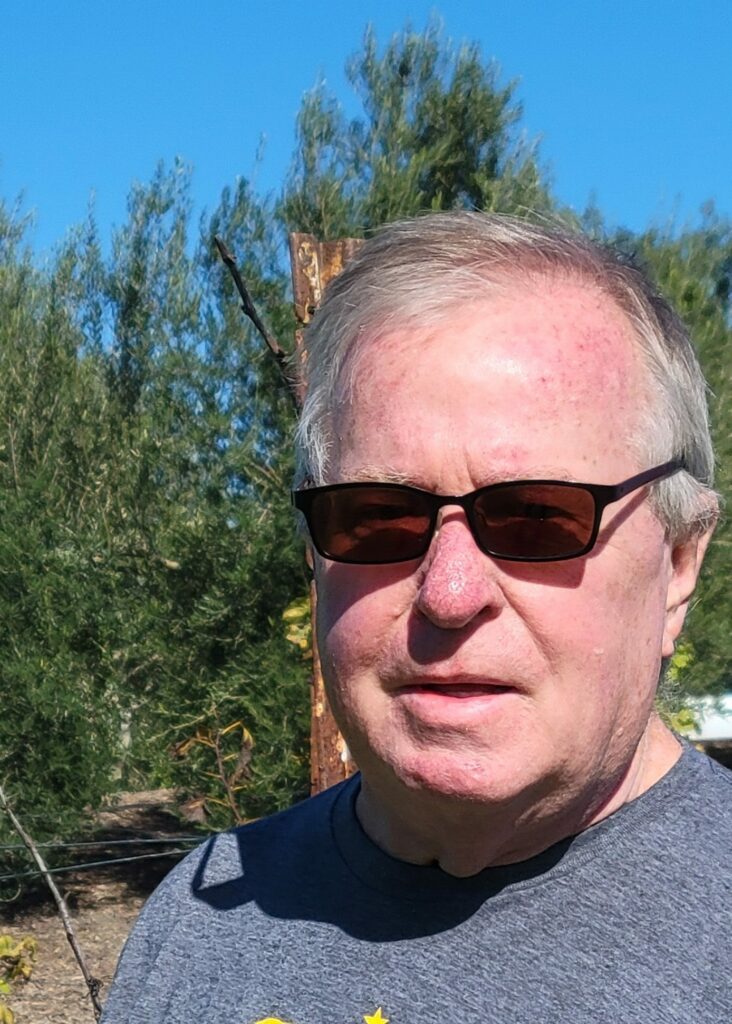 Our vision was to develop the property with the idea of having a vineyard, organic produce, and olive trees.
We understand you grow Chardonnay, Viognier, and Syrah. How did you choose those varieties? We're curious why no Pinot Noir was planted since it's the predominant grape variety in the Gap.
We selected Chardonnay because it is one of Tim's favorites, while Viognier was one of my favorites. We discovered that the vineyard developer had accidentally planted about 20 Syrah vines, so we decided to expand the planting of Syrah because Tim and many of our friends liked Syrah. We had very little experience with Pinot Noir and it wasn't high on our list of favorites. We have since become more familiar with Pinot Noir and have come to appreciate it.
Can you tell us about your vineyard farming practices? Are you farming sustainably and/or organically?
We farm organically, although we are not certified organic. We don't use chemicals or pesticides, so a lot of our maintenance has to be done by hand. We spend days weed whacking, mowing, spraying, etc. We are hoping to transition to dry farming at some point in the future.
How big is your vineyard and who takes care of it — do you farm it yourselves or do you have a vineyard manager?
Our vineyard is slightly less than 3 acres with over 3,000 vines. While we are small, the vineyard keeps us busy and we have lots of room to expand should we decide to do so.
Is 2021 the first vintage from your vineyard? Who is using your grapes and what type of wines will they be making?
2021 is our first vintage. Our grapes are being used by Sarah Jump and Kevin Koch. Their winery is Light of Day Wines located on Adobe Road. We are already speaking to them about Petaluma Gap. I expect the label will reflect this.
What role does wine play in your day-to-day lives? Do you drink wine with meals and if so, what are your preferences?
We would not think of hosting a meal without wine! At home, by ourselves, we normally have wine with dinner, and the choice of wine depends on the specific food we are cooking. Since we mostly eat fish, chicken, and vegetables, the wine choice is usually Chardonnay, Sauvignon Blanc, or a rose of Pinot or Grenache. For evenings when we serve red meat, we would usually pour a Cabernet Sauvignon, a Syrah, or a blend such as a Bordeaux or one of the many blends available in Sonoma County. When we have guests, we will always have a variety of wines from which to choose. Some of our friends are particularly fond of specific grapes, so we try to have their preferences available for them to enjoy.
You've had many different work experiences – as a chef, a sales rep for various medical companies, and as a dental hygienist. Which one did you enjoy most and what did you like about it?
I have benefited personally from each of the work experiences. Being a sales rep allowed me to be bold about meeting and greeting new people. Being a dental hygienist taught me about keeping everything clean, organized, sterilized, and timely. Finally, being a chef has allowed me to understand flavors and how to bring out the best from ingredients. As I frequently say, all life is technique-sensitive. When I was growing up, it was my grandmother, mother, and aunts who did the cooking. In Culinary School, it was a man's world – we had to have sharp knives, cook over high fires, and constantly refine our techniques.
Putting on your chef's hat, what food with you pair with a wine made from grapes grown in your vineyard? Can you share a favorite recipe for pairing?
I am very interested in Chardonnay blended with Viognier. We often serve a Chicken Piccata, which is also good with Calamari Steaks or Veal. This is always requested by our family members for birthday dinners:
Chicken Piccata
Ingredients:
Boneless Skinless Chicken Breast (pounded)
Flour for dredging
Salt & Pepper
Ghee (clarified butter) for pan frying
2T fresh lemon juice
½ cup Madeira
3 T capers (drained)
Instructions:
Salt and pepper chicken breasts and dredge in flour.
Preheat skillet for 1 to 2 minutes. Add Ghee and heat another 2 minutes.
Pan fry chicken breasts until light to medium golden on both sides.
Combine lemon juice, Madeira, and capers in a jar.
Pour lemon juice, Madeira, capers mixture onto the browned chicken.
Cover and steam for 10-15 minutes.
Uncover and reduce the sauce, spooning on top of the chicken.
You've traveled extensively and visited all of the great wine-growing regions. If you didn't live in Sonoma County, where would you choose to plant yourself and your grapevines?
The French vineyards are spectacular and we have visited many of the regions including Bordeaux, the champagne cellars in Reims, and the Burgundy area. That would probably be our first choice. However, we really enjoyed the vineyards of South Africa as well as those in New Zealand. We have also been to vineyards in Italy – one on the side of Mt. Aetna which was wonderful. Our host was very familiar with Sonoma County and hoped to study at Sonoma State.
In the conversations we've had, you've mentioned that you're interested in the interconnectedness between soil, climate, and local wildlife. Are there specific animals that inhabit your land and are they beneficial to the vines or do you have to manage their presence in your vineyard?
We are close to a wildlife corridor, so we have lots of animals roaming our property. We have badgers, coyotes, bobcats, mountain lions, skunks, raccoons, and many others. We also have marauding groups of wild turkeys that we are constantly battling. We have had gophers and rodents, and we have tried to deal with the unwelcome animals. We have 3 owl boxes that are inhabited and the owls have helped with the gophers and rodents. We also have gopher snakes that love to go down the gopher holes. We have feral cats to help manage the rodent problem. Most of the animals pose no problem for us and the bobcats and mountain lions are spectacular to watch. The wild turkeys are the biggest problem; this year, we obtained a depredation permit, but we didn't have to use it since we were successful in scaring them off. This next year, we plan to use our grand dog "Rosie" during the times when turkeys can do the most damage.
Your children, grandchildren, and other family members have been part of the endeavor to create this vineyard. Do you ever plan to make wine yourselves? Plant more grapevines? What's the long-term plan?
We have considered making wine ourselves but have not yet taken that step. There are so many great winemakers around, so it's relatively easy to find someone who will make the wine for us. We will likely plant more vines, but we don't have a specific timetable in mind yet. Our plan is to make sure that all of our current endeavors are perfected before we take on more. In the long-term, our son and his family will likely take over the property and they are likely to have expansion plans for both planting vines and making wines.