Don't miss this chance to taste some of the Petaluma Gap's finest Chardonnay, Pinot Noir and Syrah at the inaugural WIND to WINE Festival at the Sheraton Petaluma on Saturday, August 8th. More than 60 wines will be available for tasting, including some limited production and library wines. We anticipate selling out, so book your tickets today! Tickets will NOT be available at the door! You must be 21+ to participate in the tasting.

SCHEDULE OF EVENTS*
| | | |
| --- | --- | --- |
| 11:00 am | | VIP Seminar |
| Noon | | VIP Early Access to Grand Tasting |
| 12:30pm – 2:00pm | | VIP Buffet Lunch |
| 1:00pm – 4:00pm | | GRAND TASTING General Admission |
| 2:00pm – 4:00pm | | VIP Access to Elite Wine Lounge |
* Schedule is Subject to Change, please check back here prior to event for updates.
WINEMAKER DINNERS
Friday, August 7th
Winemaker dinners will be held at Keller Estate and McEvoy Ranch on Friday, August 7th. Purchase a Friday dinner ticket and a Saturday Grand Tasting ticket together and receive a huge discount! Click on the links below for details about the winemaker dinners and to purchase dinner or dinner/tasting combo tickets.

Keller Estate Winemaker Dinner
McEvoy Ranch Winemaker Dinner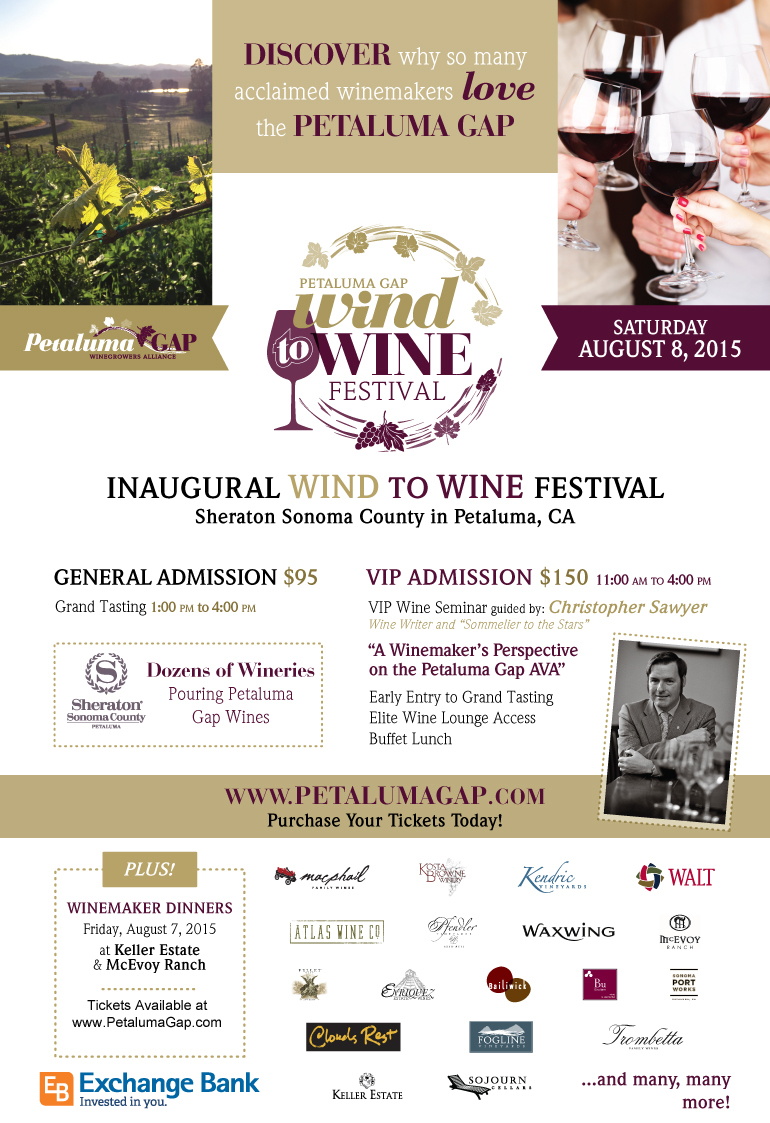 VIP Seminar and Elite Wine Lounge
"A Winemaker's Perspective on the Petaluma Gap AVA"
This 1-hour seminar will be guided by Christopher Sawyer, internationally-renowned sommelier, wine educator, journalist, consultant, critic and public speaker. Panelists include James MacPhail, winemaker for MacPhail Family Wines, and Ryan Prichard, Associate Winemaker for Three Sticks Wines. Our VIP attendees will be guided through nine wines that reflect the unique growing characteristics of the Petaluma Gap. At the completion of the seminar, VIP attendees will enjoy early entrance to the Grand Tasting followed by a buffet lunch. While our General Admission attendees are enjoying the Grand Tasting, our VIPs are invited to mingle in the Elite Wine Lounge where six wineries will be pouring their high-end wines (minimum retail $65). TICKETS ARE LIMITED!
Wineries Participating in the Grand Tasting Include:
Atlas Wine Company
B. Kosuge
Bailiwick Wines
Bedrock Wine Co.
Brooks Note Winery
Bruliam Wines
Calstar Cellars
Clary Ranch Wines
Clouds Rest
DeLoach Vineyards
Enriquez Estate
Fogline Vineyards
Guarachi Family Wines
Keller Estate
Kendric Vineyards

Kosta Browne Winery
Loxton Cellars
MacPhail Family Wines
McEvoy Ranch
Morris Ranch
Pax Mahle Wines
Pellet Estate
Pfendler Vineyards
Ramey Wine Cellars
Sojourn Cellars
Sonoma Portworks
Three Sticks Wine
Trombetta Family Wines
WALT Wines
Waxwing Wines