The 2016 Petaluma Gap Wind to Wine Festival will be held at the Sheraton Petaluma on Sunday, November 6th! This is your opportunity to experience what makes our region special! More than 100 Petaluma Gap wines will be available in one place for tasting!
We've implemented some changes this year to make your experience even more enjoyable. There are two different VIP Seminars to choose from: Cool Climate Syrah and Food Friendly Wines. The Grand Tasting event will take place in the Sheraton's Grand Ballroom, with more food stations, more space to mingle, and even more wines to sample! There are a limited number of tickets available, so don't delay — get your tickets now for this extraordinary event!
VIP Seminar A – COOL CLIMATE SYRAH – Led by Dan Berger, wine columnist. Panelists include David Ramey (winemaker, Ramey Wines), Pax Mahle (winemaker, Pax Mahle Wines), Duncan Meyers (winemaker, Arnot-Roberts), and Cyrus Limon (wine writer, SoloSyrah) *
Join us for a side by side comparative tasting of some of the Petaluma Gap's finest cool climate Syrah. Our expert panel will explore what makes our syrah so special. What are the characteristics in the Petaluma Gap that allow us to produce some of the best cool-climate syrah in California?
Included:
VIP Seminar A (11am – noon)
Early Access to the Grand Tasting (noon – 1pm)
Grand Tasting (1pm – 4pm)
VIP Seminar B – FOOD FRIENDLY WINES – Moderated by Christopher Sawyer (sommelier, wine educator, journalist, and wine judge) and joined by winemakers Ana Keller (Keller Estate), Erica Stancliff (Trombetta Family Wines), and owner/chef Peter White (Sugo Trattoria). Food provided by Chef Richard Visconte *
Restaurants and chefs from all over California are discovering why Petaluma Gap wines go so well with food, and now is your chance to discover it too! Along with the discussion portion of the seminar, small bites will be offered with Petaluma Gap wines in order for you to fully appreciate the differences a good pairing can make. 
Included: 
VIP Seminar B (11am – noon)
Early Access to the Grand Tasting (noon – 1pm)
Grand Tasting (1pm – 4pm)
SCHEDULE OF EVENTS**
11:00 am – Noon:       VIP Panels A & B
Noon – 1:00pm:          VIP Early Access to Grand Tasting
1:00pm – 4:00pm:      GRAND TASTING
You must be 21+ to participate in the tasting.
* Although accurate at the time of listing, Presenters, Winemakers, Panelists and other invited guests are subject to change due to unforeseeable circumstances.
** Schedule is Subject to Change, please check back here prior to the event for updates.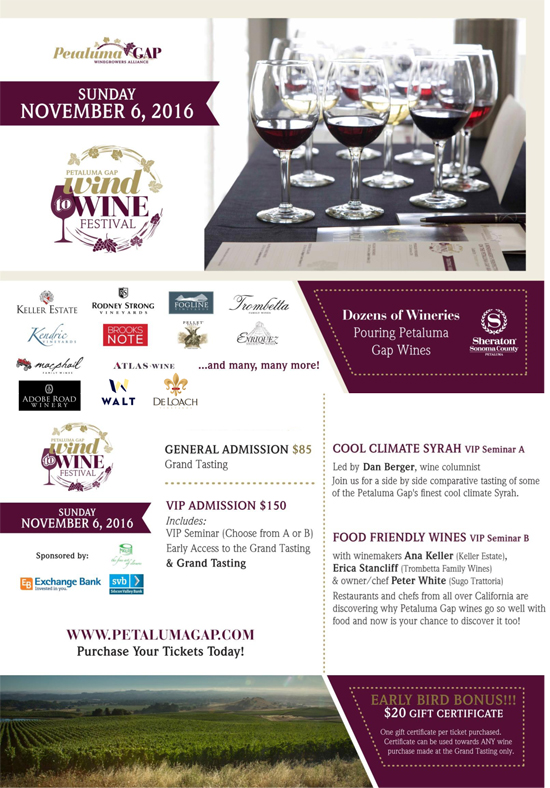 Confirmed Wineries so far:
Adobe Road Winery
Arnot-Roberts
Atlas Wine Company
Bedrock Wine Company
Black Kite Cellars
Brooks Note
Calstar Cellars
Clouds Rest Estate
DeLoach Vineyards
Enriquez Estate
Fogline Vineyards
Guarachi Family Wines
Karah Estate
Keller Estate
Kendric Vineyards
La Rochelle Wines
Loxton Cellars
MacPhail Family Wines
McEvoy Ranch
Pax Mahle Wines
Pellet Estate
Pfendler Vineyards
Ramey Wines
Rodney Strong Vineyards
Sojourn Cellars
Sonoma Portworks
Trombetta Family Wines
WALT Wines
Waxwing Wines